'Dangerous Woman': Pop And Feminism
Play
This article is more than 5 years old.
With guest host Jessica Yellin.
After the concert bombing, we'll listen to the girl power music and message of Ariana Grande and other female pop stars.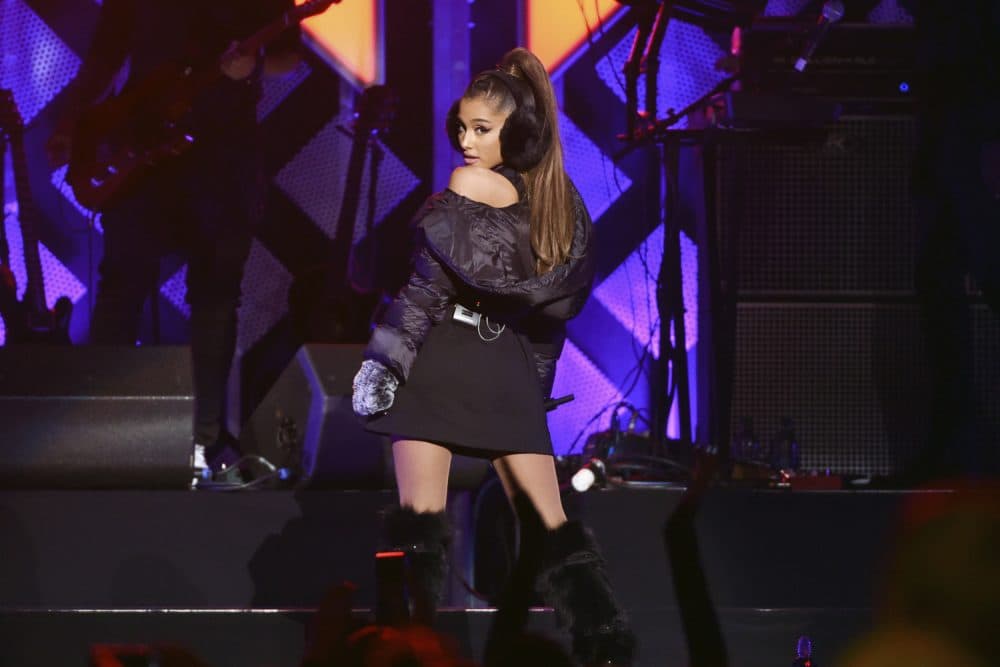 Pop star Ariana Grande was thrust into headlines this week, when her Manchester concert was the target of a deadly suicide blast. The horror stood in stark contrast to Grande's message. To an audience of largely preteen girls, she sings about self-determination, independence and strength. Grande is part of a wave of female singers who are embracing political messages. This hour On Point, feminism goes pop on the radio. — Jessica Yellin
Guests
Robin James, professor of philosophy at University of North Carolina at Charlotte. Author of "Resilience and Melancholy: Pop Music, Feminism, Neoliberalism." (@doctaj)
Julianne Escobedo Shepherd, culture editor for Jezebel. (@jawnita)
From The Reading List
The Atlantic: The Horror of an Attack Targeting Young Women — "Every terrorist attack is an atrocity. But there's something uniquely cowardly and especially cruel in targeting a venue filled with girls and young women. On Monday night, a reported suicide bomber detonated a device outside Manchester Arena, killing 22 people, many of whom were children. The victims had gathered at the 21,000-seat venue to see the pop musician Ariana Grande, a former Nickelodeon TV star whose fan base predominantly includes preteen and teenage girls. The goal of the attack, therefore, was to kill and maim as many of these women and children as possible."
Bustle: Ariana Grande Fights For Feminism At The Women's March Alongside Her Family — "Grande has been one of the most vocal feminists of her musical generation for a while now. Whether shutting down sexist what-ifs ('What if you could use makeup or your phone for one last time, which one would you pick?') on a radio interview, refusing to tolerate body-shaming, or speaking up in a radio interview in support of fellow musician Kesha, Grande has proved that feminism is always at the top of her agenda. ‌"
The Virginian-Pilot: Beyonce and Adele, the leading voices of pop feminism — "Expressive voices of feminist strength and vulnerability as embodied by Adele and Beyoncé have been an undeniable presence in pop for the better part for 40 years, largely upending a hard rock aesthetic long steeped in testosterone. Whether giving old heartbreak a soaring melody or promoting black women's resiliency in a lavish visual album, Adele and Beyoncé extend and break tradition all at once, selling millions of albums in the process."
On Point's Pop Feminism Playlist
This program aired on May 26, 2017.