Rating Rex Tillerson As Secretary Of State
Resume
Rex Tillerson and the President he serves as a top Senate Republican warns we may be careening toward World War III.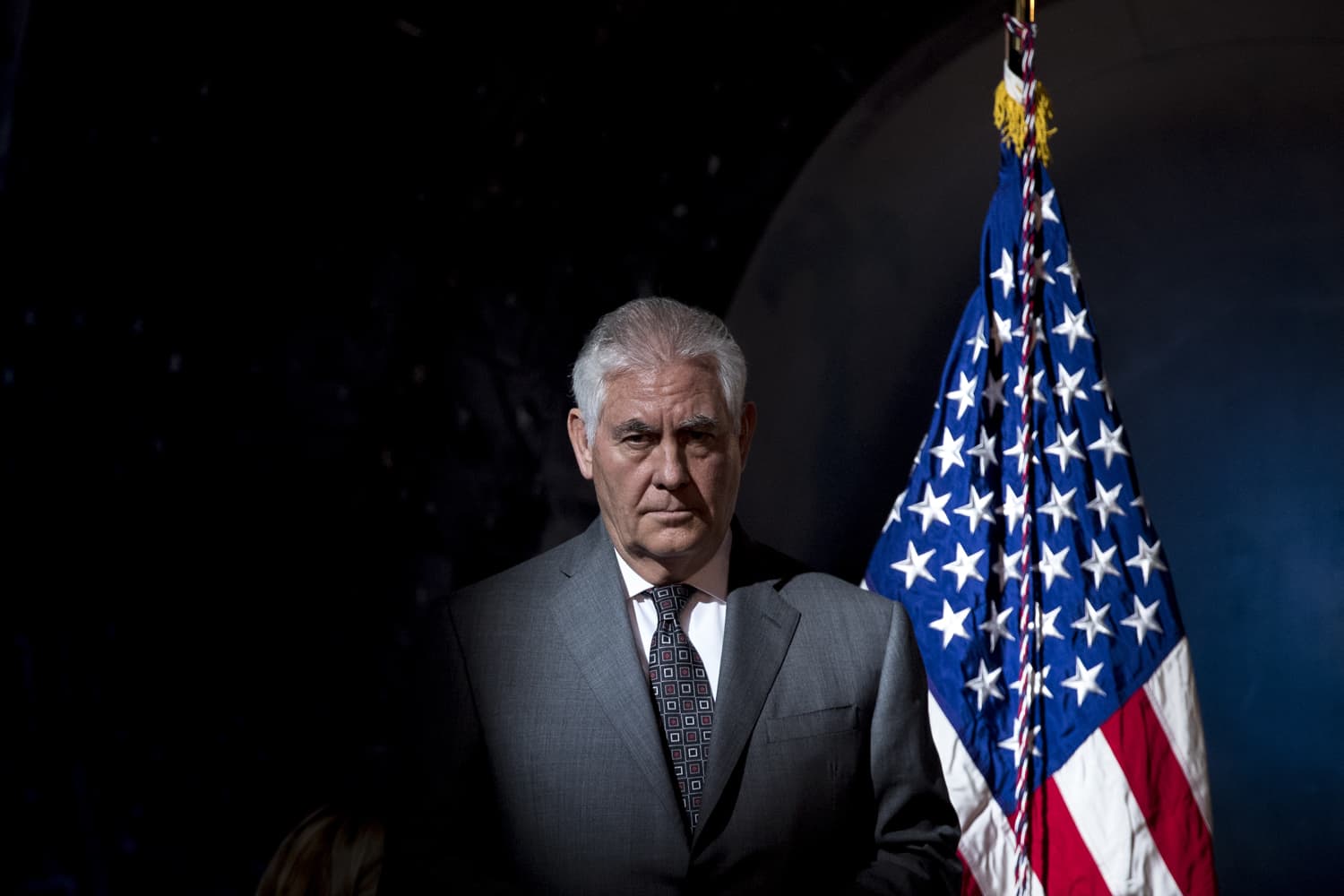 Scary times on the foreign policy front. Senior Senate foreign relations Republican Bob Corker says President Trump may be putting the country "on the path to World War III." Says the country's leader requires "adult day care." Trump's Secretary of State Rex Tillerson is quoted calling the president a "moron." The State Department he leads is depicted as deeply demoralized at a time of mounting global challenges. This hour, On Point: Rex Tillerson, the president he serves, and American foreign policy right now. -- Tom Ashbrook.
Guests
Nahal Toosi, foreign affairs correspondent for Politico. (@nahaltoosi)
Max Boot, senior fellow for national security studies at the Council on Foreign Relations. Author of the forthcoming "The Road Not Taken: Edward Lansdale and the American Experience in Vietnam." Also wrote, "Invisible Armies: An Epic History of Guerrilla Warfare from Ancient Times to the Present." (@MaxBoot)
Andrew Steinfeld, career diplomat who spent 36 years in senior level positions at the U.S. Department of State and the Pentagon, and in the Middle East, South Asia, Europe, and Africa. Retired in August.
From Tom's Reading List
Politico: Tillerson's Future Still Hazy Despite Trump Oath — "On policy, Tillerson and Trump have repeatedly and publicly clashed: Tillerson opposed Trump's decision to withdraw from the Paris climate accord and has tried to moderate his views on the Iran nuclear deal, which Trump despises but Tillerson believes the U.S. must honor. After Gulf Arab states in June imposed an embargo on their neighbor Qatar, which they say harbors terrorists and aids Iran, Trump openly contradicted Tillerson's public defense of Qatar. Tillerson tried to wave away those differences on Wednesday."
NBC News: Tillerson's Fury At Trump Required An Intervention From Pence — "Pence has since spoken to Tillerson about being respectful of the president in meetings and in public, urging that any disagreements be sorted out privately, a White House official said. The official said progress has since been made. Yet the disputes have not abated. This weekend, tensions spilled out into the open once again when the president seemed to publicly chide Tillerson on his handling of the crisis with North Korea."
Foreign Policy: Time Is Up On Rex Tillerson — "With U.S. President Donald Trump threatening to launch wars against North Korea and even Venezuela, now would seem like the time for strong diplomacy to achieve America's aims while minimizing the risk of conflict. The problem is that America's top diplomat is not John Hay, Dean Acheson, Henry Kissinger, George Shultz, James Baker, or Madeleine Albright. It's Rex Tillerson, and he is proving to be quite possibly the most ineffectual secretary of state since America's rise to global prominence in 1898. Tillerson has actually been far worse than I imagined — and I was never a fan to begin with."
This program aired on October 9, 2017.