Terrorism Hits NYC Again; How Do We Protect Soft Targets?
Resume
Terror hits New York City again — this time, a bike path. Do we have to accept life with soft target attacks?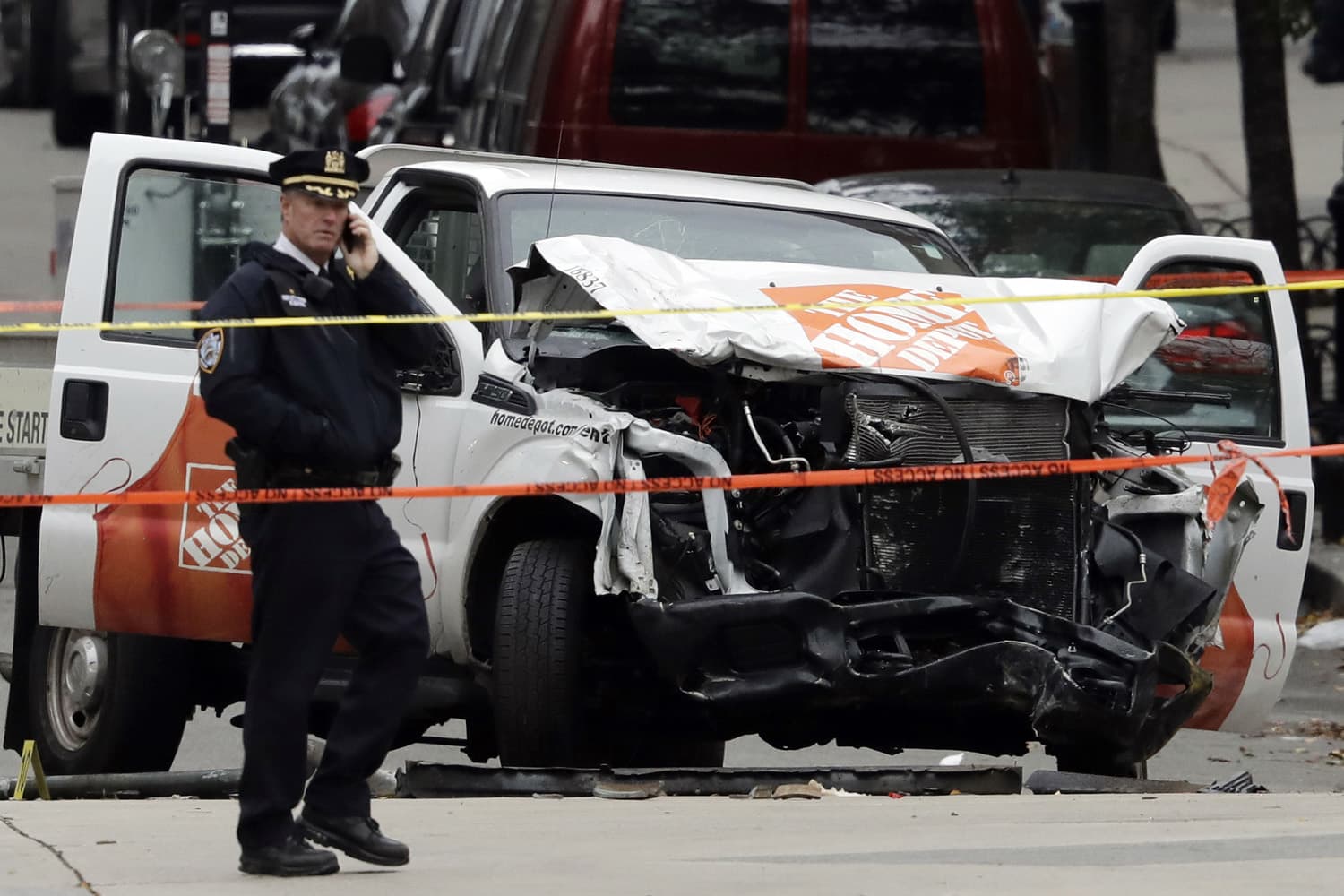 It was a bike path.  And a Home Depot pickup truck and a paintball gun and a pellet gun.  A long way from packed jet airliners and the most prominent skyscrapers in New York.  And still, Tuesday's New York attack was chilling.  People out for a bike ride.  A walk.  Mowed down on the softest of targets.  Do we have to live this?  At a bike path in New York or a country music concert in Las Vegas?  This hour, On Point:  Terrorism and soft targets after the bike path attack in New York. --Tom Ashbrook
Guests:
Bruce Hoffman, director of the Center for Security Studies and the Security Studies Program at Georgetown University. (@Benjamin05055)
Daniel Benjamin, director of the John Sloan Dickey Center for International Understanding at Dartmouth College.
From Tom's Reading List:
CNN: New York Terror Suspect Planned Attack For Weeks, Police Say — "The suspect was identified as Sayfullo Habibullaevic Saipov, 29, a Uzbekistan native who came to the US legally in 2010, authorities said. Saipov allegedly drove a rented pickup truck onto the busy bike path, later crashed it into a school bus and then stepped outside of the vehicle brandishing imitation firearms."
NBC News: New York City Truck Attack Brings Deadly Terrorist Trend To The U.S. — "For a little more than a year, Americans have watched vehicular terrorist attacks strike Barcelona, Stockholm, Berlin, London and Nice — and on Tuesday, the deadly threat was carried out in America's most populated city."
New York Post: How The NYPD Works With Rental Companies To Screen For Terrorists — "A regional law-enforcement effort has been in place to educate vehicle-rental businesses on how to spot potential terrorists — but the effort could not have stopped Tuesday's carnage, police sources said. Law-enforcement agents have talked to some 20,000 people in the private rental business in New York City and nearby towns as part of the SHIELD program over the past two years, since ISIS urged lone wolves to attack soft targets with motor vehicles, according to the NYPD."
This program aired on November 2, 2017.