Inside Rex Tillerson's Shrinking State Department
Resume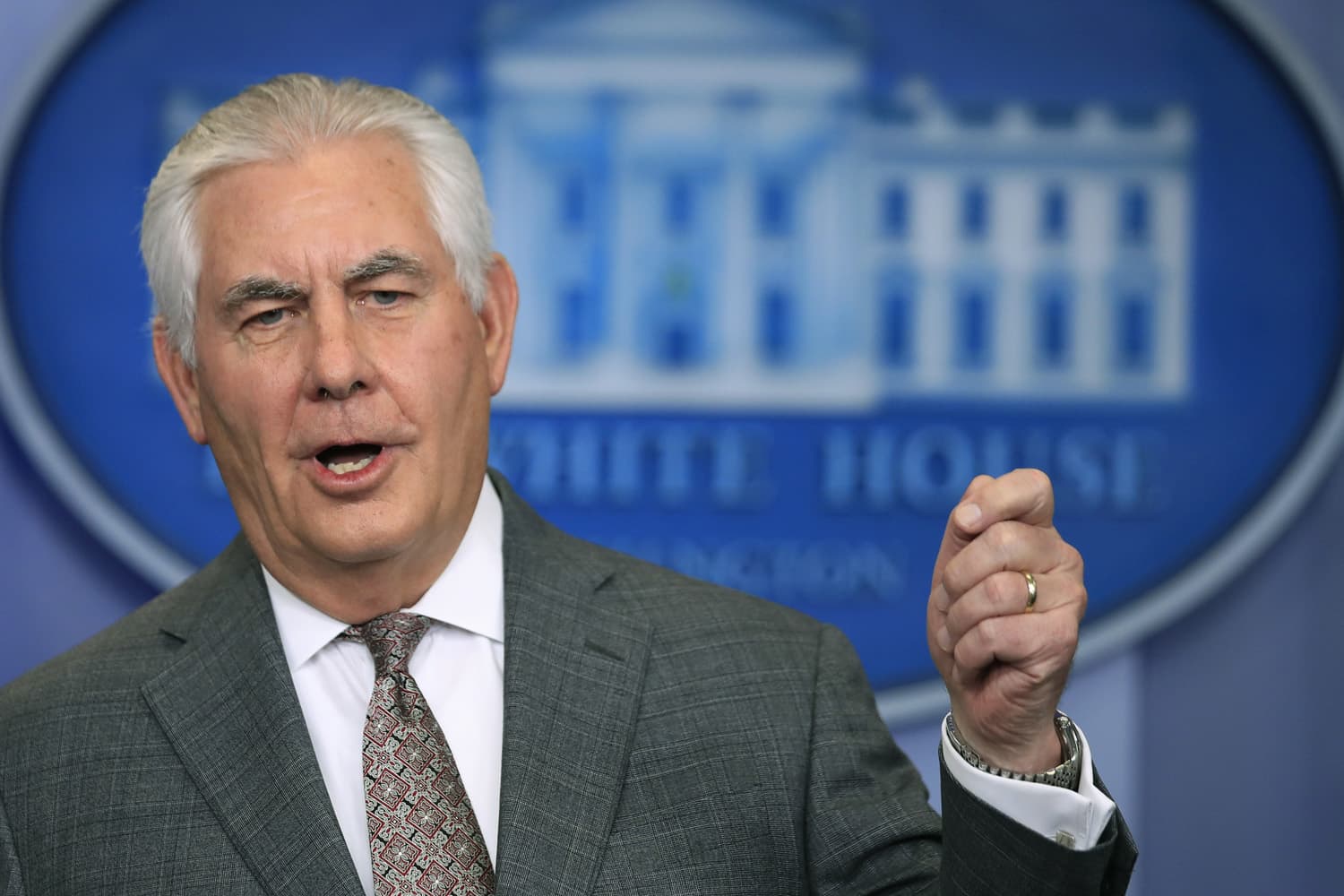 We were be joined by two former ambassadors to talk about Rex Tillerson's State Department: Diplomats pushed out, empty desks, morale rock-bottom. Is American diplomacy in freefall?
"This is not reform," former ambassador R. Nicholas Burns said [CLIP]. "This is dismantlement."
Guests:
Nancy McEldowney, director of the masters program at Georgetown University's School of Foreign Service, former ambassador to Bulgaria and charge d'affaires and deputy chief of mission to Turkey and Azerbaijan.
Nahal Toosi, foreign affairs correspondent for Politico. (@nahaltoosi)
Nicholas Burns, professor of diplomacy and international relations at Harvard's Kennedy School and 27-year State Department veteran serving as ambassador to NATO and Greece. (@RNicholasBurns)
Felicia Schwartz, foreign affairs reporter for the Wall Street Journal.  (@felschwartz)
From Tom's Reading List:
Politico: Corker-Tillerson Alliance Frays — "Sen. Bob Corker, having already turned on the president, has a new target for his frustration: Secretary of State Rex Tillerson.
The Tennessee Republican and Senate Foreign Relations Committee chairman has voiced concerns about Tillerson's management of the State Department and his still-fuzzy plans to restructure it. At a Senate hearing earlier this week, Corker agreed with several criticisms of Tillerson and his team expressed by Democrats, adding that lawmakers need to be 'much more focused on holding them accountable.'"
New York Times: Dismantling The Foreign Service — "The Foreign Service, our country's irreplaceable asset for understanding and interacting with a complex and dangerous world, is facing perhaps its greatest crisis. President Trump's draconian budget cuts for the State Department and his dismissive attitude toward our diplomats and diplomacy itself threaten to dismantle a great foreign service just when we need it most."
Since the days of revolution and Thomas Jefferson, American diplomats have eased the country's way in the world.  Worked to champion US interests without war.  Now, former Exxon CEO Rex Tillerson is Secretary of State, and the cries are loud that he is taking apart the State Department.  Key diplomatic posts in crisis zones worldwide are empty.  Veterans are bailing out. Talent, fleeing.  Tillerson calls it reform.  Critics call it gutting.  This hour, On Point:  Rex Tillerson's State Department. --Tom Ashbrook
This program aired on November 28, 2017.