Tillerson Could Be Out — Will It Make A Difference?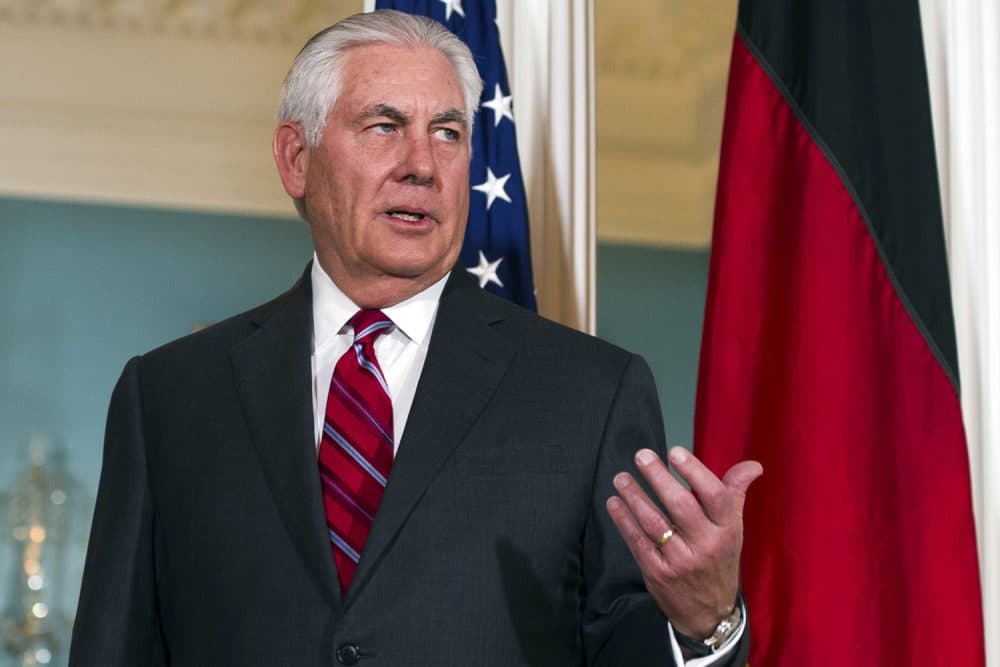 This article is more than 1 year old.
The White House is developing a plan to replace Secretary of State Rex Tillerson as the nation's top diplomat, according to reports in the New York Times and other outlets Thursday.
But even a critic of Tillerson — a retired ambassador who told On Point Tuesday that his depletion of the State Department ranks could bring us closer to war — said axing him might not make a big difference when the problem, as she sees it, is at the top.
"The main problem with our diplomacy and our foreign policy right now is Donald Trump," said Nancy McEldowney, now a professor at Georgetown after a State Department career that included an ambassador post in Bulgaria and stops in Azerbaijan and Turkey.
She added: "No one can be an effective secretary of state for Donald Trump."
McEldowney, along with former ambassador R. Nicholas Burns, joined On Point Tuesday to talk about Tillerson's leadership of the State Department. They had dire warnings about his tenure. Within 48 hours, Washington was abuzz with news that it was about to come to an end.
The Times report said Trump was looking to replace Tillerson — the former CEO of ExxonMobil — with Mike Pompeo, who currently heads the CIA. Sen. Tom Cotton, a Republican of Arkansas, would replace Pompeo. The move could happen within the next few weeks.
McEldowney noted some concern over Pompeo's background, steeped in partisan politics; he was a member of the House of Representatives from Kansas before taking over the spy agency. But he does seem to have a closer relationship with Trump.
"Rex Tillerson was uniquely ill suited to try" to work as Trump's secretary of state, McEldowney said.
Whatever happens next, Tillerson is something of a lame duck in office, McEldowney said. He's lost the trust of the president, of other countries, and of the workforce, which is dwindling as positions remain unfilled.
He's brought an engineer's mentality to a position that was diplomatic, deliberative and political, McEldowney said, closing off the decision-making process to just a few insiders.
Tillerson came across as delusional when he said recently that they could cut the State Department workforce because they were solving so many of the world's problems, McEldowney said.
And yet despite her criticisms, she's not relieved that Tillerson might soon be gone. The president recently retweeted anti-Muslim advocates in Britain, causing a row with the British prime minister and in the Netherlands; the Dutch embassy in the U.S. had to fact-check Trump on Twitter.
"His instincts are fundamentally anti-democratic, and how we represent ourselves to the world under those circumstances is profoundly difficult," McEldowney said.