Russian Doping Investigator: Insider Blew Whistle After Mysterious Deaths, Flight To U.S.
Play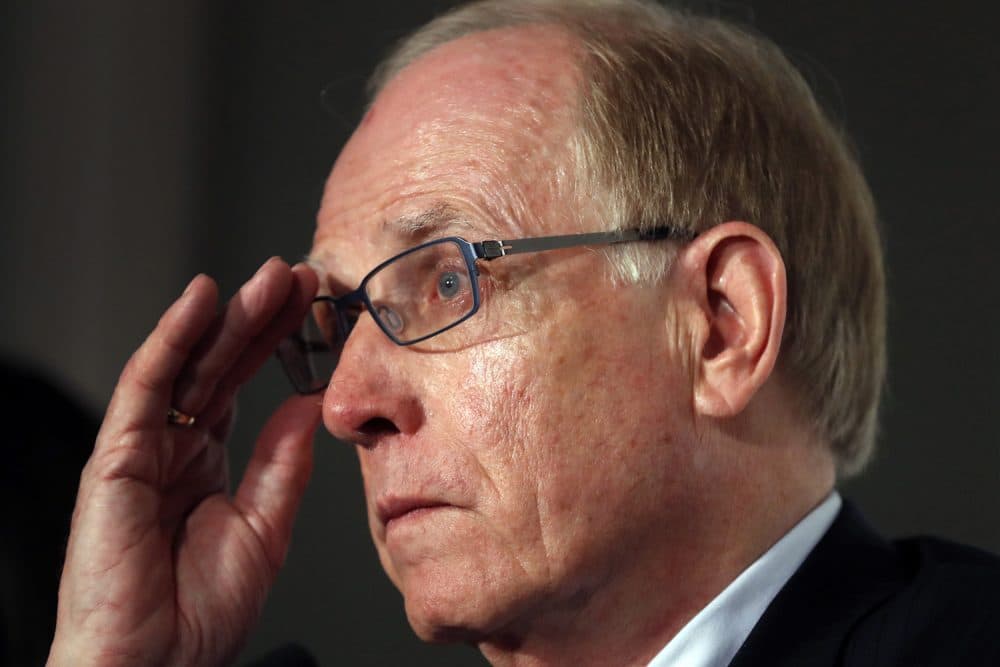 This article is more than 4 years old.
The whistleblowers that exposed Russia's brazen doping scheme had their own motivations, but for one key witness, personal safety was a major consideration, the author of a report that led to Russia's ban from the 2018 Winter Olympics said in an On Point interview Wednesday.
Richard McLaren, author of the World Anti-Doping Agency's McLaren reports, relied in part on the damning testimony of Grigory Rodchenkov, the former head of Moscow's doping lab. But Rodchenkov never would have been able to come forward if he had stayed in Russia, McLaren said.
"I think it was both the departure from Russia that led him to be able to speak more freely about what was going on and also the information that came out of Russia that the two previous heads of the anti-doping lab died within 10 days of each other in February of 2016," McLaren, a law professor at Western University in Canada, told our host, Tom Ashbrook.
For our full show, click this link. 
McLaren, who was part of the World Anti-Doping Agency's independent panel, joined our show on Russia's ouster from the 2018 Winter Olympics in Pyeongchang, South Korea — a decision that affects at once international sports and international politics. Russian athletes will be able to participate if they can prove they're clean, but they'll do so as neutrals.
Rodchenkov's testimony played a key role in two independent reports that McLaren wrote that led to the International Olympic Committee's decision Tuesday. The reports found that more than 1,000 Russian Olympic athletes from 2011 to 2015 were involved or benefited from a scheme to conceal positive performance enhancing drug tests, a conspiracy that went above the locker room and into the halls of government power.
Rodchenkov is now in the United States, reportedly in the witness protection program; the fates of other Russian anti-doping officials in February of 2016 — Nikita Kamaev and Vyacheslav Sinev — are part of a string of mysterious deaths of high-profile Russians, including diplomats.
McLaren's report revealed a cloak-and-dagger doping scheme during the 2014 Summer Olympics in Sochi, Russia, with dirty urine samples slipped through holes in the wall of a drug lab and then passed back, replaced with clean samples.
Although his report found a concerted conspiracy that involved not just athletes but government and sport officials in Russia, he found no evidence to suggest President Vladimir Putin — who has become something of a boogeyman in the West due to his country's interference in democratic elections — was involved in the plan or even knew about it.
"Did he know about it? Possibly he did," McLaren said. "Or he might have been deliberately kept in the dark."
McLaren also denied that the investigations were biased.
"We did speak with Russian officials and Russian athletes," he told us. "As we got deeper into the conversation, the more they would pull away."
This segment aired on December 6, 2017.