Julia Child's Nephew Shares Stories About Jacques Pépin — 'What A Wonderful Man'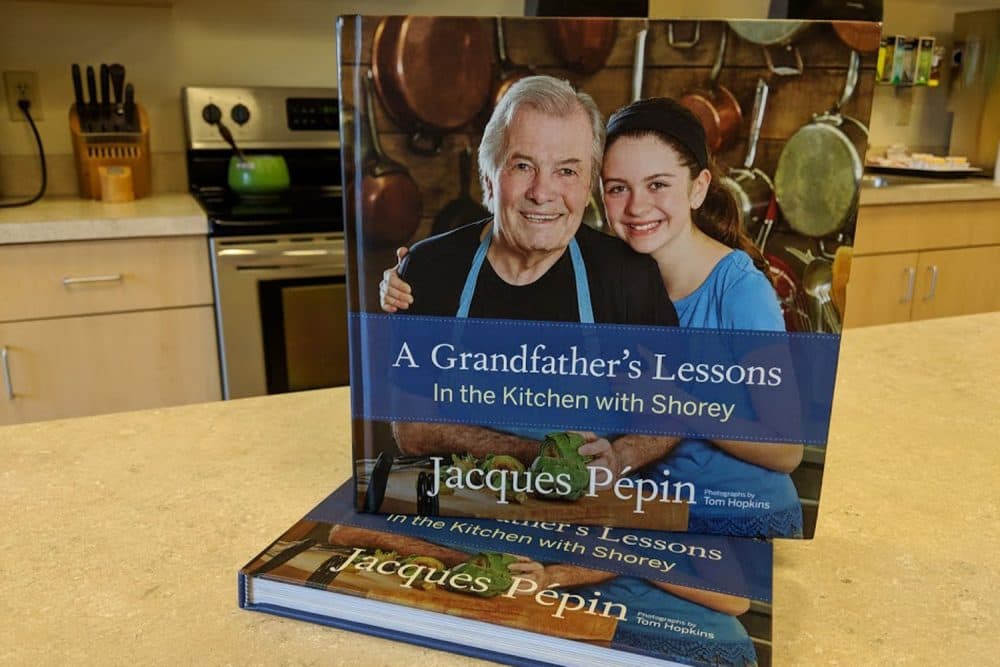 This article is more than 3 years old.
Renowned French chef Jacques Pépin, who's brought his love of food to heads of state in France and public television audiences in America, was good friends with Julia Child, the late cooking legend.
And when Pépin joined On Point Tuesday, Child's nephew was listening. David McWilliams wrote in to share stories of their time together at Boston University, where Pépin teaches.
"He and Julia were great friends," McWilliams said in an email. "She thought the world of him."
They also got into some mischief. McWilliams tells it best:
Jacques and Julia were doing a demo at BU. They were having a delightful time 'battling' with each other in their wonderfully competitive way. Jacques had seasoned a pot but Julia didn't think he had used enough salt. They argued about it and then while his back was turned she threw in some extra salt.

But the best piece was when they were using a [Cuisinart] processor to chop up some onions. They both agreed that the feed tube was too small for the large onions they were chopping. Julia and Jacques said there was a way around that. She pulled off the top from the processor, he handed her a chefs knife which she used, back edge down to push on the button on the edge of the processor bowl and started throwing in the onions, laughing saying we shouldn't be doing this in front of all of you. Don't do this at home. Right in front of where we were sitting in the audience there were four men in dark suits who started squirming and talking heatedly with each other. Then at intermission they all jumped up and ran back stage. I asked Stephanie, Julia's assistant, who they were. They were [Cuisinart] executives, the show's sponsor. Stephanie said "Well that part will definitely be cut out of the show."
McWilliams also shared this personal story about Jacques:
We were on our way to Italy for a vacation with our two sons, 12 and 15. We stopped by to say hi to Julia on our way to the airport and they were in the middle of filming... Jacques was there that day and as soon as he saw the kids he grabbed on to them and took them down to the basement area where they were prepping the food for the show. He gave them tastes of what they were making and stuffed their pockets full of baking chocolate for the flight. What a wonderful man. I have never seen anyone who could bone a chicken as fast and beautifully as Jacques.
To listen to Pepin's full appearance, click on this link.
This segment aired on December 12, 2017. The audio for this segment is not available.