Best Books Of 2017 — On Point Staff Picks
On Friday's show, we're asking two book critics and an independent booksellers about their books of the year.
We're also giving you an inside look at the book tastes of the people who make this show happen every day.
Here are the On Point staff's top books of the year, and why we picked them. (And don't miss our listeners' favorites.)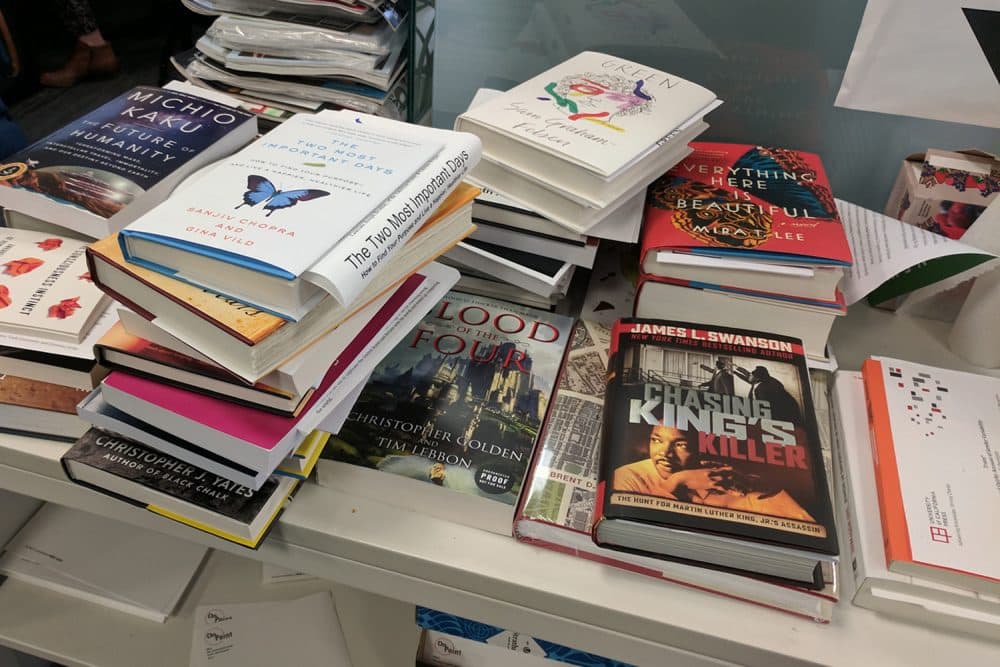 Karen Shiffman, executive producer: "Pachinko," by Min Jin Lee.
Every time Min Jin Lee writes a book, it ends up as my pick for the Best Book of the Year. In 2008, it was "Free Food for Millionaires," a book about a Korean-American family and a daughter's struggle to fit in to both cultures. I recommended it to everyone and my copy made the rounds. I loved it so much that I started an email correspondence with the author and kept asking "When is your next book coming out?" This year, she's out with "Pachinko," and it was worth the long wait. This time, Lee tells the story of four generations of Koreans living in exile in Japan. There are some familiar themes in this book: racism, social mobility, and clash of cultures. In case you're wondering, pachinko is a Japanese-style slot machine. Lee uses it to tell the stories of people trying to beat the odds in a world stacked against them. After reading a few pages, you'll be rooting for them, too. Make sure you have a box of tissues nearby.
Jack Beatty, On Point news analyst: "The Long Haul" by Finn Murphy.
Finn Murphy's entertaining account of his career as a truck driver supplies a glaring lack: the want of books describing work of which critics have complained forever. The detail is unassailably authentic : "I downshift my thirteen-speed transmission to fifth gear, slow to 23 mph, and set my Jake brake to all eight cylinders…. I watch the tachometer, which tells my engine speed, and when it redlines at 2,200 rpm, I'm at 28 mph. I brush the brakes to bring her back down to 23. If it's going to happen, it's going to happen now." "It" is to skid off the road into the abyss creeping down a vertiginous Rocky Mountain pass during a July snowstorm. Murphy is equally adept at conveying the economic and technological forces that have squeezed the wages of long-distance truckers and that now, via the driverless vehicle, threaten their livelihood. He's not one to romance the knights of the road, but there's a steady respect for the characters of the characters he works with, a mix of races and ethnicities that yield startling exchanges like:
"Maybe it's time to throw your white around."
"Throw my weight around."
"Throw your white around. You never heard that term before?"
"Meaning what exactly, Eduardo?
"Meaning we're brown guys and you're a white guy…"
Full disclosure: Finn Murphy is the brother of my friend and former colleague at the Atlantic, Cullen Murphy, who has just published "Cartoon County: My Father and His Friends," an evocative portrait of a panel of syndicated newspaper cartoonists living in Fairfield County CT and environs during the heyday of Prince Valiant (his father's strip) and Ben Bolt.
Stefano Kotsonis, On Point producer: "A Legacy Of Spies" by John Le Carré.
In the first pages of Le Carré's book, I thought, "Hmm, this is going to be a greatest hits album," nostalgia instead of something fresh, something rooted in today's geopolitics.  But Le Carré draws you in, and pretty soon you're flicking your finger across your e-book (and losing your place and scrolling back in exasperation to find it!).  He does take your mind back to the way we thought, the way the world looked, the things we feared during the Cold War. And maybe that's what marks eras:  Our Big Fears change with the times.  And the tale of a modern organization (here, an intelligence agency) prosecuting its past really rings true in today's world.
Allison Pohle, On Point producer: "Little Fires Everywhere" by Celeste Ng.
Anyone who knows me knows that I love to talk about how I'm from Cleveland. And about how I love the Cavs. (2016 NBA Champions!) But, even if "Little Fires Everywhere" were set in a place other than the Cleveland area, it would still be my favorite book of the year. At its heart, Celeste Ng's second novel is a beautifully written exploration of family, racial identity and privilege. The story unfolds in the seemingly idyllic town of Shaker Heights, Ohio, which prides itself on being "race blind," though it turns out to be anything but. The strength of the novel lies in Ng's ability to create characters who seem plucked from real life, and who force the reader to confront her own assumptions about race, and who is privileged in our society, as well as who gets to be a mother and what it means to be a family. "Little fires everywhere" engulf the lives of Ng's fictional characters in Shaker Heights, but the ashes they leave in their wake linger with readers, who will be left thinking about this book longer after they finish it.
Anna Bauman, On Point intern: "Her Body And Other Parties" by Carmen Maria Machado.
Carmen Maria Machado's first book, "Her Body And Other Parties," is a collection of modern fairy tales about the lives of women — if women lived in a universe with ghosts, spreading pandemics, and mind-reading powers. The stories speak true to women's experiences in relationships, both with romantic partners and their own bodies. Yet, each are tinged with the deeply strange. One tells the story of ghost women sewn into prom dresses. In another, a woman is haunted by the part of her body she gave up after undergoing gastric bypass surgery. My favorite revived the stories told during my middle school sleepovers — the story of a woman who wears a mysterious ribbon around her neck. Just be careful reading this book before bed (you won't put it down).
Sarah Platt, On Point producer: "The History Of Bees" by Maja Lunde.
What would happen if bees disappeared? That's the back-drop of Norwegian author Maja Lunde's novel. It's a fascinating, touching and sometimes bleak story that weaves together three tales and three families from three very different times. Lunde looks to the past where a British biologist struggles to regain his passion for science, to a modern time where a Midwestern bee farmer struggles to deal with Colony Collapse Disorder, and to a future in China where a young mother spends hours hand painting pollen onto fruit trees. While the framework of ecological-disaster is a relevant one, the book truly shines in exploring the intimate relationships between its characters, especially the relationships between parent and child. It's a story of sacrifice and love, of human instinct and selflessness. Not a happy read but a worthwhile one.
Eileen Imada, On Point director: "Silence: in the Age of Noise" by Erling Kagge.
A lot of books come to us here at On Point and the irony of Erling Kagge's 'Silence: In the Age of Noise' arriving at the office of a radio talk show was not lost on us. But the way Kagge defines silence is not literal. It's about the silence in our surroundings — in the case of Kagge he calls "Antarctica the quietest place I've ever been" — but also within us and in the music we listen to. Especially this year, reading it feels like being transported to another planet of meditative self-reflection. "Keep in mind that the silence you experience is different from that which others experience," Kagge writes. "Everyone possesses their own." It's a joyful celebration of what feels like a precious resource that is all in too short supply.
Brian Hardzinski, On Point producer: "The Last Republicans: Inside the Extraordinary Relationship Between George H.W. Bush and George W. Bush" by Mark K. Updegrove.
I've always been fascinated by the Bush family. Maybe I'm biased – impressionable 7-year-old Brian watched in awe as his father showed off the family minivan to George H.W. Bush after we encountered him unexpectedly in a Houston parking lot in 1993 ("Bar and I are thinking of getting a vehicle like this now that I'm retired"). Historian and journalist Mark K. Updegrove's biography The Last Republicans: Inside the Extraordinary Relationship Between George H.W. Bush and George W. Bush pulls back the curtain on the first father-son presidential duo since the 19th century, sheds light on their unique relationship both inside and outside the Oval Office, and offers perspective and clarity on the "Prodigal Son" narrative as the younger Bush left behind booze, baseball, and West Texas oil for a career in politics. It also delivers new, compelling insight on 41 and 43's thoughts on 45 – President Donald Trump – and why George W. Bush quipped he may be "the last Republican president."
Tania Ralli, On Point producer: "Exit West" by Mohsin Hamid.
For years now the migrant crisis has displaced millions of people around the globe, and this gives Mohsin Hamid's new novel "Exit West" a particular urgency. What would you do, if, like his characters Saeed and Nadia, you were forced to leave your home, a city ravaged by militants, with just a backpack? How do you start over in a foreign part of the world where you're unwanted, to the point you're not treated as human, but as a nuisance? Saeed and Nadia fall for each other just as war is breaking out at home. They flee through a black door, one of many supernatural portals appearing around the world, to another place. Landing first in Greece, Saeed and Nadia cling to each other, but they react to displacement differently. Can their relationship can survive the strain and indignities of migrating and trying to start over? Hamid's prose is luminous, and with few words he paints hauntingly precise scenes that make this global catastrophe hard to ignore.
Brian Amaral. On Point producer: "A Life Of Adventure And Delight" by Akhil Sharma.
Akhil Sharma is a believer in funny stories. In his classes at Rutgers-Newark, where he teaches in the MFA program, he once made his students write a funny story, and then read it aloud the next week. He made them do it again the next week. And then, since it had gone so well the first two times, he made them do it again again the next week. I know this because I was in that class (brag) before dropping out of the program because it was too much work and also I wasn't good at it (not a brag).
In his new collection of short stories "A Life of Adventure and Delight," which came out this year, Sharma puts his belief to work, weaving stories that are at once deeply sad and deeply funny. Let's see an example: In the first story of this collection, our hero Gopal picks up dating tricks from an article in "Cosmopolitan" in an effort to seduce his neighbor, Mrs. Shaw.
"Because Mrs. Shaw was an American, Gopal thought, he needed to do research into what might be expected of him. Although the article was about what makes a woman a good lover, it offered clues for men as well."
It's a good joke, but what makes it funny is that Gopal keeps going back to Cosmopolitan (also the title of this story):
"'Thank you for letting me borrow the lawn mower,'" Mrs. Shaw tells Gopal.
"'It's nothing.' There was a long pause. Gopal could not think of anything to say. Cosmopolitan had suggested trying to learn as much as possible about your lover, so he asked, 'What's your favorite color?'"
That the story is sad and meaningful and funny at the same time is something that only a few writers — Jonathan Franzen, Lorrie Moore, and the criminally underappreciated Akhil Sharma, whom you should read right now — are capable of.