GOP Achieves Tax-Cut Dream; What Happens To The Dream Of Home Ownership Now?
Play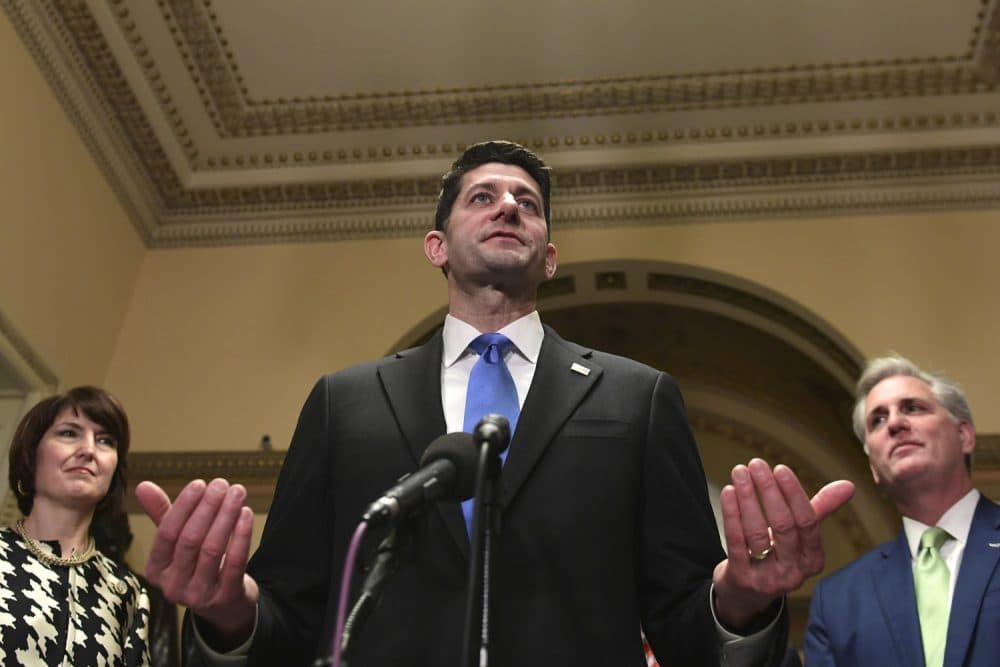 This article is more than 4 years old.
With guest host Tom Gjelten.
The House and Senate pass a tax bill with big, permanent cuts for corporations and the rich, and modest, temporary ones for much of the middle class. President Trump to sign it quickly. We'll look at what the plan means for home ownership and the American dream.
Story continues below
Subscribe to the podcast
Guests:
Sahil Kapur, national political reporter for Bloomberg News. (@sahilkapur)
Mark Zandi, chief economist, Moody's Analytics.
Chris Mayer, professor of real estate, co-director of the Milstein Center for Real Estate at Columbia Business School.
From The Reading List:
Bloomberg: Democrats Prepare To Run Against The GOP 'Tax Scam' In 2018 — "Polls suggest Democrats are winning in the early rounds. Half the public thinks they'll pay higher taxes under the Republican overhaul, according to a Monmouth University poll conducted from Dec. 10 to Dec. 12 that had similar findings to other studies. A NBC/Wall Street Journal poll released Sunday found that voters prefer Democrats over the GOP to run Congress by 50 percent to 39 percent, a margin that election analysts say could flip both chambers."
Realtor.com: Does The New Tax Plan Really Threaten The American Dream Of Owning A Home? — "The new tax plan has been framed as a deathblow to the American dream by some real estate professionals and groups, who warn of falling home prices, a new generation trapped in renting, and an exodus of residents from the highest-cost cities and states.
But are these fears surrounding the new, lower cap on mortgage interest deduction—and the incentive for taxpayers not to use it—overblown? Or are there indeed big repercussions to come? That all depends on whom you ask—and where they live."
ABC News: President Trump: Tax Bill An 'Incredible Christmas Gift For Hard-Working Americans' — "President Donald Trump on Wednesday hailed congressional Republicans' ambitious $1.5 trillion rewrite of the tax code as a win for middle class Americans. Trump during a Cabinet meeting on Wednesday called the bill "historic."
President Trump says it's the biggest change to our tax laws in history. Not really, but it is big. The tax bill now on the president's desk would widen some deductible expenses, reduce others. The biggest effect may be on home ownership. For years, American presidents have said owning a home strengthens families. But the new tax bill could weaken the incentive to buy rather than rent. This hour, On Point: Did Congress tinker with the American dream? --Tom Gjelten
This program aired on December 21, 2017.