Week In The News: GOP Wins Tax Battle, Deadly Train Crash, Trump's National Security Strategy
47:29
Play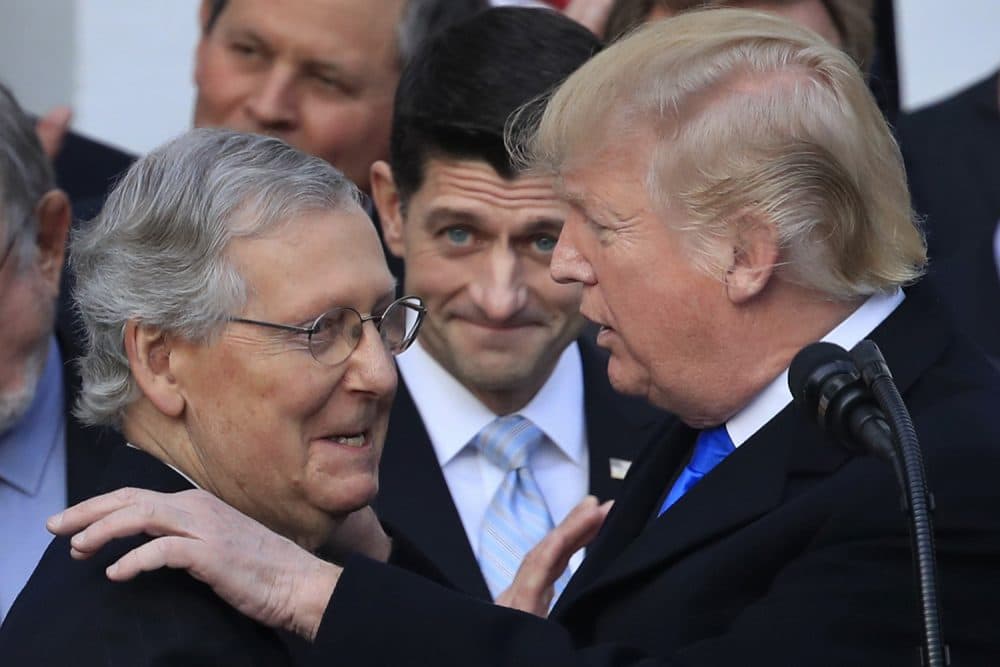 This article is more than 3 years old.
With guest host Tom Gjelten. 
The GOP passes a long-sought tax bill, slashing rates for corporations and edging them down temporarily for the middle class. A train crash in Washington state kills three people. President Trump outlines his national security vision.
Our weekly news round table goes behind the headlines.
Guests:
Katie Bo Williams, national security reporter for The Hill. (@KatieBoWill)
Olivier Knox, chief Washington correspondent for Yahoo News. (@OKnox)
Jack Beatty, On Point news analyst.
From The Reading List:
The Hill: FBI Deputy Grilled By House Intel Over Concerns About Bias — "FBI Deputy Director Andrew McCabe arrived at the Capitol Tuesday afternoon to face a grilling from the House Intelligence Committee amid concerns among some Republicans who believe the bureau is hopelessly biased against President Trump.
He testified for close to eight hours in a rescheduled interview that came amid the committee's sprawling investigation into Russian interference in the U.S. election."
Yahoo News: Kaine Warns U.S. Mission Shift In Syria, Iraq May Be Illegal — "Sen. Tim Kaine, D-Va., pressed the Trump administration on Tuesday to clarify whether U.S. forces deployed in Syria and Iraq to fight ISIS are shifting their focus to confront Iran and its proxies. The Democrat also warned that such a change in the military mission might be illegal absent explicit authorization from Congress."
The Republican-led Congress passes a big new tax bill. A stop-gap spending bill keeps the government open, for now. President Trump lays out his national security strategy — but the UN condemns his Jerusalem decision. Senator Al Franken rips the president in a farewell speech; Republicans go after the FBI. A deadly train derailment. And Papa John learns pizza topped with politics doesn't sell. This hour, On Point: Our weekly news roundtable goes behind the headlines. --Tom Gjelten
This program aired on December 22, 2017.