Highlights From Our Conversation About 'Oprah 2020'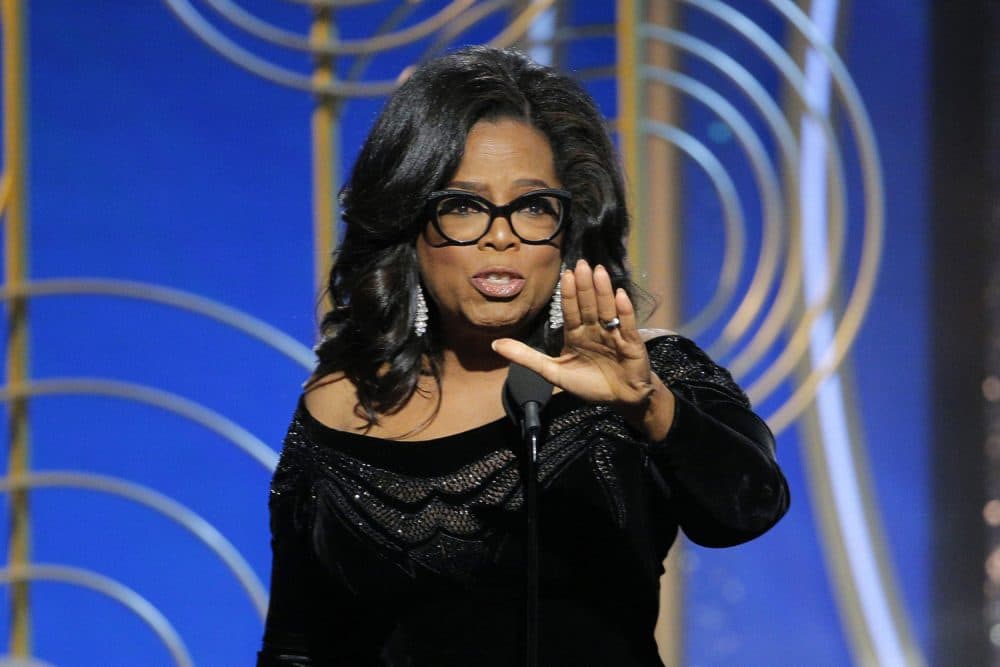 This article is more than 3 years old.
Candidate Winfrey. Can you see it? After a powerful, eight-minute speech at the Golden Globes, a volcano of speculation erupted over whether Oprah Winfrey would run for president.
In today's hour, we entertained the idea. One listener on Facebook commented to tell us we were only doing the show "for the ratings." But our guest Larry Sabato, director of the Center for Politics at the University of Virginia, had two words for why we had the conversation:
Donald Trump.
"He broke a barrier, and I don't think the barrier will ever be reconstructed," Sabato said. "The barrier being that someone who runs for president, unless they've been a general in a major war, should've had some political or governmental experience."
As our guest Sophia Nelson, author, journalist and MSNBC political analyst, pointed out, Oprah is technically qualified to run for president. She's over 35, is a natural born citizen, and has lived in California for 14 years. Plus, she said. "everybody loves Oprah, who doesn't love Oprah?"
But Nelson didn't see Oprah's Golden Globe speech as precursor to a future campaign.
"I think we missed the mark a little bit," she said. "I think that she was talking to us and telling us to rise up. Telling 'we the people' to do better."
Angela Rye, a political strategist and CNN commentator, said that regardless of whether she runs, Oprah has caused the nation to think about what truly qualifies someone to run for office.
"We have to really start asking ourselves, what really qualifies someone?" she said. "Is it the ability to listen and actually hear, is it the ability to learn, is it the ability to put great people around you? It really comes down to, how are we deciding who gets to fill this role, particularly now?"
Some of our listeners complained that the celebrity-running-for-office-effect had gone too far. Nelson agreed.
"It seems to me that we're headed into lazy democracy where we want Kim Kardashian, we want Kanye West, we want The Rock, we want Oprah, and we want all these celebrities to be ou President, but do we really after what we've seen for the past year?" Nelson said. "The past year's been horrible for America, it's been horrible for democracy, it's been horrible for the Republic. If what we're doing now is having unqualified celebrities run our country, we're in trouble."
Rye said she agrees that this year has been tough for the country, but that we shouldn't act as though Donald Trump and Oprah are on the same level just because they're both celebrities.
"We are running into a very dangerous space when we basically make synonymous Oprah and Donald Trump," she said. "I mean, they are two human beings that have billionaire status, very very close to each other in terms of overall net worth. And I think that's pretty much where the similarities end.
"When I see Oprah, I see someone who is hungry to learn and eager to apply the knowledge that she's gained to make a difference," Rye said. "She is someone who has made information tangible and accessible to people all over the world. She started a school in South Africa to help girls learn. I just don't embrace the fact that she represents something, as Sophia called it, 'lazy democracy.' There's nothing lazy about this woman. We need to make a tremendous shift from where we are."
Nelson took this point even further when she encouraged listeners to consider what it would mean for a black woman to run in our current political climate.
"This past year has shown an ugliness of racism that still exists right down in Charlottesville, in my backyard, the most ugly display of racism, of anti-semitism, a young woman murdered, and the president couldn't get it right that it was wrong," she said. "We've seen an underbelly since Donald Trump has been president of these united states that is frightening. So to think that a black woman is going to step into this arena and her race and gender ain't gonna to matter is naive, and is just not real. It does matter."
Whether Oprah runs remains to be seen, but, regardless, both Rye said the speculation is positive for the country.
"It's so important for us to gut check the ideas we go towards about expectations and qualifications," Rye said.
And Nelson's final word?
"I don't think she's gonna run, but I think that this is very positive that we're all talking about it and I love anything that engages the American people at all levels to talk about democracy."