Week In The News: Bannon Subpoenaed, Shutdown Looms
47:54
Play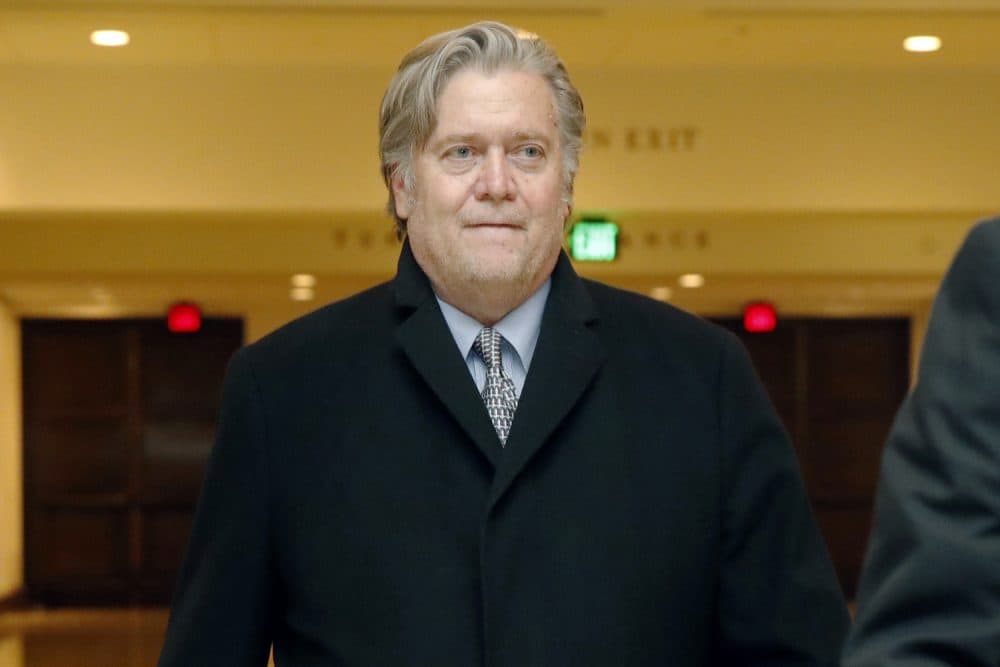 This article is more than 3 years old.
With guest host John Harwood.
Steve Bannon subpoenaed by Russia special counsel Robert Mueller. Talk of government shutdown … again. And the Koreas will march under one flag at the Olympics, a remarkable symbol amid tensions on the peninsula. The #MeToo conversation continues. Our weekly news round table goes behind the headlines.
Guests:
Nancy Cordes, chief congressional correspondent for CBS News. (@nancycordes)
Joshua Green, national correspondent for Bloomberg BusinessWeek, author of "Devil's Bargain: Steve Bannon, Donald Trump and the Storming of the Presidency." (@JoshuaGreen)
Jack Beatty, On Point news analyst.
From The Reading List:
CBS News: McConnell Says Senate Will Consider Immigration Deal "As Soon As We Figure Out" What Trump Supports — "Senate Majority Leader Mitch McConnell on Wednesday seemed to admit that President Trump has not yet clearly indicated what needs to be in an immigration bill that he would sign. CBS News' Nancy Cordes asked the Kentucky Republican how the GOP leadership's immigration agreement is likely to be different from a deal struck by a bipartisan group of senators last week."
Bloomberg: Bannon Leaves Breitbart After Trump Feud — "Former White House strategist Steve Bannon has left his job as executive chairman of Breitbart News and will no longer host a radio show at SiriusXM Holdings Inc. after feuding with President Donald Trump over remarks in a new book."
Foreign Policy: Trump Ordered Bannon To Limit Testimony — "President Donald Trump personally made the decision to curtail the testimony of former chief White House political strategist Steve Bannon before the House Intelligence Committee, according to two people with firsthand knowledge of the matter."
They keep marching side by side – the robust national economy and the dysfunctional government in Washington. Congress and the White House are flirting with a shutdown, President Trump is at odds with his top aide, and stands accused of paying off a porn star. All that amid mood swings on North Korea; one day a false missile alert, the next, Olympic harmony. This hour, On Point: Our weekly news roundtable goes behind the headlines. --John Harwood
This program aired on January 19, 2018.