The Debate Over Arming Teachers To Stop School Shootings
Play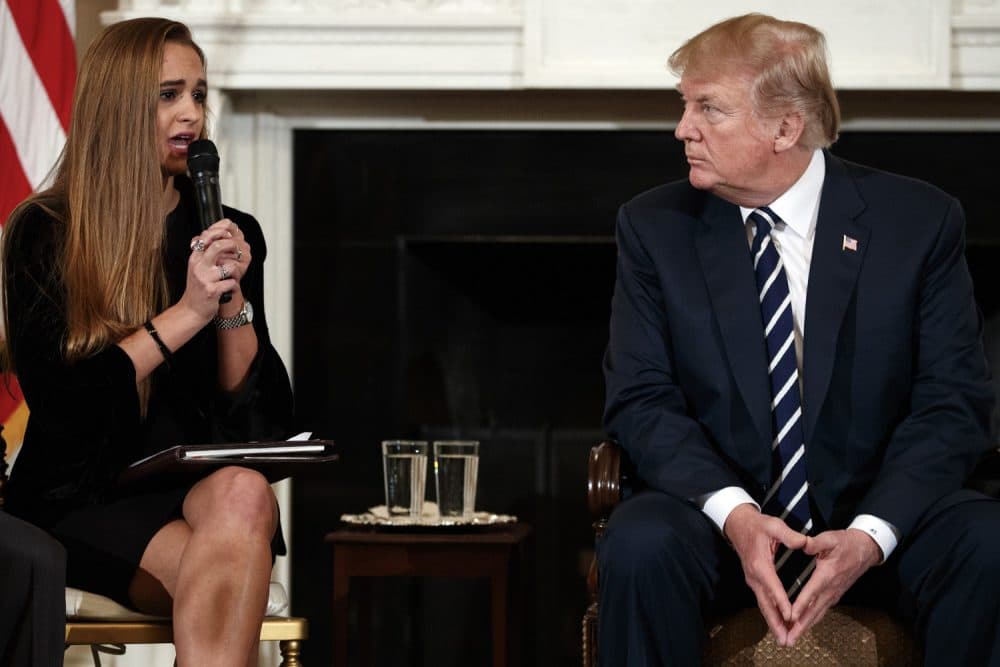 This article is more than 4 years old.
President Trump floats the idea of arming teachers to prevent another school tragedy. We'll have that debate.
Guests:
Lois Beckett, senior reporter for The Guardian U.S. covering gun policy. (@loisbeckett)
Kevin Dyes, superintendent at Holliday Independent School District in Texas, which permits licensed staff to carry guns at school.
Suzanne Cohen, president of the Portland Association of Teachers, 1994 graduate of Marjory Stoneman Douglas High School.
David Hogg, 17-year-old senior and survivor of the mass shooting at Marjory Stoneman Douglas High School. (@davidhogg111)
Michelle Lapidot, 15-year-old freshman and survivor of the mass shooting at Marjory Stoneman Douglas High School. (@MichelleLapidot)
From The Reading List:
The Guardian: Trump Insists On Arming Teachers Despite Lack Of Evidence That It Would Stop Shootings -- "Facing opposition from the country's largest teachers' unions, school security guards and military veterans, the president continued to endorse the plan in White House meetings and on Twitter."
Arming America's teachers. It's a white-hot debate across this country.
President Trump is all in. So is the NRA, and some school districts.
But critics are blasting back. Not on their syllabus. More chaos. More danger. Amidst talk of assault weapon bans, expanded background checks, and increasing mental health treatment, is the idea that should be getting traction? This hour, On Point: arming teachers and later in the hour, two Parkland students heading back to school. --Jane Clayson
This program aired on February 26, 2018.