EPA's Scott Pruitt Faces Mounting Ethics Controversies
46:33
Play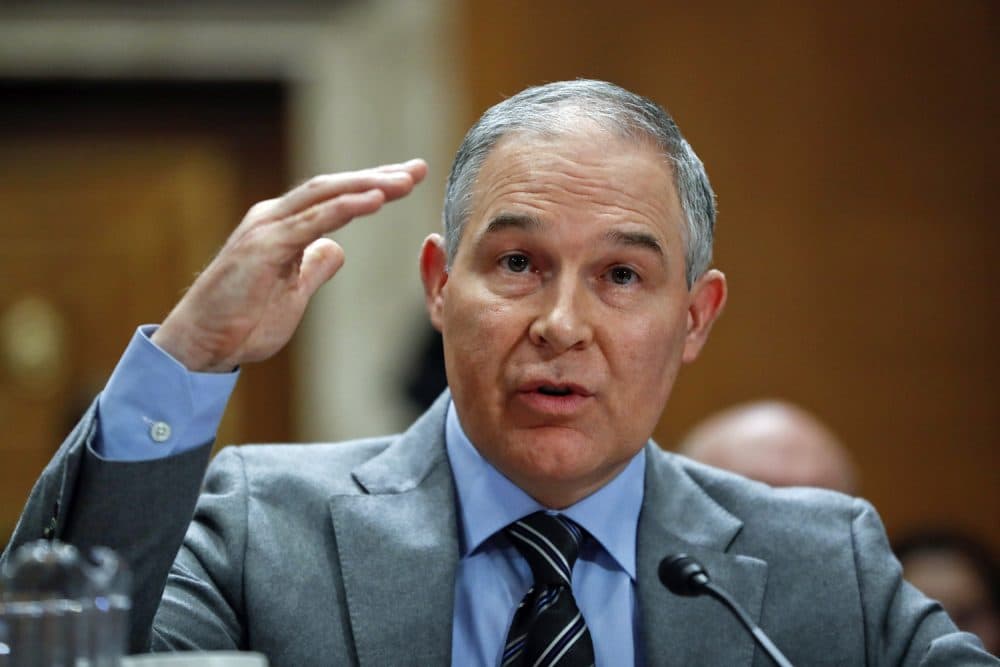 This article is more than 3 years old.
EPA chief Scott Pruitt's future in the Trump Cabinet is in jeopardy after a series of ethics issues.
Pruitt stayed at a D.C. condo owned by the wife of an energy lobbyist for just $50 a day, described by critics as a sweetheart deal in pricey D.C. He's also been criticized for expensive air travel — for example, a $14,000 trip back to his home state of Oklahoma.
On Point guest host Jane Clayson took up the subject Thursday with Robin Bravender of Climatewire, John Harwood of CNBC, and Richard Painter, former chief White House ethics lawyer for President George W. Bush.
"$50 a night — this isn't brain science — nobody else can find a room in Washington DC for 50 bucks a night," Painter told us, describing it as a violation of gift laws.
Pruitt has defended the arrangement, saying in a Fox News interview that it was akin to an Airbnb rental and not a sweetheart deal.
"Pruitt's statement is ridiculous," Harwood told us. "Of course it's a sweetheart deal."
Pruitt has also been criticized after two top staffers who are friends of his got pay raises, even after the White House said no, according to reports.
Whether Pruitt can survive the situation is an open question. One factor is the difficulty in getting a replacement through the Senate, ClimateWire's Bravender said. Another factor, though, is the series of wins Pruitt has racked up for President Trump's agenda, which prioritizes deregulation and growth in the energy sector over environmental concerns.
"On the regulatory front, everyone I've talked to in the administration says President Trump is extremely happy with him," Bravender said.
Guests:
Robin Bravender, deputy editor of Climatewire. (@rbravender)
Richard Painter, former chief White House ethics lawyer for President George W. Bush from 2005 to 2007. Professor of corporate law at the University of Minnesota. (@rwpusa)
John Harwood, editor at large, CNBC. (@JohnJHarwood)
Reading List:
Vox: Scott Pruitt's Bizarre Condo Scandal And Mounting Ethics Questions, Explained — "There are few officials in the Trump administration who've delivered wins to the president like Environmental Protection Agency Administrator Scott Pruitt."
Fox News: EPA's Scott Pruitt Pushes Back On Pay Raise, Condo Controversy In Fox Exclusive — "Embattled Environmental Protection Agency Administrator Scott Pruitt fired back at critics Wednesday, defending his decision to take a $50 a day condo rental from the wife of a lobbyist and claiming he just found out about a controversial pay raise for two of his staff members."
ClimateWire: Top Aide To Pruitt Is Leaving — "A top aide to embattled U.S. EPA chief Scott Pruitt is stepping down.
Samantha Dravis — Pruitt's policy chief and one of the most influential players at the agency — is planning to leave EPA this month to pursue a job in the private sector, according to an administration official."
EPA Chief Scott Pruitt came to Washington to do battle against regulations, the Washington way, and the orthodoxy on climate change. By those measures, he's had some success. But now he's accused of sloppy ethics –expensive trips, expensive perks from lobbyists --for starters. And now Pruitt may be joining the list of cabinet secretaries dumped for swamp politics and living high on the taxpayer's dime.

This hour, On Point: The EPA chief, the White House and ethics in this White House.

--Jane Clayson
This program aired on April 5, 2018.