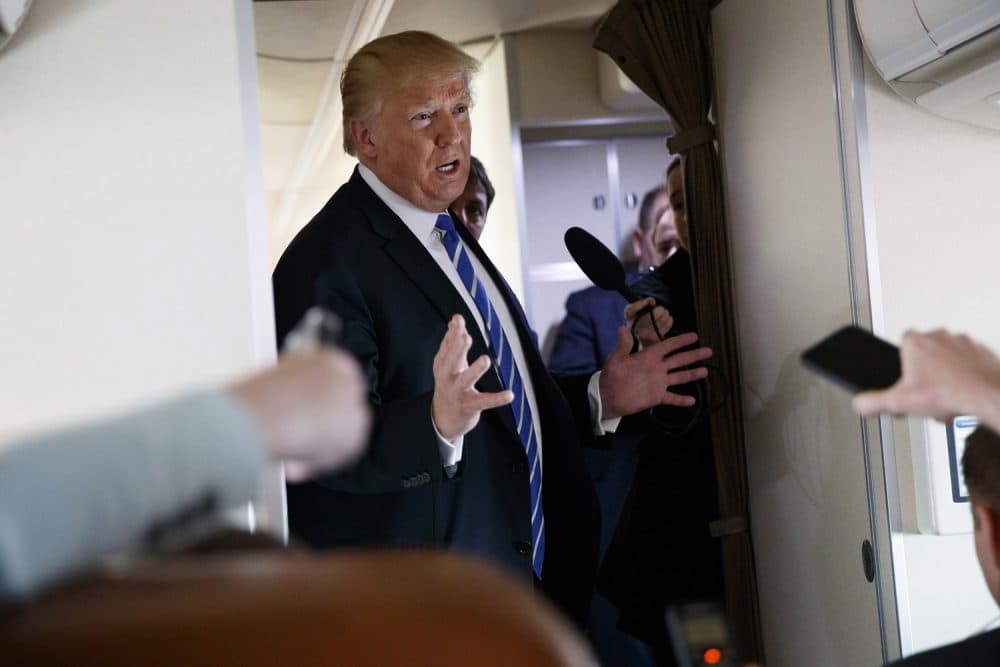 This article is more than 3 years old.
With David Folkenflik
Troops on the border. Tariff wars. And after signaling a desire to get out, mixed signals on Syria after a chemical attack. President Trump's "America First" agenda has gotten a boost, with Wall Street Journal executive Washington editor Gerald Seib describing the capital as "Trump Unbound."
We'll take stock.
Guests:
Gerald Seib, executive Washington editor for the Wall Street Journal. (@GeraldFSeib)
Jennifer Mendelsohn, journalist and creator of "#resistancegenealogy," a project where she traces the immigration roots of lawmakers and other public figures who are in favor of an immigration crackdown. (@CleverTitleTK)
Michelle Kosinski, CNN's senior diplomatic correspondent. (@michlkosinski)
From The Reading List:
Wall Street Journal: Trump Plunges Ahead With America-First, Nationalist Approach — "During President Donald Trump's first year in office, there were stretches when it appeared that, aside from his unorthodox style, he actually was governing as a fairly conventional conservative Republican.
No more. Instead, Washington has moved into the period of Trump Unbound."
President Trump now says he wants to hit Syria - big price to pay! he tweeted - after reports of a deadly chemical weapons attack this weekend. This just days after Trump declared he was ordering US troops out of Syria. From the outset of his bid for the White House, Trump has evoked nationalist, isolationist themes – notably on immigration and trade. Now, he's going all-in.

This hour, On Point: Nationalism in the Trump presidency.

--David Folkenflik
This program aired on April 9, 2018.