One Year Of Mueller
46:16
Play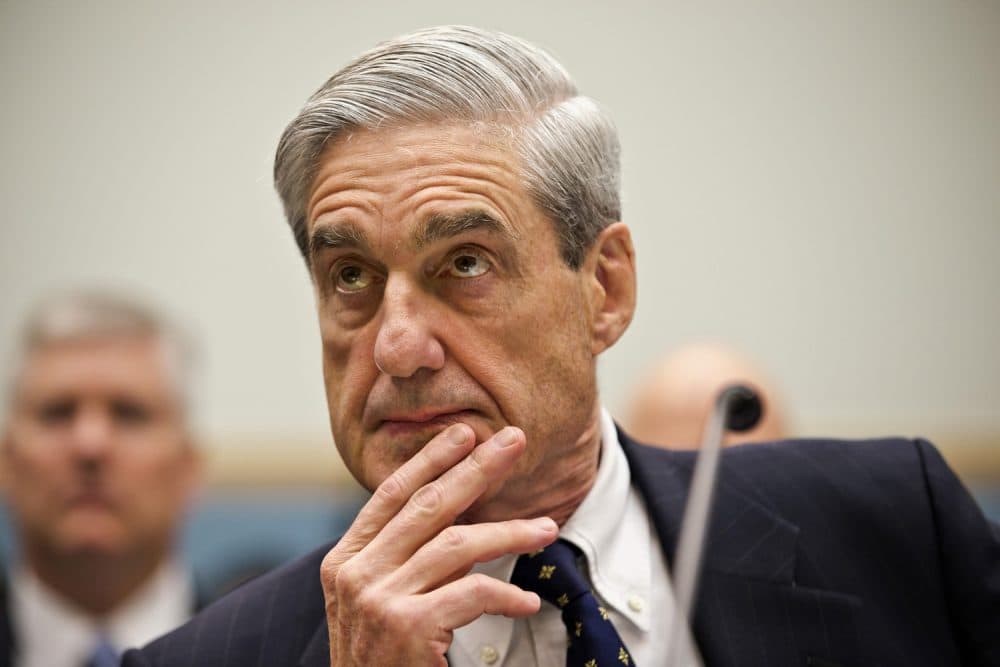 This article is more than 2 years old.
With David Wright
The Mueller investigation hits the one-year mark. We'll discuss what we know and what's to come.
Guests:
Chris Strohm, justice correspondent for Bloomberg News. (@cstrohm)
Mark Tuohey, of counsel with the law firm of Baker Hostetler. He was principal deputy to Independent Counsel Kenneth Starr in the investigations into Whitewater and other allegations against President Clinton, and former assistant U.S. attorney for District of Columbia, 1973-1977.
Leon Neyfakh, staff writer at Slate and host of "Slow Burn: A Podcast About Watergate." (@leoncrawl)
From The Reading (And Listening) List:
Slate: "Slow Burn: A Podcast About Watergate" -- "Why are we revisiting Watergate now? The connections between the Nixon era and today are obvious enough. But to me, the similarity that's most striking is not between Donald Trump and Richard Nixon (although they're both paranoid, vengeful, and preoccupied with 'loyalty'), or their alleged crimes (although they both involved cheating to win an election), or the legal issues in the two cases (although they both center on obstruction of justice)."
Bloomberg: "Comey Says Nunes's Demand for Classified FBI Data Is Dangerous" — "A demand by House Intelligence Chairman Devin Nunes for the Justice Department and FBI to turn over classified information about Special Counsel Robert Mueller's investigation is extremely dangerous to the U.S., former FBI Director James Comey said.
'You cannot overstate the danger in that kind of behavior to the security of the United States,' Comey said at an event in Washington Friday hosted by the Brookings Institution.
Nunes is demanding that the Federal Bureau of Investigation reveal to him details about a U.S. citizen who has served as an intelligence source for the probe into Russia meddling, according to a person with knowledge of the matter."
The Wall Street Journal: "Senate Panel Releases 2,500 Pages of Testimony on Meeting Between Trump Campaign Officials and Russians" — "The Republican-led Senate Judiciary Committee made public more than 2,500 pages of testimony, notes and statements from the eight people who attended the meeting, which occurred at the height of the 2016 presidential campaign.
The June 9, 2016 meeting was set up to discuss allegedly incriminating information about Mrs. Clinton that the Trump camp was told was being offered by the Russian government in support of Mr. Trump's candidacy. Participants have said publicly that most of what was discussed were sanctions against Russia in response to human-rights violations, a central foreign-policy concern of Moscow."
Time flies! Thursday, May 17 marks exactly a year since Special Counsel Robert Mueller took over the Russia investigation. Nineteen indictments or guilty pleas… so far. But, so far, no smoking gun…nothing that directly implicates the president or his aides in colluding with Russia. We all know what the president thinks of all this.

This hour, On Point: the Russia investigation enters its second year.

- David Wright
This program aired on May 16, 2018.