Supreme Court Rules In Favor Of Colorado Baker In Cakeshop Case
Play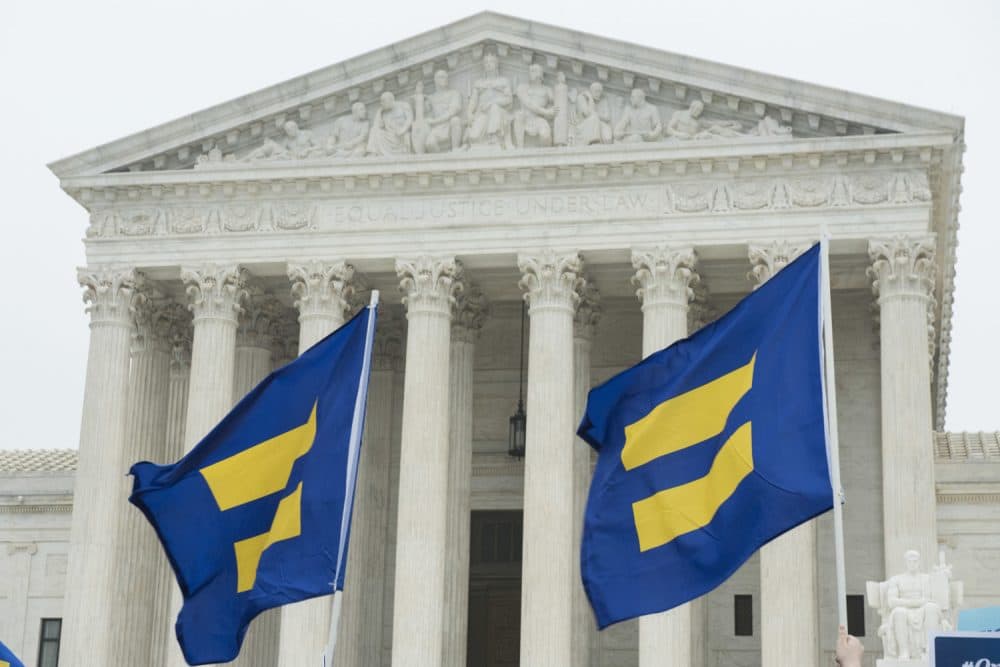 This article is more than 4 years old.
With Jane Clayson
The Supreme Court ruled Monday in the case of the baker who wouldn't make a wedding cake for a gay couple. In a 7-2 decision, justices decided in favor of the Colorado baker. This has been one of the most watched-for rulings this session with big implications for free speech and religious and gay rights.
Guests:
Emily Bazelon, staff writer for the New York Times Magazine and co-host of the Slate Political Gabfest. (@emilybazelon)
Michael Moreland, professor of law and religion and director of the McCullen Center for Law, Religion and Public Policy at Villanova University. (@MorelandMP)
Sharon McGowan, legal director and chief strategy officer at Lambda Legal. (@SharonMcGowanDC)
From The Reading List:
The Hill: "Supreme Court sides with baker in same-sex wedding case" — "In a landmark ruling Monday, the Supreme Court sided with a Colorado baker who refused to make a custom cake for a same-sex wedding.
In a 7-2 decision written by Justice Anthony Kennedy, the court said the Colorado Civil Rights Commission violated the Free Exercise Clause of the Constitution when it forced Jack Phillips to make a cake for a same-sex wedding he morally opposed under the state's public accommodations law.
'The laws and the Constitution can, and in some instances must, protect gay persons and gay couples in the exercise of their civil rights, but religious and philosophical objections to gay marriage are protected views in some instances protected forms of expression,' the court said."
Two gay men in Colorado wanted a wedding cake. The owner of the Masterpiece Cakeshop said he wouldn't bake one for them. The couple said they should have been protected by anti-discrimination laws. The baker said he's an artist and freedom of expression and religious liberty are on the line. Today, the High Court ruled in favor of the Colorado baker.

This hour, On Point: the ruling in the Masterpiece Cakeshop case. Now what?

- Jane Clayson
This program aired on June 4, 2018.