Our Planet Is Tangled In Plastic
Play
This article is more than 4 years old.
With Ray Suarez
Plastic or the planet? We need to make a choice, or drown in plastic says National Geographic. We'll dig in.
Guests:
Laura Parker, staff writer for National Geographic, who specializes in covering climate change and marine environments. (@laurajoparker)
Jenna Jambeck, professor of environmental engineering at the University of Georgia. (@JambeckResearch)
Ted Siegler, resource economist, environmental consultant who works on solid waste issues in developing countries.
Kathryn Kellogg, writer and public speaker who focuses on educating the public on the dangers of trash and plastic pollution. (@goingzerowaste)
From The Reading List:
National Geographic: "Planet or Plastic?" Campaign — A multi-year initiative aimed at raising awareness of the global plastic crisis and reducing the amount of single-use plastic that is polluting our world's oceans.
"We Depend On Plastic. Now, We're Drowning in It." — "No one knows how much unrecycled plastic waste ends up in the ocean, Earth's last sink. In 2015, Jenna Jambeck, a University of Georgia engineering professor, caught everyone's attention with a rough estimate: between 5.3 million and 14 million tons each year just from coastal regions. Most of it isn't thrown off ships, she and her colleagues say, but is dumped carelessly on land or in rivers, mostly in Asia. It's then blown or washed into the sea. Imagine five plastic grocery bags stuffed with plastic trash, Jambecksays, sitting on every foot of coastline around the world—that would correspond to about 8.8 million tons, her middle-of-the-road estimate of what the ocean gets from us annually. It's unclear how long it will take for that plastic to completely biodegrade into its constituent molecules. Estimates range from 450 years to never.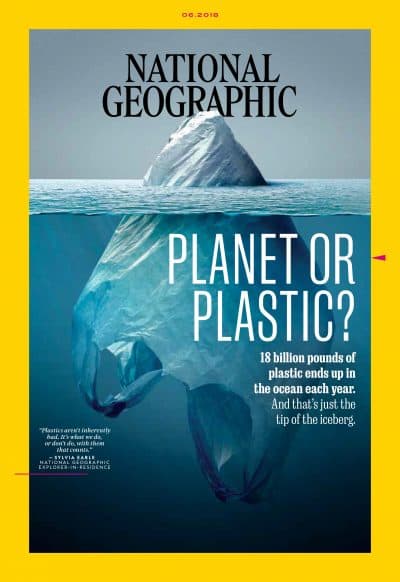 Meanwhile, ocean plastic is estimated to kill millions of marine animals every year. Nearly 700 species, including endangered ones, are known to have been affected by it. Some are harmed visibly—strangled by abandoned fishing nets or discarded six-pack rings. Many more are probably harmed invisibly. Marine species of all sizes, from zooplankton to whales, now eat microplastics, the bits smaller than one-fifth of an inch across. On Hawaii's Big Island, on a beach that seemingly should have been pristine—no paved road leads to it—I walked ankle-deep through microplastics. They crunched like Rice Krispies under my feet. After that, I could understand why some people see ocean plastic as a looming catastrophe, worth mentioning in the same breath as climate change. At a global summit in Nairobi last December, the head of the United Nations Environment Programme spoke of an 'ocean Armageddon.'"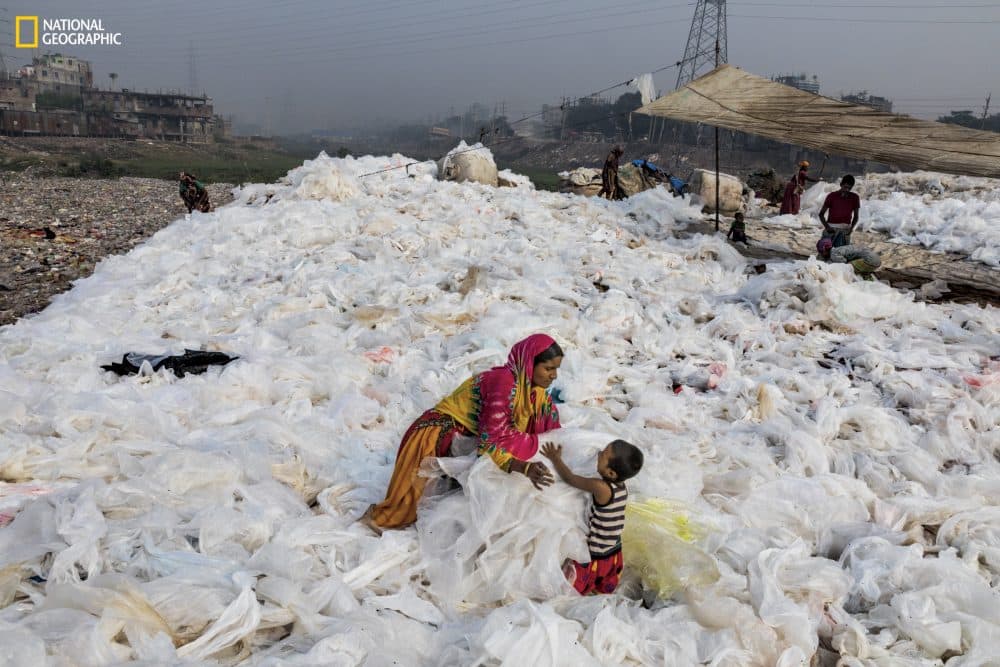 "What Happens to the Plastic We Throw Out" — "Let's start with how discarded plastic is handled on land. In 2015, researchers calculated how much waste is flowing from coastal countries into the oceans. Mismanaged plastic waste is defined as waste that doesn't make its way to proper receptacles, either intentionally or accidentally. Mismanaged waste tends to be higher in developing countries lacking municipal waste-collection systems that deliver garbage to recycling centers and/or landfills.
Watch: A Brief History of How Plastic Has Changed Our World
Direct dumping contributes a significant portion of plastic litter in rivers, but land-bound trash also can make its way to water. Rainwater ushers mismanaged waste from land into local waterways, which feed into larger tributaries and rivers, which in turn empty into oceans. In this way, plastic from far inland can travel many miles to the coastline.
Polluted rivers are pumping the world's plastic into the oceans—bringing a significant portion of the estimated 9 million tons of plastic that end up in the ocean annually. That corresponds to five grocery bags stuffed with plastic trash for every foot of coastline."
Pathologists find dead ocean animals, their guts clogged with plastic refuse…
Water researchers find plastic fibers in drinking water supplies around the world. It's light, it's strong, it's cheap… and that's the problem. Only a few decades after chemists started cooking them up, we've filled the world with millions of tons of throwaway plastic. Can we slow down consumption, and clean up what we've already thrown out?

This hour, On Point: drowning in plastic.

- Ray Suarez
This program aired on June 11, 2018.