All Eyes On Historic North Korea Summit
47:00
Play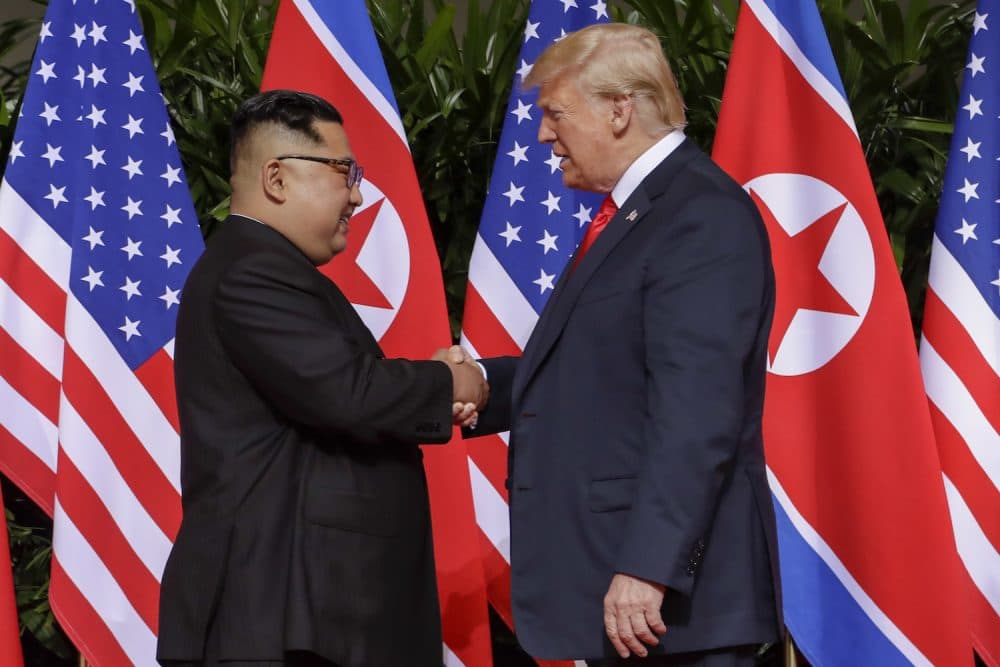 With David Folkenflik
The historic summit with North Korea comes with high stakes. We'll unpack the best and worst case scenarios.
Guests:
Jonathan Cheng, Seoul bureau chief, The Wall Street Journal. (@JChengWSJ)
Suzanne DiMaggio, senior fellow at the New America think tank. (@suzannedimaggio)
Anthony Ruggiero, senior fellow for the Foundation of Defense of Democracies think tank, where he tracks policy regarding North Korea. Former state department and treasury official. (@_ARuggiero)
From The Reading List:
The Wall Street Journal: "Trump, Kim Begin New Phase of Diplomacy" — "President Donald Trump won few specific new commitments from Kim Jong Un to surrender his nuclear weapons after a day of talks, but kick-started a new phase of personal diplomacy aimed at pushing the North Korean leader toward a rapid and verifiable disarmament.
In a two-page document signed by both leaders here on Tuesday, North Korea committed again to "complete denuclearization of the Korean Peninsula," while the U.S. offered unspecified security guarantees in return.
Speaking to reporters after their summit meeting, Mr. Trump said that Mr. Kim had pledged to start denuclearization "right away," but that there hadn't been time to codify details in Tuesday's agreement.
Mr. Kim "might want to do this as much, or even more, than me," Mr. Trump said. "I know when someone wants to deal and when they don't."
Even so, Mr. Trump added a note of caution: "I may be wrong. I may stand before you six months from now and say, 'Hey, I was wrong.'"
CNN: "How the Trump-Kim summit is playing in North Korea" — "North Koreans woke up to news on Monday that their leader Kim Jong Un had arrived in Singapore for a landmark summit with US President Donald Trump.
Famed North Korean news anchor Ri Chun Hee informed the nation that Kim had landed, declaring that the summit was a 'historical first' that is 'garnering the attention and hopes of the entire world.'
North Koreans gathered outside a train station in the capital, Pyongyang, to watch news of the summit broadcast on a large screen. Crowds looked on as images aired of Kim disembarking from the Air China flight and shaking hands with Singaporean Prime Minister Lee Hsien Loong on Sunday.
State-run Korean Central News Agency (KCNA) described the talks as 'wide-ranging and profound,' adding that the two leaders would focus on establishing new DPRK-US relations, 'durable peace-keeping' and denuclearization, among other things. An identical report ran on the front page of state-run newspaper Rodong Sinmun, accompanying an editorial that discussed establishing 'fair' international relations."
The swift summit of Singapore…a historic meeting in which the leaders of two sworn foes emerge with conciliatory words. A new day promised in relations between the U-S and North Korea, the Hermit Kingdom and the outside world. President Trump promises an end to military exercises with South Korea. North Korea's authoritarian leader promises denuclearization. Hope is in the air, but the devil is in the detail, and they are scant. This hour, On Point: Trump's Korean Gambit. --David Folkenflik
This program aired on June 12, 2018.