High Stakes In Helsinki As Trump And Putin Meet
Play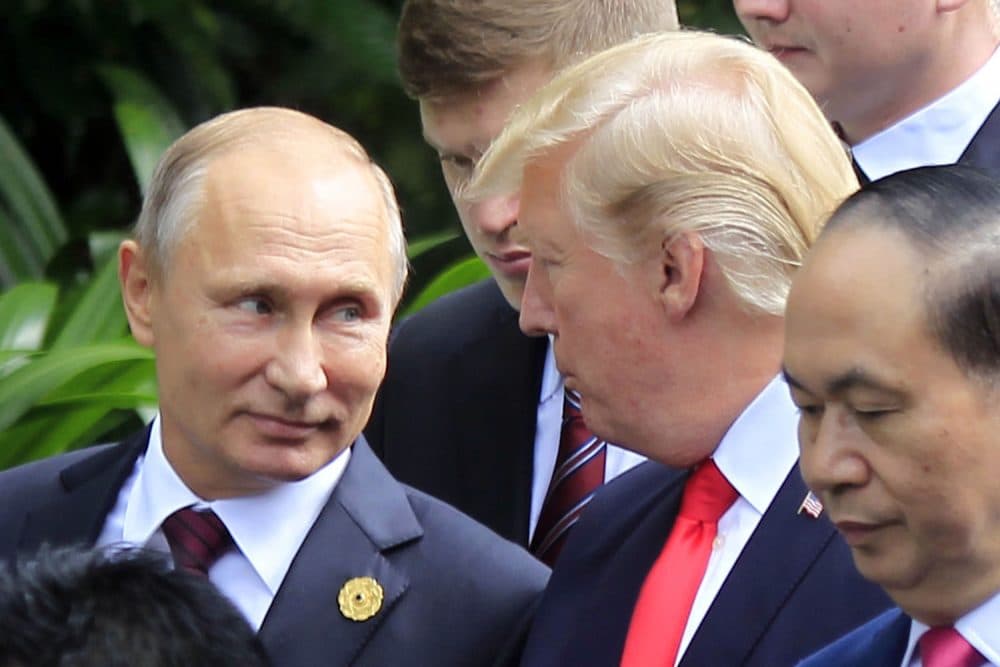 This article is more than 4 years old.
With Harry Smith
The eyes of the world are on Helsinki for the Trump-Putin summit. We're watching, too.
Guests
Richard Haass, President of the Council on Foreign Relations. Author of "A World In Disarray: American Foreign Policy And The Crisis Of The Old Order" (@RichardHaass)
Julia Ioffe, journalist and correspondent for GQ Magazine, and contributing writer for The Atlantic (@juliaioffe)
From The Reading List
The Guardian: "Trump tells Putin at Helsinki summit: 'I really think the world wants to see us get along' " — "In opening remarks to Putin, Trump said he planned to discuss trade, military, missiles and China. He did not mention Russian meddling in the U.S. election, Ukraine, Syria, Nato or Salisbury poisoning. But he congratulate Putin on a successful World Cup."
The Atlantic: "What Putin Really Wants" — "Both Putin and his country are aging, declining—but the insecurities of decline present their own risks to America. The United States intelligence community is unanimous in its assessment not only that Russians interfered in the U.S. election but that, in the words of former FBI Director James Comey, "they will be back." It is a stunning escalation of hostilities for a troubled country whose elites still have only a tenuous grasp of American politics. And it is classically Putin, and classically Russian: using daring aggression to mask weakness, to avenge deep resentments, and, at all costs, to survive. I'd come to Russia to try to answer two key questions. The more immediate is how the Kremlin, despite its limitations, pulled off one of the greatest acts of political sabotage in modern history, turning American democracy against itself. And the more important—for Americans, anyway—is what might still be in store, and how far an emboldened Vladimir Putin is prepared to go in order to get what he wants."
CNBC: "China will be watching and learning as Trump meets Putin" — "As President Donald Trump and his Russian counterpart Vladimir Putin prepare for a head-to-head on Monday, nearby superpower China will be paying the most attention to the relationship dynamic between the two leaders, analysts told CNBC. The Trump-Putin summit taking place in Helsinki, Finland, this week "could present China with important strategic opportunities as well as offering valuable lessons for its own relationship with the U.S. president," John Ferguson, director of global forecasting at analysis firm Economist Intelligence Unit, told CNBC via e-mail."
Two men alone in a room except for translators. Each with strong opinions about their ability to get what they want. President Trump says he hopes he can make a friend of President Putin. Should he? The autocrat annexed Ukraine's Crimean peninsula by force. Putin chose sides with Syrian strongman Assad. And yes, there's the hacking of the U.S. presidential election.

This hour, On Point: the Helsinki summit.

— Harry Smith
This program aired on July 16, 2018.