Striking Out: What's Gone Wrong For Baseball?
49:00
Play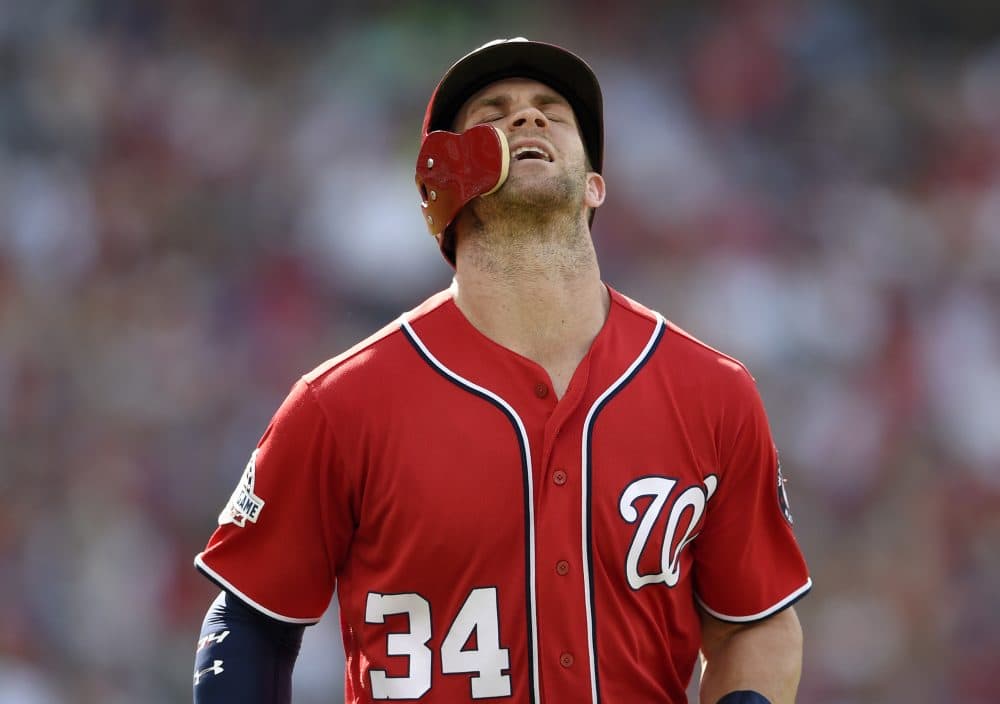 This article is more than 3 years old.
With Anthony Brooks
Baseball's All-Stars batter up, but America's pastime is striking out in some big ways. We'll cover the bases.
Guests
Jon Tayler, baseball writer for Sports Illustrated who was at the Home Run Derby and All-Star game. (@JATayler)
Jay Scott Smith, reporter with theGrio, former Morning Edition reporter and producer at WHYY. (@JayScottSmith)
Chris Hine, sports analytics and enterprise reporter for the Minneapolis Star Tribune. (@ChristopherHine)
From The Reading List
Minneapolis Star Tribune: "Major League Baseball fans turning gray while millennials tuning out" — "This is the challenge baseball has in 2018: to get more kids like Anna — not to mention millennials — hooked into the game like Gus. A television screen isn't the only screen in a household demanding attention. There are computer screens, smartphone screens, tablet screens. Then there are so many applications within those screens — Netflix, Instagram, Twitter, Snapchat, Facebook — fighting for that time. Baseball's summer monopoly ended long ago. If it expects to thrive into the future, it must keep courting youth and convincing them the sport is great entertainment. Will improving pace of play help? Getting more balls in play and fewer strikeouts?"
USA Today: "Soccer could be more popular than baseball when World Cup comes to the U.S. in 2026" — "Baseball's All-Star Game will take place for the 89th time on Tuesday, coming just two days after the end of soccer's World Cup and a week before most NFL teams begin reporting for training camp. This break in the season, along with the relative quiet across the national sports calendar, usually inspires a series of conversations about what's wrong with baseball and this year has been no exception. Alarms are being sounded across the board about attendance (down about 1,500 fans per game off last year's total), polling that shows fewer than 10% of Americans call baseball their favorite sport and a league-wide batting average of .247 (lowest since 1968) that has made the game less oriented toward balls in play.
"How do you know the problems are real? Serious people affiliated with baseball aren't writing these issues off as cyclical. Some are even proposing ideas to radically reform the way the game is played. (Former pitcher and broadcaster Jim Kaat, for instance, tweeted over the weekend about shortening games to seven innings.)"
Washington Post: "How to fix baseball? Washington Post readers have a few suggestions." — "Move the mound back. We all (well, nearly) want to see the ball get smacked around more. Move the mound back two feet. I know that is probably heresy, but pretty much everything you change in baseball is heresy. The other thing that needs to happen is get rid of the ridiculous nine- to-10-pitch at-bats because of foul balls. Limit fouls to three or so, and declare the batter out or walked. The smart analytics guys can figure out which would best benefit the game, but one thing would be certain, and that is the end of the interminable at-bats."
Last night's All-Star game was a glut of power hitting and pitching: 10 homers, 25 strikeouts. But baseball is in a slump. Attendance is down, fans are older, millennials are staying away. What ails our national pastime? Critics say too many home runs, too many strikeouts and too few balls in play. Analytics are sucking the heart of out of the game, which is too slow — with too many meaningless games and too few good teams.

This hour, On Point: Is baseball striking out?

— Anthony Brooks
This program aired on July 18, 2018.