Endangered Species Act Under Attack
47:43
Play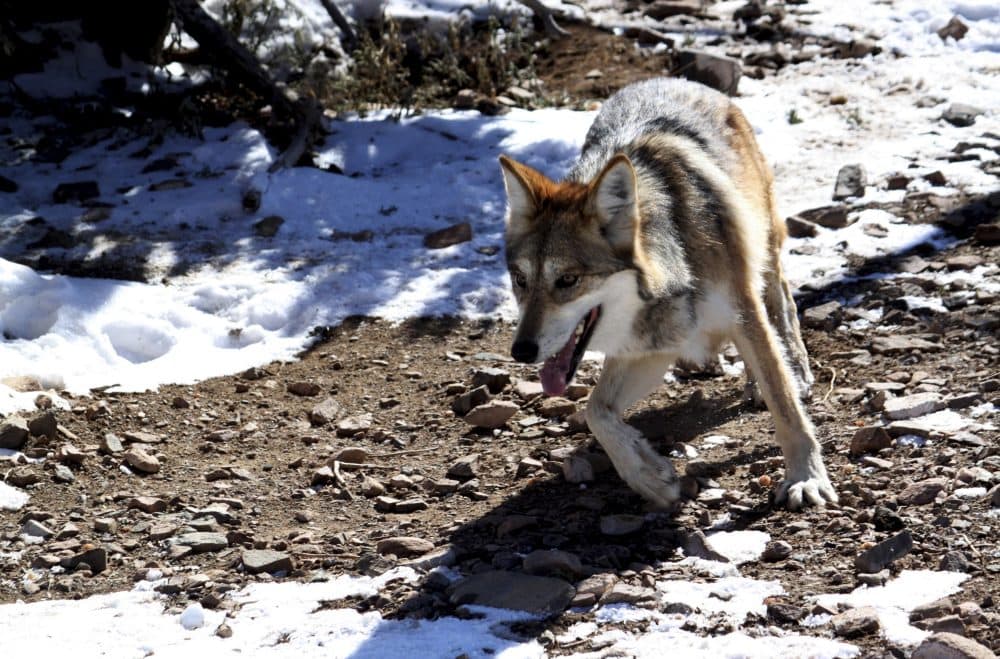 This article is more than 2 years old.
With Budd Mishkin
The Trump administration proposes major changes to endangered species attentions. Critics call it a "death sentence for polar bears."
Guests
Lisa Friedman, reporter for The New York Times, focusing on climate and environmental policy in Washington. (@LFFriedman)
Beckie Elgin, volunteers a lot of her time protecting gray wolves and their habitat in southwest Oregon.
David Bernhardt, deputy secretary of the Department of the Interior, which announced Thursday plans to roll back core provisions of the Endangered Species Act. (@DOIDepSec)
Rebecca Riley, legal director in the Nature Program at the Natural Resources Defense Council, where she focuses on legal and policy issues related to wildlife and endangered species. Former trial attorney with the U.S. Department of Justice in the Environment and Natural Resources Division. (@RRileyNRDC)
Jonathan Wood, attorney at Pacific Legal Foundation, where he litigates environmental and property-rights cases. (@Jon_C_Wood)
From The Reading List
New York Times: "Lawmakers, Lobbyists and the Administration Join Forces to Overhaul the Endangered Species Act" — "The Endangered Species Act, which for 45 years has safeguarded fragile wildlife while blocking ranching, logging and oil drilling on protected habitats, is coming under attack from lawmakers, the White House and industry on a scale not seen in decades, driven partly by fears that the Republicans will lose ground in November's midterm elections. In the past two weeks, more than two dozen pieces of legislation, policy initiatives and amendments designed to weaken the law have been either introduced or voted on in Congress or proposed by the Trump administration."
Popular Science: "Here are 10 plants and animals that might have gone extinct without the Endangered Species Act" — "For conservationists, one of the most concerning changes is striking out language that previously prevented economics from factoring in on decisions to protect species. As the act stands now, how to best preserve a vulnerable habitat is based purely on scientific data, not cost. Some worry that removing this rule could give businesses the go-ahead to develop near protected habitats. In addition, the new proposal means threatened species would no longer be extended the same protections as endangered ones—threatened species would be assessed on a case-by-case basis."
PBS: "Support for the Endangered Species Act remains high as Trump administration and Congress try to gut it" — "In 2014, we conducted a survey of 1,287 Americans, gathering data on a variety of topics related to wildlife conservation, including support for the Act. We also gathered data from previously published studies and public polls. We found four studies or polls that assess support for the ESA spanning roughly two decades, and combined them to assess public attitudes about the Act over time. Collectively, results indicate support for the Act has been remarkably stable over the past 20 years. Average support in the three most recent studies, conducted in 2011, 2014 and 2015, was statistically indistinguishable from the earliest study, conducted in 1996. The data show that more than 4 in 5 Americans support the Act, while roughly 1 in 10 oppose it."
It's been the law of the land since 1973. Now the Endangered Species Act is under attack. The Trump Administration and some Republicans in Congress want to change it. Environmentalists fear the administration wants to eviscerate it. The act's supporters say it's saved species from extinction. Opponents believe it hinders economic growth.

This hour, On Point: The gray wolf vs. business and landowners.

— Budd Mishkin
This program aired on July 24, 2018.