One Year Since Hurricane Harvey, How Is Houston Recovering?
48:52
Play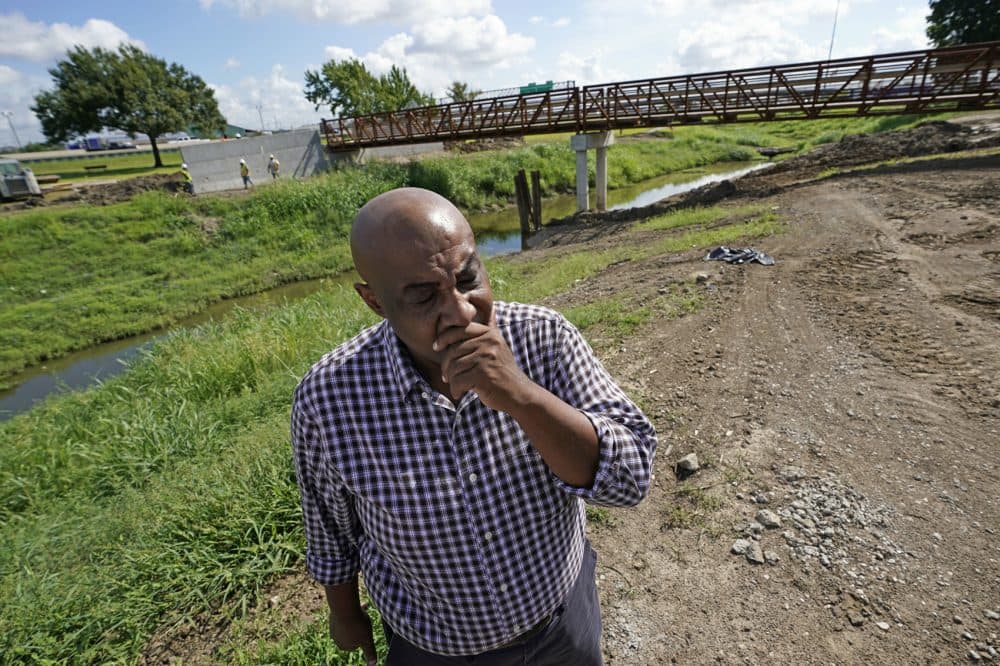 This article is more than 3 years old.
With Meghna Chakrabarti
One year after Hurricane Harvey killed 68 people and caused $125 billion dollars in damage, the nightmare isn't over in Houston. We'll touch down.
Guests
Rev. James Caldwell, founder and director of Coalition for Community Organizations. Community activist in Houston's Fifth Ward and Kashmere Garden neighborhoods.
Andrew Schneider, reporter for Houston Public Media. (@ASchneider_HPM)
Jim Blackburn, director of the Severe Storm Prevention, Education and Evacuation from Disaster (SSPEED) Center. Professor in the practice of environmental law in the civil and environmental engineering department at Rice University.
Sylvester Turner, Democratic mayor of Houston, Texas. (@SylvesterTurner)
From The Reading List
The Atlantic: "Hurricane Harvey Is Houston's Unending Nightmare" — "It's a hypermodern skill, the ability to spot a viral moment in the face of strife. As Hurricane Harvey beat down on Houston, there was former mayor Bill White, inching his way through waist-deep water, hiking staff in his right hand and laptop-stuffed briefcase tucked like a football in his left. And there was his neighbor, who, while waiting for White at the water's edge, couldn't resist a snapshot.
"The photo—a prominent Houstonian weathering the storm, his gated home behind him—came to symbolize the equal-opportunity devastation of Harvey. It was a year ago this weekend that Harvey gutted hundreds of neighborhoods across the city, from upscale Kellywood to working-class Homestead. The blistering post-2016 news cycle ensured the storm would shrink from headlines after a few weeks. But to visit Houston is to absorb that, for an untold number of residents, the biggest rainstorm in the history of the continental U.S. continues to replay like a nightmare on loop."
Washington Post: "When heavy rain falls, anxiety returns for many survivors of Hurricane Harvey" — "The rain was falling so hard that it was impossible to see anything beyond a few feet. Every several minutes, Lisa Thelen walked outside to make sure the ditch that runs in front of her house wasn't overflowing. Just a block away lies Lake Houston, which swelled so quickly last year during Hurricane Harvey that it left Thelen's home inundated by more than five feet of water.
"On yet another wet afternoon this month, she felt as though she was reliving it all.
"'My mind tells me that it's not going to flood again because we weren't even in the flood zone,' the 59-year-old Thelen explained. 'But then it has happened, so it's like now you know it's within the realm of possibility.'
"Such is the psychological distress that endures a year after Harvey, a massive storm that dumped about 50 inches of rain on this city and drove tens of thousands from their homes. For many along the Texas Gulf Coast, dark clouds seem more ominous. And those first drops are like a trigger. Some people describe sleepless nights, a persistent feeling of panic."
Houston Chronicle: "Hurricane Harvey flood bond won't be enough to cover infrastructure costs" — "Imagine $2.5 billion dollars in crisp $100 dollar bills. If you tried to fit that amount of money inside your house, it would fill your living room and your kitchen; it would stick out of the extra cabinet underneath your sink. It's not a quantity of money that is easy to conceptualize.
"Yet that is Harris County Flood Control's estimate for the cost to protect us against a flood of 100-year magnitude. When you add in the cost to build flood prevention infrastructure in Galveston, Fort Bend and Montgomery counties, the price tag soars to $57.9 billion."
This program aired on August 28, 2018.