Aretha Franklin And Detroit: Remembering The 'Queen Of Soul' With Her City
49:03
Play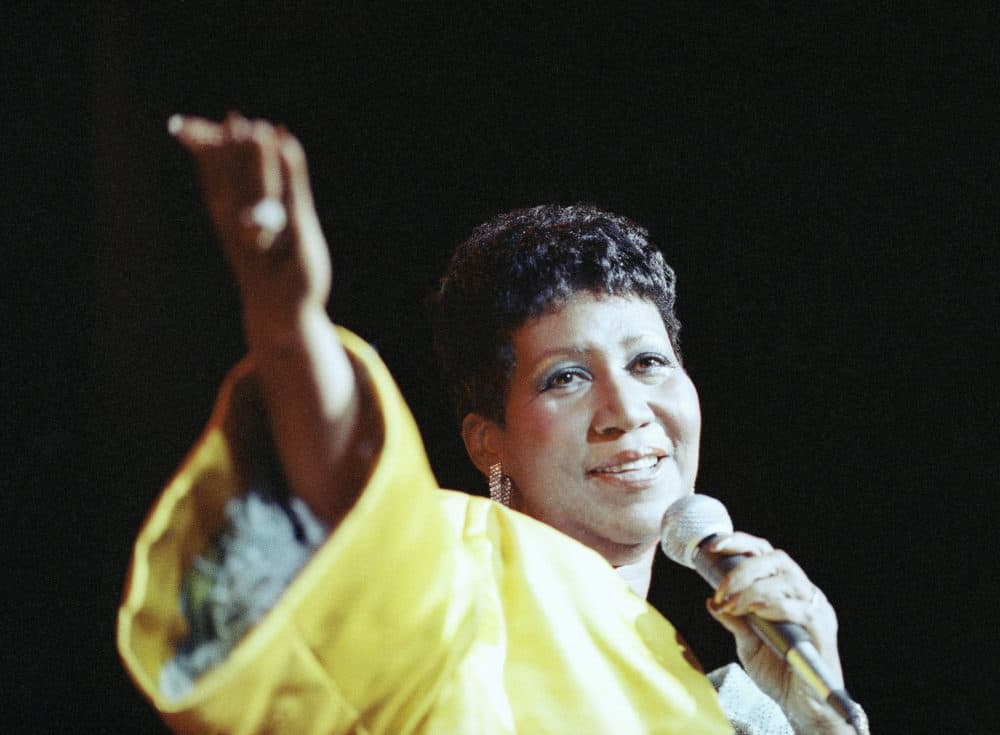 This article is more than 1 year old.
With Meghna Chakrabarti
Detroit remembers the Queen of Soul and her relationship with the Motor City.
Guests
Quinn Klinefelter, reporter and senior news editor for WDET, Detroit Public Radio. (@QKlinefelter)
Ken Coleman, author and historian of African-American history in Detroit. (@HistoryLivesDet)
Rev. JoAnn Watson, friend of Aretha Franklin, former Detroit city council member, associate pastor of West Side Unity Church.
Interview Highlights
On how the city is celebrating Aretha Franklin's life
Quinn Klinefelter: "Very fondly and very fervently. They've had a weeklong celebration that's led up to this funeral that happens tomorrow. They had an all-star gospel tribute on Monday, they had two days of public visitation at the Wright Museum of African American History. Thousands, literally, according to some counts, tens of thousands of fans that surrounded the museum to see her lying in repose in there. Many people saying just how the Queen of Soul looked like a queen laying in her gold casket. You expect those types of events to be something somber, in a way, or maybe even a bit sober. It really was not. It very much a celebration of her life, people cheering and singing along with songs that were playing from the museum."
On Franklin's early days in Detroit
Ken Coleman: "Aretha comes along at a time where the black community grows. The Franklin family moves to Detroit in 1946. Between 1940 and 1950, the black community doubles in population in Detroit. And it really is this sort of second wave of the Great Migration. And so Aretha comes along at a time when tens of thousands of African-Americans, many of whom lived in the South, moved to Detroit looking for a better life. Aretha Franklin's music helped them get there.
"Voices like Aretha Franklin's were comforting voices because she certainly had all of those great gospel instincts, but I think what sort of the amazing thing about Aretha Franklin — and I think that Mahalia Jackson and Clara Ward had it, too — but they had a soul to them. Aretha Franklin's music really bordered on old-school soul and blues, in a respectful way. But I think that helped people to sort of understand her, her legacy, and they may not even know her."
On what kind of person Aretha was
Rev. JoAnn Watson: "Listening to her music brings chills because there's no voice like Aretha's voice. She was a woman filled with a stirring soul that touched your heart, evoked passion, and a special insight. There's just not another voice in the universe comparable to Aretha Franklin. She truly was our queen. She was a wonderful woman. A wonderful woman, more than a singer, more than an entertainer or an actress. She was a woman who felt deeply about causes. She was as committed to human rights and civil rights as her late father was, Rev. Dr. C. L. Franklin, who first invited Rev. Dr. Martin Luther King Jr. to Detroit in June 1963, when he first said, 'I have a dream.' He was in Detroit. He was the guest of her father."
On Aretha's close relationship with the city of Detroit through the years
KC: "She was always back in Detroit. And that's the sort of thing that I think Rev. Watson and I have talked about. She never really left here.
JW: "No, she didn't. She loved Detroit. I mean, she loved Detroit. When I say she loved Detroit, she used to ride down the streets of Detroit and be moved to provide funds and resources for people who looked like they were down on their luck. She would also ride by a park that had been made in honor of her father, by the honorable Coleman A. Young, and once she saw the sign that used to carry her father's name missing, you know we got the call: 'You better replace that sign.' And every now and then somebody would take C. L. Franklin's name off the street sign near his church, and I would get a call. I would get a call and sometimes a text message in all caps: 'Please replace my daddy's sign.' Yes, ma'am."
From The Reading List
CNN: "The last time Detroit honored Aretha Franklin" — "Vince Paul had known Aretha Franklin for years when he snagged her to be the headliner for his inaugural Detroit Music Weekend in June 2017.
"But this time around, he told CNN, there was something very different about the legendary singer.
"'There was a lot of crying, the whole weekend,' he said. 'Can you imagine Aretha Franklin crying? There was a lot of crying to the point where I was weirded out.'
"There will be a great deal of tears in Detroit again this week connected to the Queen of Soul as the city — her city — bids her farewell."
Michigan Radio: "Joy, memories, and music: Detroit remembers Aretha Franklin" — "Detroit's Charles H. Wright Museum of African-American History began a two-day memorial and public viewing for Aretha Franklin Tuesday morning, and thousands from around the country are coming to pay last respects to Detroit's own Queen of Soul.
"The mood of the crowd lined up outside the Wright Museum in the early afternoon was upbeat, even joyous. With Franklin hits like 'Rock Steady' providing the background, Yolanda Jack sang along, danced, and swapped memories with friends as she passed out free water."
The Detroit News: "10 places in Detroit that helped shape Aretha Franklin"
CBS News: "Fans mourn Aretha Franklin in Detroit"
This article was originally published on August 30, 2018.
This program aired on August 30, 2018.