Kaepernick Back In The Spotlight As Face Of New Nike Ad Campaign
07:21
Play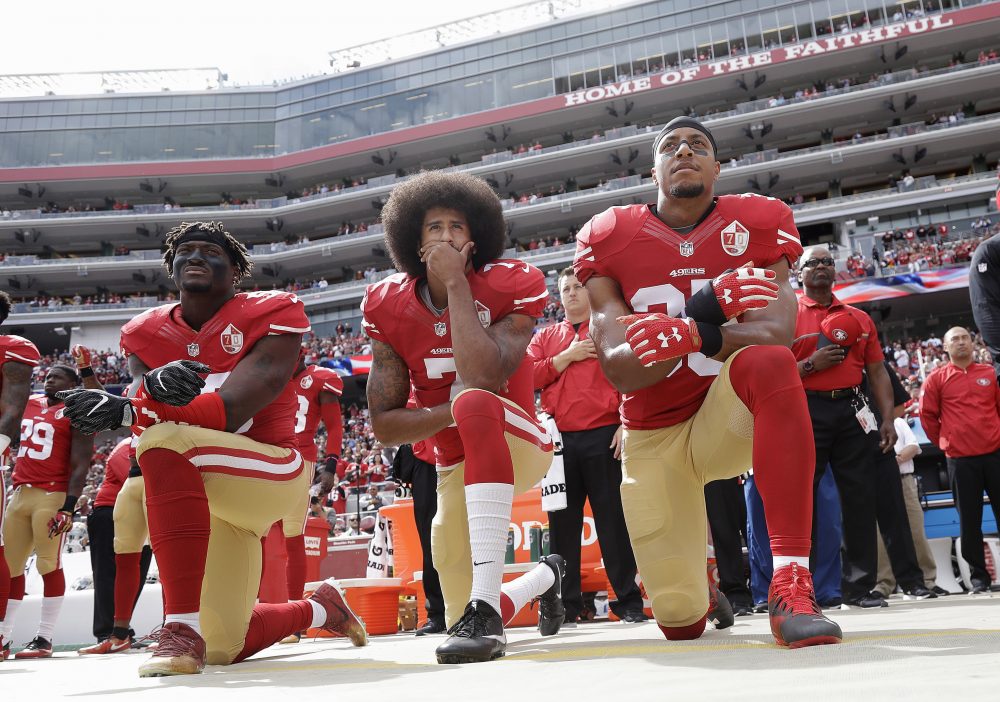 This article is more than 1 year old.
With Meghna Chakrabarti
Former San Francisco 49ers quarterback Colin Kaepernick is the face of Nike's new ad campaign. We'll discuss the reaction.
Guest
David Dennis, writer and journalism professor at Morehouse College. (@DavidDTSS)
From The Reading List
NewsOne: "Here's How Colin Kaepernick Is Beating The NFL" — "The NFL was in a different, seemingly unbeatable place back when Colin Kaepernick first decided to protest police brutality by kneeling during the national anthem back in 2016. The league had weathered the storm of criticism from its mishandling of domestic violence cases, namely the Ray Rice incident, powered through lawsuits and accusations that it was being less than forthright about the effect hits to the head have on its athletes. Through it all, ratings never wavered and popularity was steady.
"So it was reasonable to have supreme confidence that a fringe-starter on one of the league's worst teams deciding to quietly protest during the national anthem would be but a minor blip on the league's radar. But things didn't work out like that, mostly because Kaepernick's protest hit white billionaires right in their white power sensibilities, causing them to overreact and the whole situation blow up in their faces.
"I'm sure that all of the owners who may or may not have colluded to keep Kaepernick out of the league for the past two seasons thought he would just go quietly into the night. However, these league owners sorely underestimated the power of protest and the determination of Black people to see equal rights in this country. The longer they kept Kaep out of the league – out of spite, out of a need to make a point that independent thought and pro-Blackness wouldn't be tolerated – the louder the rumbles became that the NFL had a systemic race problem from the top down. Coaches came up with ludicrous reasons for not signing him while trucking out trash quarterbacks who don't hold a candle to Kaep's on-field abilities. Owners found every excuse to keep him off of their teams and Black fans got increasingly fed up.
"Meanwhile, Kaepernick did everything right. He donated his own money, won awards and watched the NFL trip over itself trying to figure out how to navigate a race conversation it wanted no parts of. Now, against all odds, he has the upper hand. The lawsuit against the league, alleging that the owners colluded to keep him out, is moving full steam ahead. And the Labor Day announcement that Kaep has been signed by Nike throughout this entire ordeal and he will be the face of its new 'Just Do It' campaign is the uppercut that has the NFL staggering towards the ropes looking for help."
This segment aired on September 5, 2018.