In Conversation With John Kerry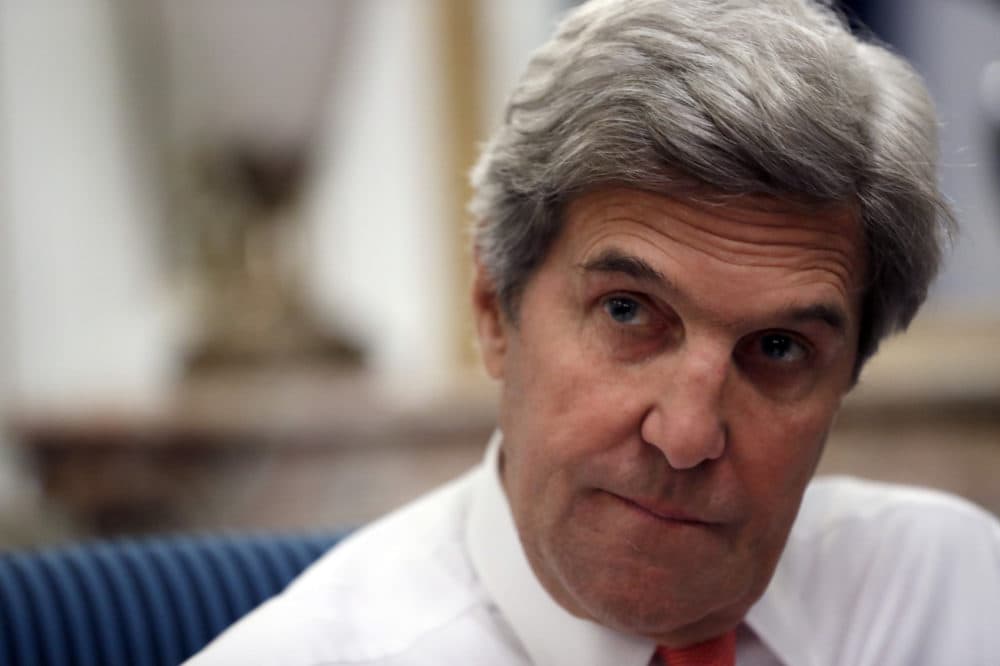 This article is more than 1 year old.
From Vietnam warrior to peace advocate, from defeated presidential candidate to the nation's top diplomat, John Kerry tells his story in a new memoir, "Every Day is Extra."
On Point host David Folkenflik spoke with Kerry Friday morning. Here are a selection of highlights from their hour-long conversation. Listen to the full hour by clicking the play button below.
On his relationship with John McCain
"Well John and I — well first of all, obviously, John had a remarkable sense of duty and honor, and he brought that to his public life. And it was a privilege to be able to work with him closely. He and I forged a very special alliance back in 1990, '91, where we started, each of us, to bridge the divide that existed — he was a prisoner of war, he was a conservative, he represented Arizona, he was a supporter of the war. I was against the war, and a Democrat, and we came from totally different places. But we literally resolved one night on a flight going over to Kuwait, after the war, that we were going to work together, that we were going to try to overcome the differences, that we needed to help heal the wounds in America that still existed over the issue of Vietnam. We were still at war with ourselves here at home in America in the 1990s. There was a front-page, a cover story in Newsweek Magazine about the potential that Americans were still being held in Vietnam. And both of us believed strategically that it was important for the United States to move beyond that in terms of our relationship with the country and with southeast Asia.
"We had doubts about it because the evidence indicated that the POWs who were there had this elaborate code system by which they would communicate and when a new person came into any prison camp anywhere, or if anyone contacted anybody, they would talk about who was being held and where they knew they were, and they kept an accountability themselves. There was a reason why John McCain had doubts about it, because he had lived the experience and a lot of people who had not and didn't know much about it were making incredible assertions, including that John McCain was the Manchurian candidate. I mean they were vicious, it was extraordinary. I had to sometimes put my hand on John's arm or elbow and restrain him in his seat at a hearing because people were so disgraceful in the assault on him, and I had to sort of restrain him from sort of wanting to jump out of his seat an go after them."
On his bid for the presidency in 2004, and the lies that were spread about his military service during that time
"Obviously it was very — it was frustrating and disillusioning in a lot of ways. It was quite extraordinary to see the Republican party that wraps itself in the flag and talks about patriotism actually mocking the fact that all of my wounds were not as serious as they deemed that they should have been — as if I controlled what happened in a firefight or how you get wounded. There were plenty of people in Vietnam who were 'lightly wounded' and were able to go back to duty or didn't choose to go back to duty. It's the way it happens in a war. It was very disillusioning to see them just reaching for anything where they could make up something and distort."
"It's imperative that we establish full faith and trust in our voting system in America, which also includes the ability of all eligible Americans to be able to vote."

John Kerry
On the integrity of America's election process
"In Ohio, on Election Day, we had people calling our headquarters telling us they were pushing John Kerry and on the screen it was coming up Bush. We actually had some of those machines taken out of those precincts as a result of those complaints that came in and we immediately jumped on it. I don't know how many precincts people didn't notice or something else happened.We tried to get permission to be able to check the logarithms with respect to the machines, because we were told that they were hackable, and we were denied that by a court that decided that it was proprietary information. I think it is wrong that in the United States of America two individuals can be chairman of a presidential campaign — which they were, two brothers in Nebraska, the two brothers who owned the machines that were used in Ohio, certainly were owned by two individuals who were the chairmen of the Bush campaign. And the secretary of state in the state of Ohio was also on of the chairmen of the Bush campaign, and was actively out there supporting, and wouldn't allow us to have these machines checked.
"We have to take issues that matter and make them voting issues. That's how you change things."

John Kerry
"Now I'm not sitting here today, I want to emphasize this, I'm not alleging that something definitely happened that altered the outcome. I'm not alleging years later that it was wrong, but I am saying that we're not sure. We are not certain about our own ability to vote in the United States of America in several respects. People are required to jump through several hoops to be able to vote — it's not made easy. In many legislatures dominated by the Republican party, there are restraints actively put in place to block people from being able to vote — we all know who they are and who is attempted to be blocked. And we have not made it easy in America to vote. I will tell you that I am, personally, very much in favor of paper ballots, period, until we are proven that we have a system where there is at least a paper ballot backup to whatever electronic tally is made. But just the other day we learned again that after certain primaries, that machines were hackable. So it's imperative that we establish full faith and trust in our voting system in America, which also includes the ability of all eligible Americans to be able to vote. And we've got to make it easier. Some states have done that. Some states have mail-in ballots. A lot of states have taken steps to open up the process. But it should be 100 percent, not whatever the percentage below 100 that it is."
On the future of politics and the Democratic party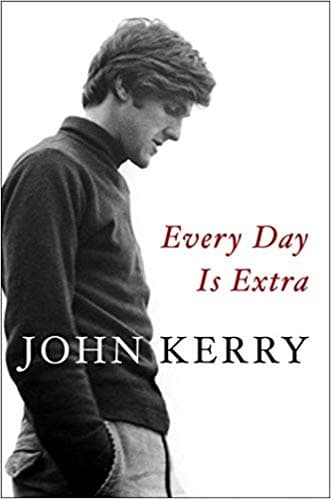 "You know I think there are a lot of young activists who are inspiring and who are coming along and one of them just won a victory in Massachusetts. She worked for me for 15 years — Ayanna Pressley, who just defeated a friend of mine and a guy who had been serving for 20 years. Ayanna is an up-and-comer, obviously, and then you have Beto O'Rourke in Texas. I mean, there are lots of people out there. This is what we need. Now they're untested as of yet, all of them. And I happen to believe that experience is a certain virtue, providing it's experience in the right things, and in pushing in the right direction, needless to say. I'm not ready to dismiss Joe Biden or anybody else at this point because the country needs fixing, and we're going to need everybody on deck. But the bottom line is that you've got to begin at the beginning. I think all the talk of 2020 right now is not serving us well, it's a waste of time. What we have to do is focus on the next two months. We have two months here with a criticality that has grown in its importance in respect to what's happening in the White House now and what's happening to America now. We can change that in November of 2018. So I welcome your activism. ... The things you are asked to do are knocking on doors, sitting in a room and making telephone calls, working on the literature, helping to distribute, helping to get people out to vote on Election Daym and that's our biggest problem. And if people will focus on how to get people to get out to vote, turning the 52.4 percent I talked about into a 60 percent again, or higher, then we're going to change the country for the better. And that's the way we hold people in public life accountable. We have to take issues that matter and make them voting issues. That's how you change things. And I write in the book at length about how we did do that, how we held Richard Nixon accountable, how we got an Environmental Protection Agency, and all of the things that make a difference to us."