Authoritarianism Abounds: The Brazil Elections, And Surveying Strongman Rule
47:13
Play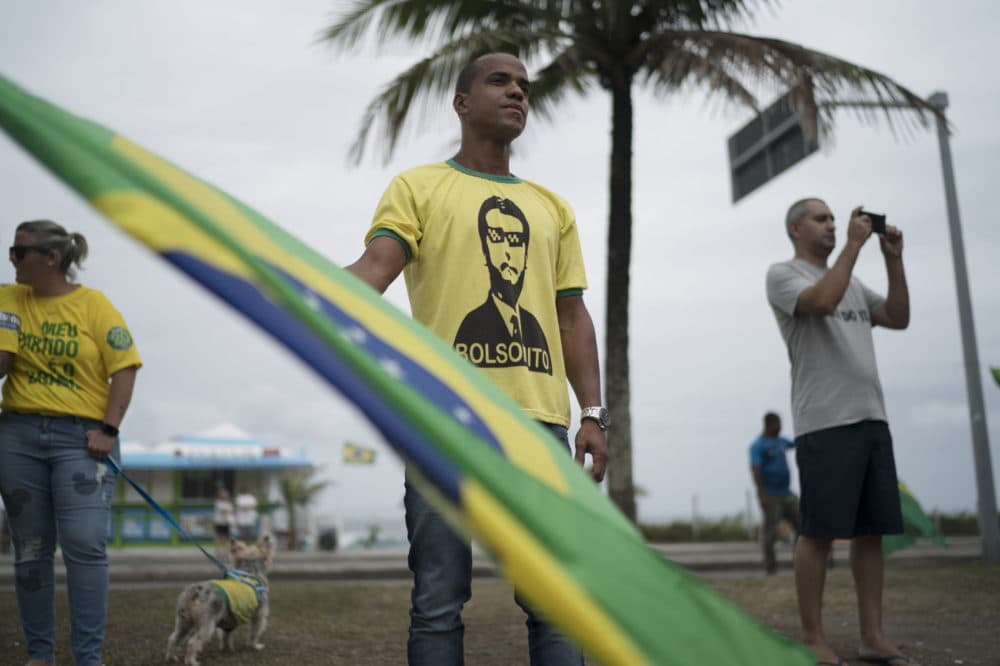 This article is more than 2 years old.
With Meghna Chakrabarti
Brazil has voted in a new president who says he'll rule with "authority" if not outright authoritarianism. We'll look at the implications of Brazil's election for the global lurch to the right.
Guests
Ray Colitt, Brasilia bureau chief for Bloomberg News. (@raymondcolitt)
Larry Diamond, senior fellow at the Freeman Spogli Institute for International Studies and at the Hoover Institution, both at Stanford University. Author of "The Spirit of Democracy" and "Ill Winds: Saving Democracy from Russia Rage, Chinese Ambition and American Complacency." (@LarryDiamond)
Laura King, global affairs correspondent for the Los Angeles Times. (@LauraKingLAT)
From The Reading List
Washington Post: "Brazil shed a military dictatorship. Now it looks again toward iron-fisted rule." — "Brazil emerged from the shadow of a military dictatorship more than three decades ago, leaving behind an era stained by torture and extrajudicial killings. Now, this nation is on the cusp of electing a former army captain who has pledged to bring his own brand of iron-fisted rule into the presidency.
"The front-runner in Sunday's runoff election, Jair Bolsonaro, 63, has waxed poetic about the generals who led Brazil from 1964 to 1985 — their biggest flaw, he argues, is that they didn't kill enough dissidents. If he wins, he has vowed to stock his cabinet with retired officers, throw leftists in jail, outlaw land-rights groups, weed liberal thought from schools and encourage police to use lethal force.
"An iron fist, though, is exactly what some Brazilians seem to want. Confronting runaway crime, a sluggish economy and enormous political corruption, almost a third of voters, polls show, have grown nostalgic for the dictatorship. They portray it as a period of law and order when Latin America's largest nation thrived."
Axios: "Rising European fear: Strongman-dominated global 'jungle'" — "The spread of anti-establishment movements in the U.S. and Europe — fed by a gnawing sense of Western failure — suggests a restoration of 'the jungle,' the more dangerous, strongman-led politics that preceded World War II, according to a leading historian.
"Why it matters: Over the last week, politicians and voters in Italy, Hungary and Sweden have reinforced Europe's move away from the U.S.-led order. But historian Robert Kagan of the Brookings Institution says many forget that, prior to the war, normal European politics gave birth to fascism, Nazism, genocide and some of history's most predatory dictators."
Financial Times: "Opinion: Jair Bolsonaro and the return of strongman rule" — "The rise of Jair Bolsonaro is not just a Brazilian soap opera. It is an event of global significance, the latest chapter in an unfolding story about the destruction of liberal norms and the rise of populism.
"The first round of the Brazilian presidential election has left Mr Bolsonaro, a far-right populist, poised to win the presidency later this month. If he completes his victory on October 28, Mr Bolsonaro will be the latest addition to a global club of strongman leaders that includes Vladimir Putin in Russia, Xi Jinping in China, Narendra Modi in India, Recep Tayyip Erdogan in Turkey, Rodrigo Duterte in the Philippines, Viktor Orban in Hungary, and, of course, Donald Trump in the US.
"This group spans democracies and autocracies — west and east — but it is loosely united by a highly personalised style of government that combines nationalism with a leadership cult, and a disdain for liberal norms, such as a critical press and independent courts."
This program aired on October 30, 2018.