Week In The News: Midterms, President Trump In Pittsburgh, Birthright Citizenship
Play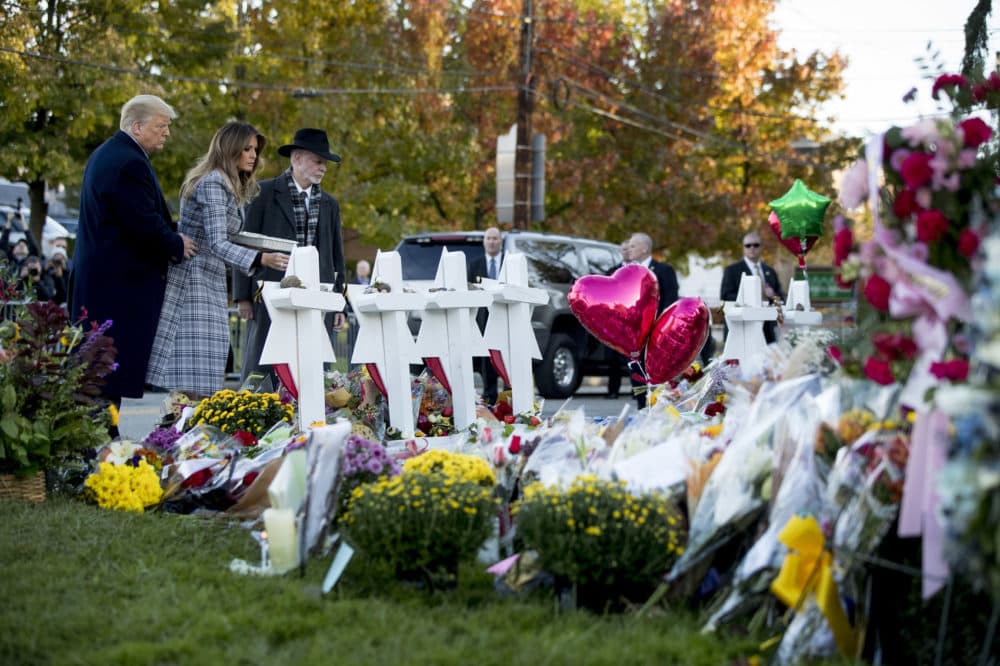 This article is more than 4 years old.
With David Folkenflik
President Trump visits Pennsylvania as Pittsburgh mourns. He promises to reverse birthright citizenship despite clear-cut constitutional guarantees. And, there's the push toward midterms. Our weekly news roundtable dives in.
Guests
Mary Bruce, congressional correspondent for ABC News. (@marykbruce)
Ayesha Rascoe, NPR White House correspondent. (@ayesharascoe)
Jack Beatty, On Point news analyst. (@JackBeattyNPR)
From The Reading List
Washington Post: "Trump is half-right. Congress can end birthright citizenship." — "President Trump says he's planning to end birthright citizenship "with an executive order." He can't, as several experts have pointed out.
"Yet those critics who say the rule can change only through a constitutional amendment, such as House Speaker Paul Ryan (R-Wis.) and the Atlantic's Garrett Epps, also go too far. The 14th Amendment's citizenship clause, as attorneys George T. Conway III and Neal Katyal correctly note, was an effort to define previously enslaved African Americans as U.S. citizens. But when they acknowledge that 'it is Congress, not the president, who is in the driver's seat when it comes to immigration,' they fail to note that it can steer birthright citizenship policies in a new direction."
NPR: "Trump Stays On Campaign Trail, Attacking Media And Democrats After Synagogue Shooting" — "President Trump condemned the deadly synagogue shooting in Pittsburgh, but then immediately returned to the campaign trail, and to attacking Democrats and the media."
New York Times: "Trump's Visit to Pittsburgh Divides a City Mourning Victims of Hate" — "One of Pittsburgh's most solemn days began with hundreds coming together in anguish and grief in synagogues and at gravesides, to start the services for those killed as they prayed on the Sabbath. In the afternoon, they came together again, in shivas to honor the dead and comfort the living, and, later by the thousands, in solemn marches of protest around the Squirrel Hill neighborhood where the attack took place on Saturday.
"This is the Pittsburgh that met President Trump, who arrived with members of his family on Tuesday.
"The presidential visit, welcomed by some in Pittsburgh, unwanted or vigorously opposed by many others, began with a motorcade into the city and a visit to the Tree of Life synagogue. Mr. Trump lit memorial candles in a vestibule near where the shooting unfolded, and placed stones and white roses from the White House outside, in commemoration of those killed in an attack by a gunman full of anti-Semitic rage shouting that Jews must die."
Fox News: "State of the Midterms: Analyst predicts bigger House gains for Dems as Pelosi eyes gavel" — "As House Minority Leader Nancy Pelosi confidently predicts victory in next week's midterms, at least one major political oddsmaker is giving her a boost: Cook Political Report is now saying Democrats could win as many as 40 seats in the House.
"Dave Wasserman, House editor of the nonpartisan Cook Political Report, tweeted late Wednesday that the unit is revising its outlook to reflect a Democratic gain of 30-40 seats, up from 25-35. He warned that the outlook could change again before Tuesday.
"Even some in Pelosi's party are cautious about the pitfalls of overconfidence, amid recent reports of veteran operatives warning that the curtain-measuring echoes Democrats' confidence in the lead-up to the 2016 election, which now-President Trump won."
A massacre of Jewish congregants in Pittsburgh sparks mourning, and protests against the president, who traveled there. Trump accused of violating the Constitution and common decency in his stances on immigration. The president sends thousands of troops to the border to combat a dwindling group of migrants hundreds of miles away. Did I mention? The elections are at last upon us.

This hour, On Point: our weekly news roundtable.

— David Folkenflik
This program aired on November 2, 2018.