In Wake Of Maryland Football Death, Assessing The Costs Of Big-Time College Sports
47:16
Play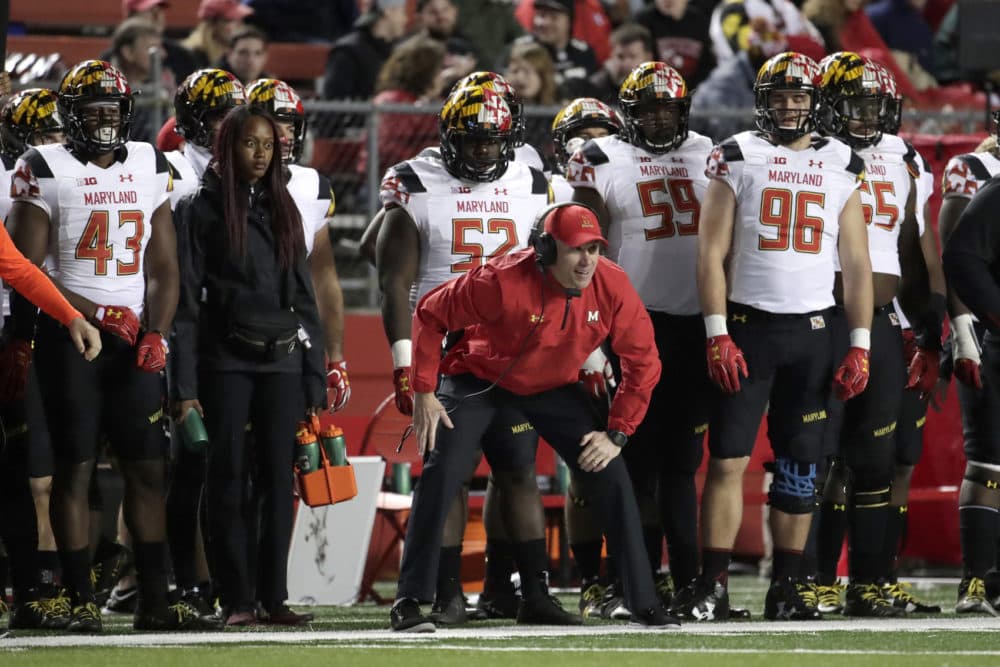 This article is more than 2 years old.
"In the strictest, technical sense, Durkin's exit Wednesday night reverses the catastrophic mistake the Maryland Board of Regents made the day before. In reality, it does not undo the mistake. That's how bad and how big it was. It can't be washed away in 24 hours just because Durkin was. The slap in the face to the campus, students, alumni, players, potential recruits, the sport and, most of all, Jordan McNair's family, will sting for a long time.
"Years, probably — until everybody involved in giving Durkin that unconscionable free pass is out. That might fix it and might encourage anyone who might want to re-up their support for Maryland to do it: Burn all of it to the ground and sow the soil with salt. Never permit the possibility of a decision like that — the last and arguably most offensive of all the school's lousy decisions — to be made again, by anyone with the power to make it."
New York Times: "University of Maryland Chaos Is Rooted in Lofty Sports Goals" — "Six years ago, the University of Maryland announced with great fanfare that it had made a leap to one of the nation's most powerful athletic conferences, a move that carried the promise of riches and prestige.
"This week, the gambit blew up in spectacular fashion over three tumultuous days during which the president announced his retirement, the football coach was fired and the chairman of the university's governing board resigned.
"The trigger was the death of a 19-year-old football player named Jordan McNair, who collapsed from heatstroke after practice in the sweltering heat in May and died two weeks later."
ESPN: "The inside story of a toxic culture at Maryland football" — "Several current University of Maryland football players and people close to the Terrapins program describe a toxic coaching culture under head coach DJ Durkin before offensive lineman Jordan McNair's death in June after a football workout.
"McNair, who was 19, died two weeks after being hospitalized following a May 29 team workout. He collapsed after running 110-yard sprints, showing signs of extreme exhaustion and difficulty standing upright. No official cause of death has been released, but ESPN reported Friday that he died of heatstroke suffered during the workout and had a body temperature of 106 degrees after being taken to a hospital."
This program aired on November 6, 2018.