Midterm Election Analysis: With Congress Divided, Where Do Democrats, Republicans Stand?
Play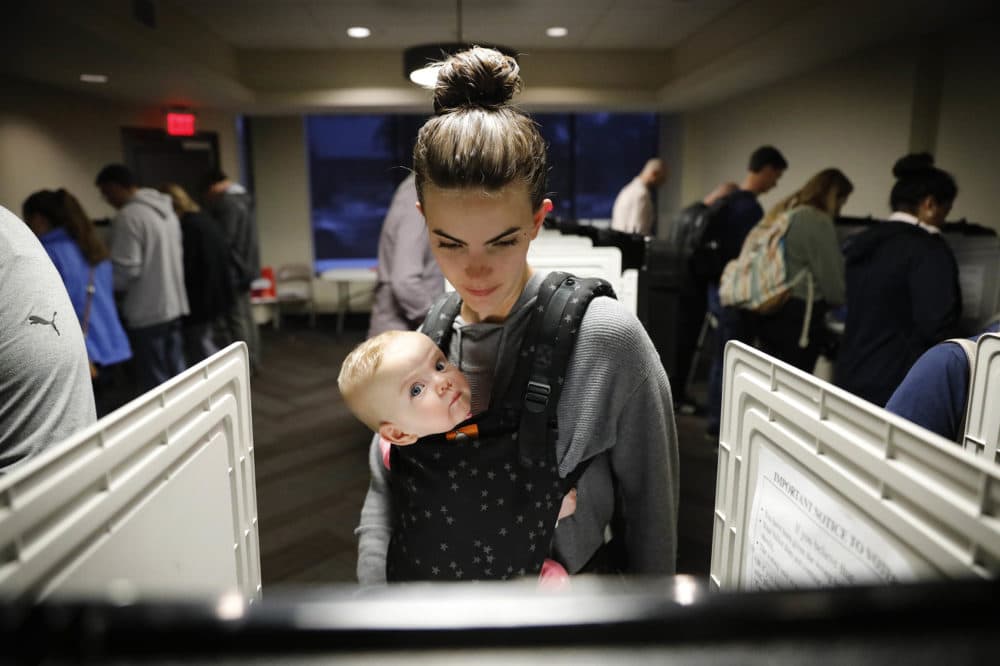 This article is more than 4 years old.
With Meghna Chakrabarti
The wins, losses and messages that voters sent to Washington in the midterm elections. We'll check in with top reporters across the country.
Guests
Kimberly Atkins, Washington bureau chief for the Boston Herald. (@KimberlyEAtkins)
Nathan Gonzales, editor and publisher of Inside Elections, which provides nonpartisan campaign analysis. Political analyst for CNN and RollCall. (@nathanlgonzales)
Adam Smith, political editor for the Tampa Bay Times, and creator of the award-winning Florida politics blog, The Buzz. (@adamsmithtimes)
Patrick Svitek, primary political correspondent for the Texas Tribune, and editor of The Blast, the Tribune's daily political newsletter. (@PatrickSvitek)
Megan Messerly, political reporter for the Nevada Independent. (@meganmesserly)
From The Reading List
Boston Herald: "Analysis: Democrats shift left on issues" — "The 2020 election campaign season kicks off today, and the Democratic Party has emerged from the midterms not only with control of the House, but as a far more progressive team preparing to take on President Trump in a battle of not just words and insults, but ideas.
"But Democrats still have a long way to go in reaching many of the voters they need to have a shot at the White House, including Latino voters, who party organizers failed to energize — even as Democratic leaders decried Trump's message on immigration as bigoted and divisive.
"'It's more than about specific issues, it's about the character of the country,' former Vice President Joe Biden told reporters yesterday after he voted in Delaware, previewing a message Democratic strategists said will be a 2020 mainstay for candidates up and down the ballots."
NPR: "Democratic Control Of The House Is Trouble For Trump, And 6 Other Election Takeaways" — "It was a Democratic wave in the House, and that is a very big deal.
"This stands head and shoulders above anything else you'll read about the 2018 midterm elections — and maybe the only thing that matters. Come January, Democrats will be in charge of the House once again. They stand to pick up between 24 and 32 seats when all the races that are too close to call are finally decided. Democrats needed a net gain of 23 seats to take control of the House. Make no mistake: That is a wave.
"Just how big a deal is recapturing the House for Democrats? Imagine a scenario in which Republicans maintained control of the House. President Trump and Republicans would consider themselves validated and step on the gas, likely repealing the Affordable Care Act, rolling back more regulations and seeking any other number of policy priorities that Democrats would find odious."
Tampa Bay Times: "Ron DeSantis defeats Andrew Gillum in Florida governor's race" — "Florida broke the hearts of Democrats once again Tuesday, as President Donald Trump's anointed gubernatorial candidate, Ron DeSantis, edged out presumed frontrunner Andrew Gillum.
"The photo finish delivered Florida's top office to the GOP for a sixth straight election, and is sure to leave Democrats shattered about how they could lose an election where they seemed to have so many advantages.
"Dozens of polls showed Gillum consistently holding a narrow lead over DeSantis, and state Democrats were optimistic that the president's unpopularity, DeSantis' close association with Trump and enthusiasm among Gillum supporters would end two decades of utter GOP dominance over state government."
Texas Tribune: "Ted Cruz defeats Beto O'Rourke in re-election fight" — "U.S. Sen. Ted Cruz, R-Texas, narrowly defeated Democratic challenger Beto O'Rourke Tuesday evening in what appeared likely to be one of the closest U.S Senate races in Texas in decades.
"With more than 60 percent of precincts reporting in Texas, Cruz had a four-point lead over O'Rourke. While Cruz had a strong showing across most of rural Texas, O'Rourke narrowed the margin by winning urban counties and coming within striking distance in some Texas suburbs."
The Nevada Independent: "Rosen wins upset victory over Heller; Lee, Horsford snag two House seats" — "Democratic Rep. Jacky Rosen won an upset in the U.S. Senate race Tuesday night over incumbent Republican Dean Heller in one of the most closely fought and closely watched contests in the country, although Democratic losses in three key races elsewhere in the nation allowed Republicans to retain control of the upper chamber.
"Rosen, a first-term congresswoman with no prior political experience, defeated Heller, who has spent nearly three decades in Nevada politics, by a 5.3-percentage-point margin though the two had appeared relatively close in polls in the days leading up to the election. It was a stark contrast from the outcomes of tight races in North Dakota, Missouri and Indiana, where Democrat incumbents lost to their Republican challengers.
"Democrats also managed to hang on to the state's two competitive House seats as their party nationwide wrested control of several seats from Republicans, allowing Democrats to capture control of the lower chamber. Republican businessman Danny Tarkanian lost again in Nevada's 3rd Congressional District to Democratic education advocate and philanthropist Susie Lee, while former Rep. Steven Horsford will again represent Nevada's 4th Congressional District after defeating another former representative of the district, Republican Cresent Hardy."
This program aired on November 7, 2018.