Veterans On President Trump: Military Members Discuss The Commander In Chief
46:52
Play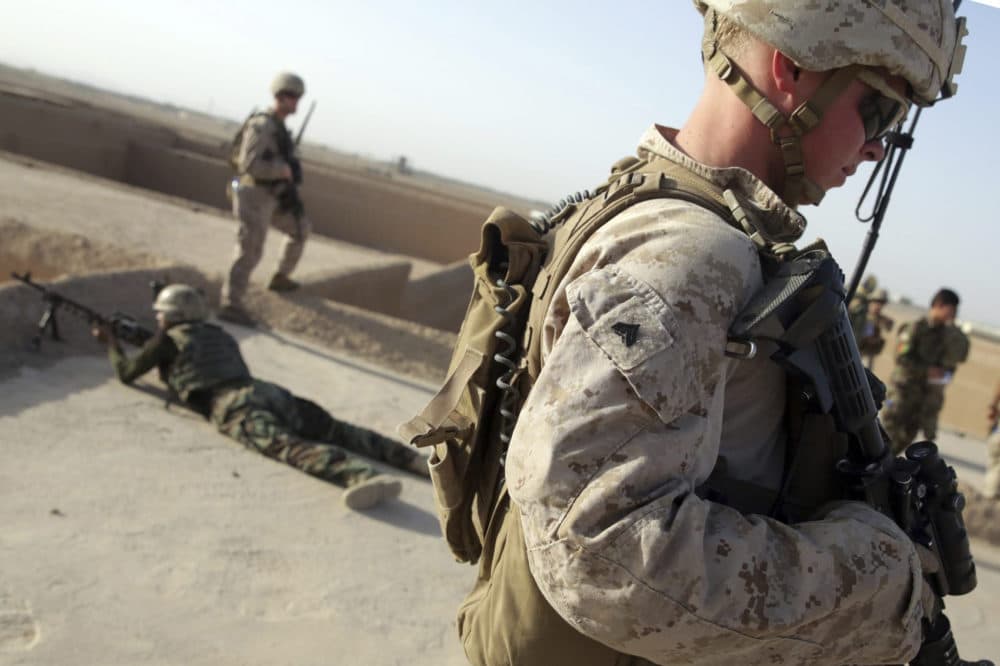 This article is more than 2 years old.
With Jane Clayson
The military and President Trump. What those who have served have to say about the commander in chief.
Guests
Leo Shane III, deputy editor for the Military Times, where he covers veterans affairs, Congress and the White House. (@LeoShane)
Suzanne Rancourt, U.S. Marines Corps and Army veteran. She served as a Marine Corps photojournalist and as a chaplain's assistant and medic. Poet and nonfiction writer.
Dan Caldwell, U.S. Marine Corps veteran. Executive Director for Concerned Veterans for America. (@dandcaldwell)
Lisa Smith, veteran of the U.S. Air Force. Clay Hunt Fellow at Team Rubicon.
We Reached Out To A Lot Of Veterans For This Panel. Hear More Of What They Had To Say
From The Reading List
Military Times: "Support for Trump is fading among active-duty troops, new poll shows" — "President Donald Trump's approval rating among active-duty military personnel has slipped over the last two years, leaving today's troops evenly split over whether they're happy with the commander in chief's job performance, according to the results of a new Military Times poll of active-duty service members.
"About 44 percent of troops had a favorable view of Trump's presidency, the poll showed, compared to 43 percent who disapproved.
"The results from the survey, conducted over the course of September and October, suggest a gradual decline in troops' support of Trump since he was elected in fall 2016, when a similar Military Times poll showed that 46 percent of troops approved of Trump compared to 37 percent who disapproved. That nine-point margin of support now appears gone."
Washington Post: "Opinion: Does anyone love our military less than President Trump?" — "Though he is nearly two years into his presidency, Trump has yet to visit U.S. troops in a combat zone, something his four most recent predecessors all did. Last month, Trump, who has spent more than 100 days of his presidency golfing, told the Associated Press that he believed such a trip is not 'overly necessary. I've been very busy with everything that's taking place here.'
"All of this perhaps should not be surprising, given how Trump as a candidate mocked the suffering of Sen. John McCain (R-Ariz.) in a North Vietnamese prison and attacked a Gold Star family.
"Yet he often pounds his chest and claims 'nobody has been better at the military.' "
Washington Post: "Trump rankles veterans with comments about PTSD and California shooter" — "Some veterans and mental-health advocates bristled at President Trump's comments regarding the Thousand Oaks shooter and post-traumatic stress disorder, saying such broad-based remarks risked fueling inaccurate stereotypes about the condition and Americans who have served in combat.
"Trump began speculating about PTSD on Friday morning when asked about the shooting, in which authorities say 28-year-old Marine veteran Ian David Long opened fire at a country-music bar in Thousand Oaks, Calif., and killed 12 people. Officers found Long inside an office in the bar, dead of an apparently self-inflicted gunshot wound.
"'He was a war veteran. He was a Marine. He was in the war. He served time. He saw some pretty bad things, and a lot of people say he had PTSD, and that's a tough deal,' Trump said after describing the shooter as a 'very sick puppy' who had a lot of problems."
Military Times: "For today's VA, it's the best of times and the worst of times" — "In a White House press conference Wednesday, amid a host of other topics, President Donald Trump stated that because of his leadership 'our vets are doing better than they've ever done.'
"Yet his critics contend that over the last eight months, the Department of Veterans Affairs has never been in more disarray, with a confusing series of leadership scandals and management overhauls further diminishing public faith in the institution.
"They both may be right."
Foreign Policy: "Both Sides Are Overselling Trump's Troop Deployment to the Border" — "President Donald Trump is deploying an additional 5,200 active-duty troops to the southern border of the United States in what he has tried to portray as an unprecedented effort to stem an 'invasion' by a caravan of Central American migrants.
"The deployment, dubbed Operation Faithful Patriot, is aimed at hardening security at the Mexican border and will bring the number of U.S. troops there to over 7,000—more than triple the number of U.S. forces in Syria as of last December."
This program aired on November 14, 2018.