Betsy DeVos' Proposed Campus Sexual Assault Rules Bolster Rights Of Accused
Play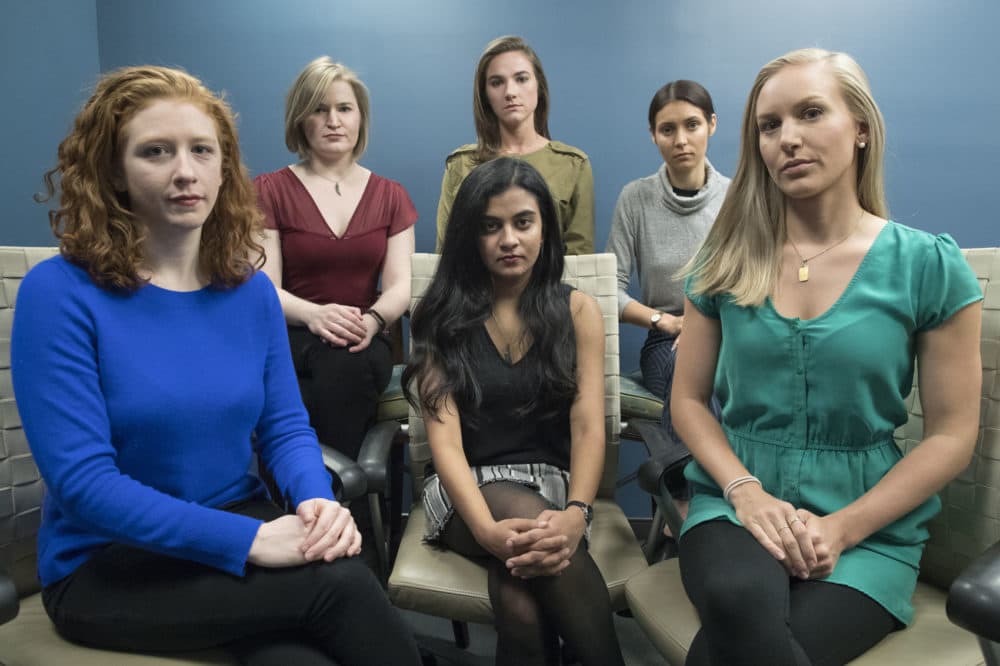 This article is more than 4 years old.
With Meghna Chakrabarti
A narrower definition of sexual harassment, strengthening the rights of the accused. We'll get reaction to Education Secretary Betsy DeVos' proposed new regulations on campus sexual assault.
Guests
Katie Mangan, senior writer for the Chronicle of Higher Education. (@KatherineMangan)
Samantha Harris, vice president of procedural advocacy for the Foundation for Individual Rights in Education (FIRE), a free speech advocacy group. (@SamatFIRE)
Catherine Lhamon, chair of the U.S. Commission on Civil Rights, appointed by President Obama in 2016. She also serves as of counsel at the National Center for Youth Law, where she litigates civil rights cases. She previously served as the assistant secretary for civil rights at the U.S. Department of Education from 2013 to 2017. (@CatherineLhamon)
From The Reading List
Chronicle of Higher Education: "Sexual Harassment and Assault in Higher Ed: What's Happened Since Weinstein" — "The galvanizing momentum of the #metoo campaign has forced many industries to confront widespread sexual harassment and assault in their midsts. Academe is no exception.
"Propelled by admiration for those who have spoken out, fear that what happened to them could happen to others, and anger at how long abusers have gone unpunished, women have come forward in droves to report instances of sexual assault by filing lawsuits, speaking with reporters, and posting their accounts online, often using the popular hashtag. (Some men have also used the hashtag to share stories of harassment and abuse.)
"Higher education had already had moments of confrontation with harassment, assault, and the cultural and structural forces that underlie them. Women have described the cultures in some disciplines, including philosophy and astronomy, as corrosive and hostile. Campus officials have struggled to determine how to punish abusive employees — and how to avoid simply passing them on to other universities. Scholarly societies have taken a more vigilant approach to conferences that have long been seen as incubators for misconduct."
Washington Post: "Betsy DeVos releases sexual assault rules she hails as balancing rights of victims, accused" — "Education Secretary Betsy DeVos on Friday released her long-awaited rewrite of rules governing campus sexual harassment and assault allegations, narrowing the cases schools must investigate and giving the accused more rights.
"The proposal came under immediate fire from women's rights groups and Democrats, who said the rules would allow assailants and schools to escape responsibility for harassment and assault and would make college campuses less safe for women.
"But others said the proposal restores balance in a system that had been skewed too far in favor of the accusers.
"DeVos said she had worked to strike a balance while creating a more transparent and reliable process."
New York Times: "Sex Assault Rules Under DeVos Bolster Defendants' Rights and Ease College Liability" — "Education Secretary Betsy DeVos unveiled a highly anticipated overhaul on Friday of the rules governing campus sexual assault, reducing the liability of colleges and universities for investigating sexual misconduct claims and bolstering the due process rights of defendants, including the right to cross-examine their accusers.
"The rules would be the first regulations to govern how schools should meet their legal obligations under Title IX, the 1972 law prohibiting sex discrimination in educational programs that receive federal funding. The regulations will now face a 60-day public comment period before they are final."
Forbes: "Opinion: Four Things Betsy DeVos Gets Wrong About Sexual Assault" — "Last week the Department of Education (DoE) issued its long-anticipated proposal for how colleges and k-12 schools must respond to allegations of sexual harassment and assault. The new rules will govern the way Title IX of the Education Amendments of 1972 is implemented. They come a little more than a year after Education Secretary Betsy DeVos rescinded the 2011 'Dear Colleague' letter of guidance from the Obama administration specifying how colleges receiving federal funding should address sexual misconduct involving students and employees.
"The DoE rewrite comes during the same week that seven women filed a federal lawsuit against Dartmouth College alleging that it allowed three tenured professors to discriminate against, harass, and sexually assault female students for more than a decade. The Dartmouth case is the latest controversy in a year that has included the Kavanaugh hearings and shocking revelations about serial sexual assaulters at Michigan State and the University of Southern California.
"The DoE proposal, to be finalized after an extended comment period, overhauls many Obama-era guidelines. The biggest changes are in four areas, reflecting DeVos' belief that prior guidance constituted a 'failed system,' denial of due process and institutional overreach."
This program aired on November 20, 2018.