Inside Nancy Pelosi's Fight To Reclaim The House Speaker's Gavel
11:56
Play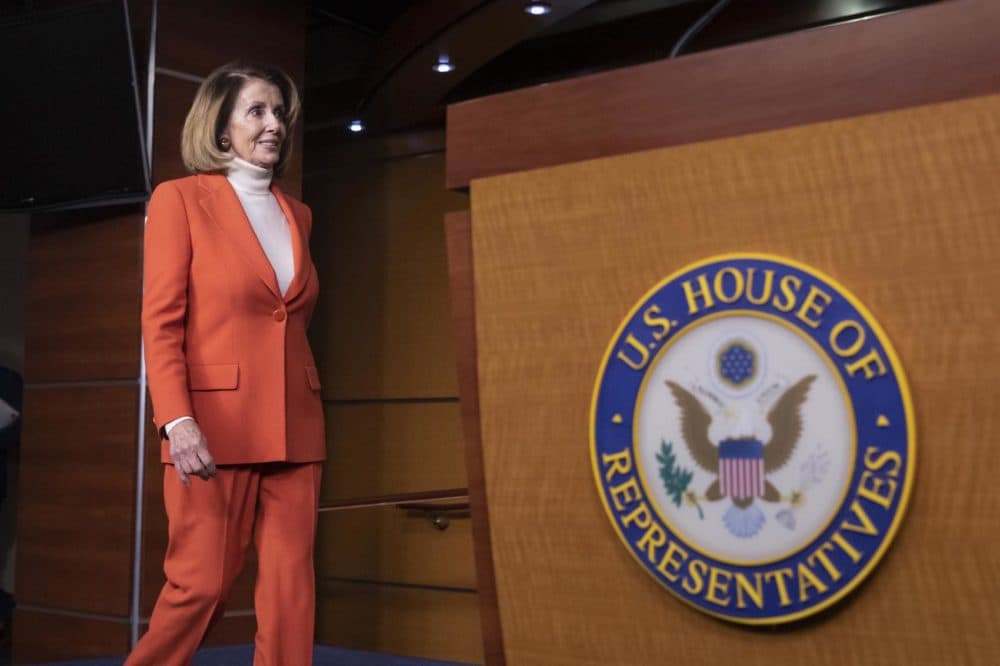 This article is more than 2 years old.
With Jane Clayson
Nancy Pelosi faces her first test to reclaim the speaker's gavel. We look at the cases for and against Pelosi's return to power.
Guests
Molly Ball, national political correspondent, TIME Magazine. (@mollyesque)
From The Reading List
ABC News: "Nancy Pelosi faces key vote this week as Democrats demand rule changes" — "A new bloc of House Democrats has announced opposition to Nancy Pelosi for speaker over proposed changes to House rules, as she faces a key caucus vote on Wednesday in her effort to reclaim the speaker's gavel.
"Nine moderate House Democrats, members of the bipartisan Problem Solvers Caucus, reaffirmed their plans Monday to oppose Nancy Pelosi in a vote on the House floor in January unless she endorses their proposed rule changes that they say would facilitate the passage of bipartisan legislation in the House."
New York Times: "Pelosi Faces Another Internal Threat to Her Leadership, This Time Over Partisan Gridlock" — "A group of House Democrats — dismayed by partisan gridlock — is trying to force changes to the way the House works by leaning into a potential leadership fight, threatening to withhold support for Representative Nancy Pelosi to be speaker unless she backs an overhaul of the chamber's rules.
"The nine Democratic members of a bipartisan coalition calling itself the Problem Solvers Caucus are now insisting that Ms. Pelosi embrace their proposals or risk losing power when Democrats take control of the chamber in January. The group was formed several years ago by the centrist organization No Labels, in part to blunt the power of ultraconservative Republicans who have had an outsize influence on their leaders during their years in the majority.
"But under Republican control, the Problem Solvers and No Labels have been stymied in their efforts to advance major bipartisan pieces of legislation because of steadfast opposition by the conservative Freedom Caucus, and have failed to mount significant challenges to the Republican leadership.
"Their demands now are the latest wrinkle in Ms. Pelosi's effort to win the speakership, a painstaking campaign she has undertaken in the wake of Democrats' midterm election victories that has involved trying to put down a mini-rebellion among her longtime foes and newcomers demanding change. She faces a preliminary test on Wednesday, when Democrats meet behind closed doors to cast secret ballots for their leaders."
This segment aired on November 27, 2018.