Anything Can Happen: NCAA March Madness And The Final Four
17:09
Play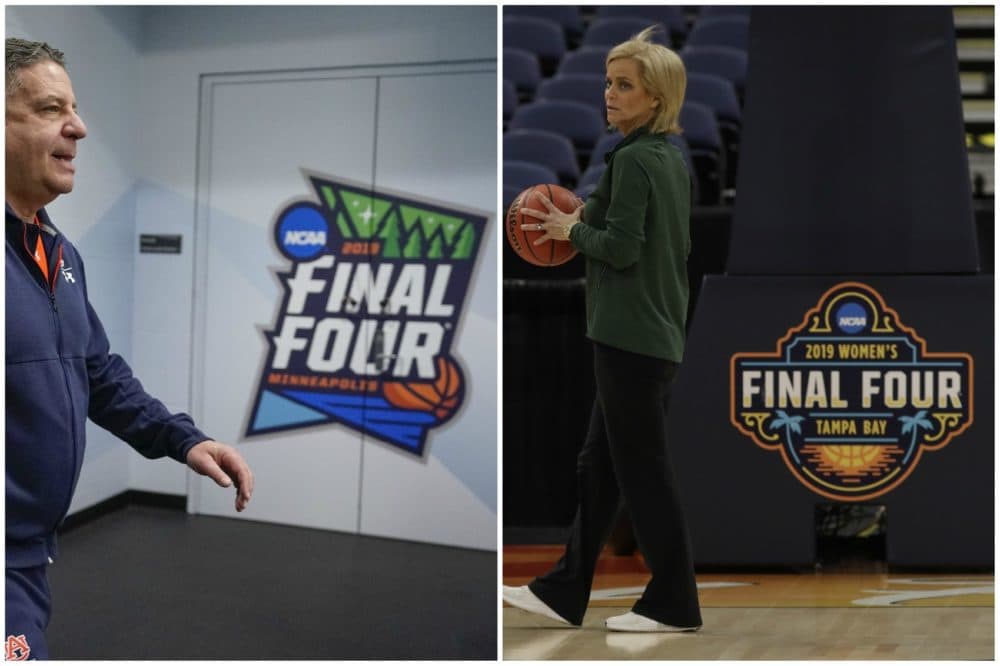 With Jane Clayson
The men's and women's 2019 NCAA basketball championships. Who's moving on in the Final Four?
---
Want more from the show? You can get messages right from our hosts (and more opportunities to engage with the show) sent directly to your inbox with the On Point newsletter. Subscribe here.
---
Guest
Dan Dakich, host of the Dan Dakich Show on ESPN Radio. Former Division I basketball player and coach. (@dandakich)
From The Reading List
Story continues below
Subscribe to the podcast
New York Times: "Final Four Preview: A Weekend of Classics, and the Promise of More" — "The first games of last year's N.C.A.A. men's basketball tournament made plenty of memories: Virginia's historic first-round exit; the beginning of Loyola-Chicago's fun Final Four run; Nevada's exciting upset of second-seeded Cincinnati.
"But you may hardly remember that tournament's regional semifinals and finals, the games over the second long weekend. Some were close, others not. Only Kansas' 80-76 overtime win over Duke registered as a classic. Even the Final Four felt like little more than the predetermined coronation of a dominant Villanova.
"The contrast represented a trade-off. The theory went like this: If you want the wonderful anarchy of a crazy and unpredictable first weekend, you might have to settle for latter rounds with more than their share of lopsided matchups and consequent blowouts. In turn, a by-the-numbers opening weekend by all rights ought to lead to the best basketball of the season, as 16 superior teams scrap against one another for a national championship."
USA Today: "Women's Final Four semifinal breakdown: Baylor vs. Oregon and Connecticut vs. Notre Dame" — "The names are familiar: Connecticut. Notre Dame. Baylor. Geno Auriemma. Muffet McGraw. Kim Mulkey. The three powers of women's college basketball — and their three head coaches, each a dominant figure in their own right — have combined for seven of the past nine national championships, five belonging to the Huskies' alone.
"Notre Dame has now reached the Final Four seven times this decade. After topping out at the Elite Eight across four seasons in a row from 2014-17, Baylor returns to the Final Four for the first time since winning the national title in 2012. Meanwhile, the Huskies' Final Four streak hits a dozen seasons, extending the longest streak in NCAA history.
"And then there's Oregon — in comparison the unproven newcomer, if that can be said of a program that under coach Kelly Graves had made back-to-back Elite Eight appearances before this year's breakthrough."
Charlotte Observer: "Opinion: Why Tournament's men's Final Four is refreshing, exciting mix despite what's missing" — "There is a lot missing from this NCAA Tournament men's Final Four, sure. But do not lament what isn't here. There are reasons to celebrate instead.
"We don't have epic rivals North Carolina and Duke angling to meet each other in the title game. No.
"We don't have the game's best player in Zion Williamson, either.
"Don't have blue blood programs that are interwoven deep in the sport's history.
"Also don't have the lovable, double-digit-seed Cinderella still dancing around.
"So what. Don't need any of that. Because what this Final Four of Michigan State vs. Texas Tech and Virginia vs. Auburn does provide is the unexpected, and it's refreshing. There is a legit argument why any of the four surviving teams might be climbing the ladder and snipping the championship net, which isn't always the case. For three that would make history, and for the other it would be a long time coming."
This segment aired on April 5, 2019.