Rep. Ilhan Omar Faces Surge In Death Threats After Trump Tweets On 9/11 Comments
Play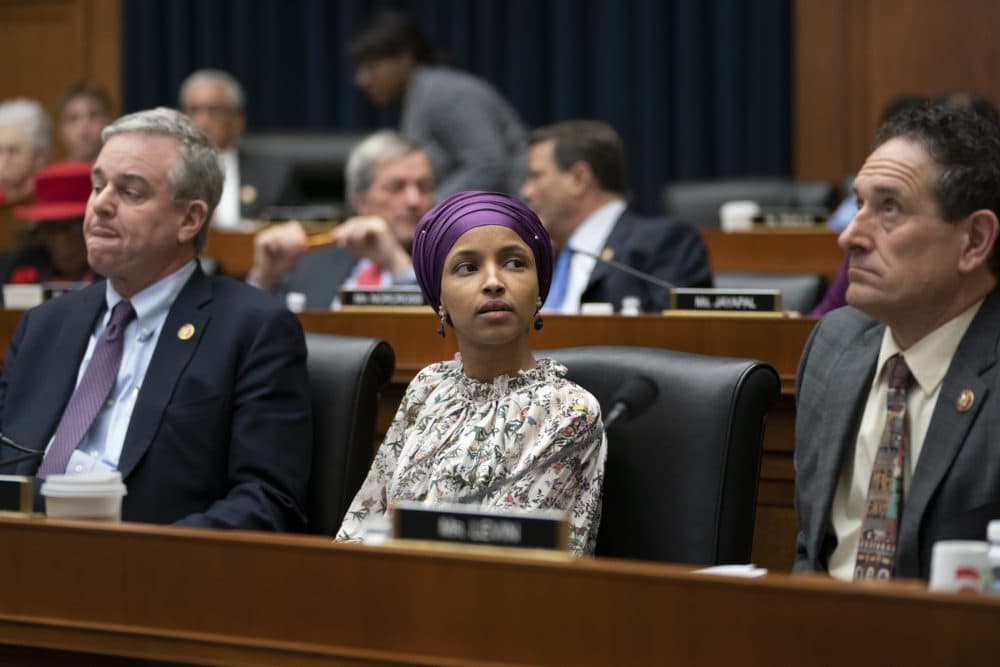 This article is more than 3 years old.
Find our buildout from this hour, featuring a partial transcription, here.
---
With David Folkenflik
The president versus a first-term congresswoman. He singles out Rep. Ilhan Omar, who has been a lightning rod in her own right.
Guests
Maggie Haberman, White House correspondent for The New York Times. (@maggieNYT)
David Frum, staff writer at The Atlantic, former speechwriter for President George W. Bush, author of "Trumpocracy: The Corruption Of The American Republic." (@davidfrum)
Wajahat Ali, New York Times contributing op-ed writer. Member of the Muslim Leadership initiative, a program that seeks to build better relations between American Muslims and the Jewish community. (@WajahatAli)
Rep. Ayanna Pressley, Democratic congresswoman representing Massachusetts' 7th Congressional District. (@RepPressley)
From The Reading List
New York Times: "In Attacking Ilhan Omar, Trump Revives His Familiar Refrain Against Muslims" — "As long as President Trump has focused on what he said was the danger lurking at the southwestern border, he has also talked about the supposed threat from one specific group already in the country: Muslims.
"During the 2016 campaign, he would not rule out creating a registry of Muslims in the United States. He claimed to have seen 'thousands' of Muslims cheering on rooftops in New Jersey after Sept. 11, a statement that was widely debunked. After deadly attacks in Paris and California, Mr. Trump called for a moratorium on Muslims traveling to the United States.
"'I think Islam hates us,' Mr. Trump told Anderson Cooper, the CNN host, in March 2016.
"Now, with 19 months until the 2020 election, Mr. Trump is seeking to rally his base by sounding that theme once again. And this time, he has a specific target: Representative Ilhan Omar, Democrat of Minnesota and one of the first Muslim women elected to Congress."
The Atlantic: "Democrats Are Falling Into the Ilhan Omar Trap" — "Many of President Donald Trump's tweets backfire, but not his tweet attack on U.S. Representative Ilhan Omar. That one tweet succeeded to perfection. Trump wishes to make Omar the face of the Democratic Party heading into the 2020 elections—and now he has provoked Democrats to comply.
"Elizabeth Warren and Bernie Sanders have offered full-throated endorsements of Omar. 'Ilhan Omar is a leader with strength and courage. She won't back down to Trump's racism and hate, and neither will we. The disgusting and dangerous attacks against her must end,' Sanders tweeted. Kamala Harris, Beto O'Rourke, and Pete Buttigieg have expressed themselves more circumspectly, but have still aligned themselves with her in ways not easy to undo. 'We are stronger than this president's hatred and Islamophobia. Do not let him drive us apart or make us afraid,' O'Rourke tweeted. Of the 2020 hopefuls, only Amy Klobuchar added any caveat to her statement about Omar. '"You can disagree with her words—as I have done before—but this video is wrong.') Joe Biden and Cory Booker have thus far refrained from comment.
"Having promised not to 'let him drive us apart' from Omar, Democrats are now stuck with responsibility for the reckless things the representative from Minnesota says, not only about Jews, but about other issues, too. Omar has already served notice that she does not intend to behave more circumspectly in the future. In a Friday-night interview, Stephen Colbert asked Omar whether she would heed House Speaker Nancy Pelosi's advice to back-bench it for a while. Omar answered, 'I think Nancy knows this very well. Women have been told to go slow and not be seen and not be heard for many years. She wouldn't have made it to where she is if she did. And it's certainly the case for minority women … We are not there to be quiet. We are not there to be invisible. We are there to follow the lead of people like Congressman John Lewis and make good trouble.' "
Associated Press: "Rep. Ilhan Omar says she's getting more death threats after Trump tweet" — "Rep. Ilhan Omar said late Sunday that she's faced increased death threats since President Trump spread around a video that purports to show her being dismissive of the 9/11 terrorist attacks. 'This is endangering lives,' she said, accusing Trump of fomenting right-wing extremism. 'It has to stop.'
"Her statement followed an announcement by House Speaker Nancy Pelosi that she has taken steps to ensure the safety of the Minnesota Democrat, and the speaker's call for Trump to take down the video.
"Soon after Pelosi's statement, the video disappeared as a pinned tweet at the top of Trump's Twitter feed, but it was not deleted."
USA Today: "'I'll put a bullet in her': Trump supporter charged with threatening to kill Rep. Ilhan Omar" — "A New York man is in custody after federal authorities say he threatened to kill freshman Congresswoman Rep. Ilhan Omar.
"Patrick W. Carlineo, 55, of Addison, was arrested Friday morning and charged by criminal complaint with threatening to assault and murder Omar, a Democrat representing Minnesota.
"On March 21, a staff member in Omar's office received a phone call around 12:20 p.m., the criminal complaint states. During the call, an individual, eventually identified as Carlineo, allegedly said to the staff member, 'Do you work for the Muslim Brotherhood? Why are you working for her, she's an (expletive) terrorist. I'll put a bullet in her (expletive) skull.' "
Adam Waller produced this hour for broadcast.
This program aired on April 16, 2019.