Week In The News: Trump's U.K. Visit, Mexico Tariffs, Parkland Arrest, D-Day
Play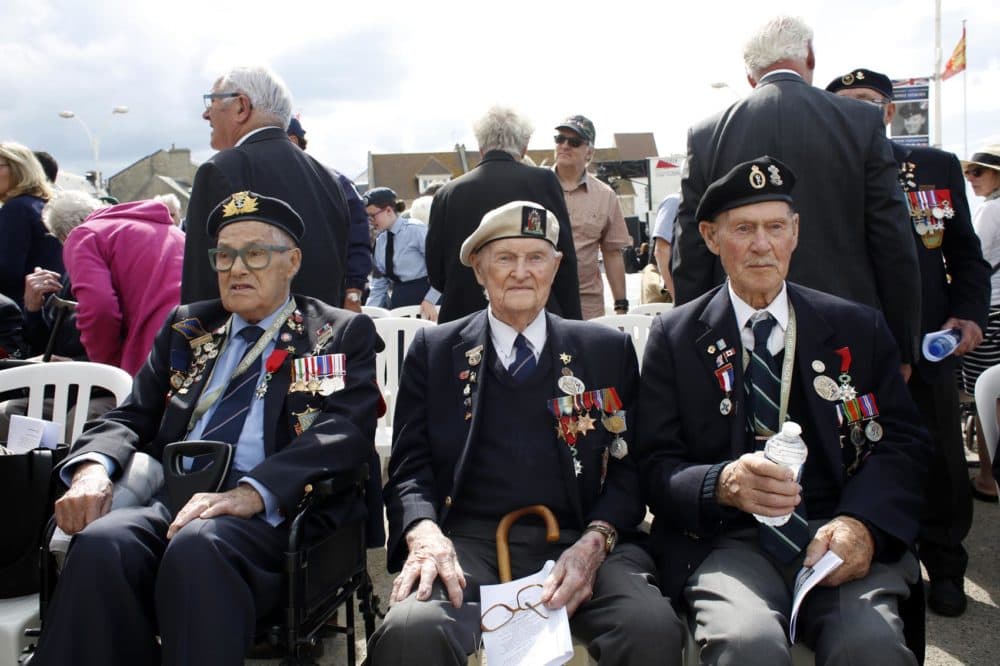 This article is more than 3 years old.
With David Folkenflik
President Trump in the U.K. Parkland school shooting arrest. Pushback over Mexico tariffs. D-Day remembrances. The roundtable is here.
Guests
Rachael Larimore, managing editor of The Bulwark. (@RachaelBL)
David Nakamura, White House reporter for the Washington Post. (@DavidNakamura)
Jack Beatty, On Point news analyst. (@JackBeattyNPR)
Steve Bullock, Democratic governor of Montana and candidate for the 2020 presidential nomination. (@GovernorBullock)
From The Reading List
Washington Post: "Amid London protests, Trump appears in denial over his standing abroad" — "Instead of recognizing the public's expressions of anger, which included a 20-foot-tall, diaper-clad "Trump baby" blimp flying above Parliament Square, the 45th president has adopted a different tactic — denial.
"'I heard there were protests,' Trump said during a news conference with British Prime Minister Theresa May on Tuesday. 'I said, "Where are the protests?" I don't see any protests. I did see a small protest today when I came — very small. So a lot of it is fake news, I hate to say.'
"Trump's efforts to minimize opposition to his presidency on the first stop of a week-long tour of three European nations represented his latest attempt to misrepresent his public standing and rewrite perceptions about the popularity of his agenda — an effort that began on his first week in office, when a White House spokesman argued, against evidence, that the president had the largest inauguration crowd in history."
Washington Post: "Mexico aims to avoid tariffs with potential deal limiting migrants going north, allowing U.S. to deport Central American asylum seekers" — "U.S. and Mexican officials are discussing the outlines of a deal that would dramatically increase Mexico's immigration enforcement efforts and give the United States far more latitude to deport Central Americans seeking asylum, according to a U.S. official and a Mexican official who cautioned that the accord is not finalized and that President Trump might not accept it.
"Faced with Trump's threat to impose escalating tariffs on Mexican goods beginning Monday, Mexican officials have pledged to deploy up to 6,000 National Guard troops to the country's border region with Guatemala, a show of force they say will make immediate reductions in the number of Central Americans heading north toward the U.S. border.
"The Mexican official and the U.S. official said the countries are negotiating a sweeping plan to overhaul asylum rules across the region, a move that would require Central Americans to seek refuge in the first foreign country they set foot upon after fleeing their homeland.
"Under such a plan, the United States would swiftly deport Guatemalan asylum seekers who set foot on U.S. soil to Mexico. And the United States would send Honduran and Salvadoran asylum applicants to Guatemala, whose government held talks with acting Homeland Security Secretary Kevin McAleenan last week."
Politico: "Who's in — and out — of the first Democratic debates" — "A prominent governor running in the Democratic primary is at serious risk of getting shut out of the party's first presidential debates — while a meditation guru and obscure tech entrepreneur take the stage for the most important event of the race so far.
"That's the state of play less than a week before the deadline to qualify for the debates on June 26-27 under the rules set by the Democratic National Committee.
"Presidential hopefuls have until June 12 to cross one of two thresholds to qualify for the primary debates, and 13 of the 20 slots available are set. Montana Gov. Steve Bullock is currently out, one of the foremost candidates in danger of missing the stage. His camp blasted what it called the DNC's eleventh-hour 'unmasking' of 'arbitrary' polling rules, but the DNC said the Bullock campaign has been aware of the criteria for months."
Politco: "Former Parkland school deputy arrested on 11 charges tied to shooting" — "Former Broward County Sheriff's Deputy Scot Peterson, who hid for 48 minutes while a gunman fired on Parkland students and teachers, was arrested Tuesday and will face criminal charges for failing to act during the school shooting.
"Peterson, 56, was charged with seven counts of child neglect, three counts of culpable negligence and one count of perjury after a Florida Department of Law Enforcement investigation, authorities said.
"Peterson was the sole school resource officer at Marjory Stoneman Douglas High School during the 2018 shooting, which left 17 people dead and 17 more injured.
"The investigation into Peterson's response concluded that the career lawman 'did absolutely nothing' to stop a gunman from walking onto the South Florida campus and opening fire, FDLE Commissioner Rick Swearingen said in a statement."
Tania Ralli produced this hour for broadcast.
This program aired on June 7, 2019.