In 100 Years, 1 Million Black Families Have Been Ripped From Their Farms
46:56
Play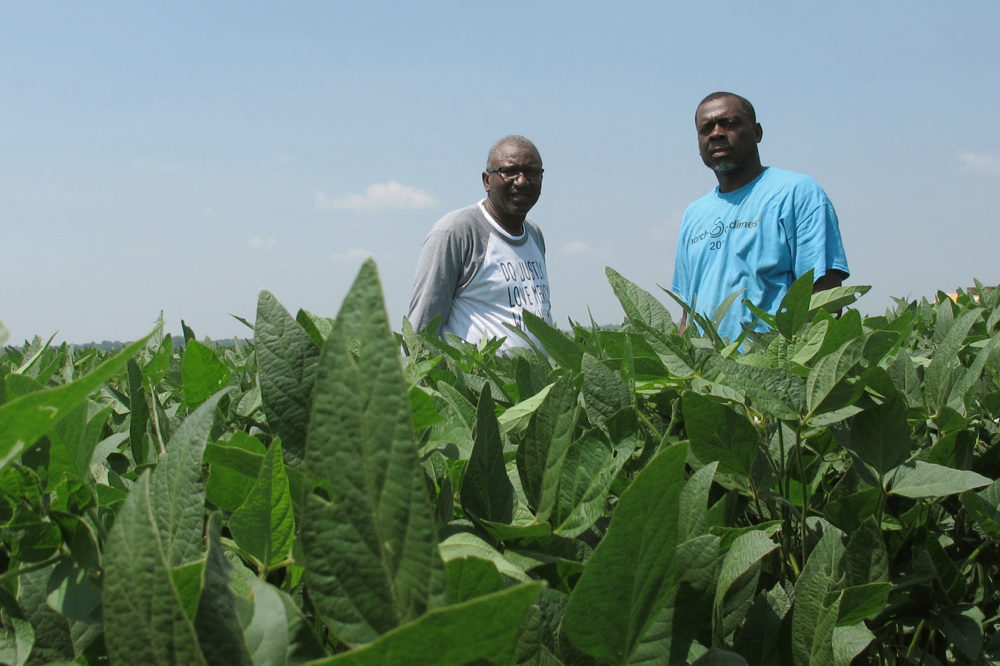 With Meghna Chakrabarti
Over the last century, African Americans were dispossessed of millions of acres of land. We look at the story of black-owned farmland in Mississippi.
Guests
Vann R. Newkirk II, staff writer at The Atlantic. (@fivefifths)
Willena Scott-White, farmer and retired educator in Mississippi. She and her family own roughly 1,100 acres.
From The Reading List
The Atlantic: "The Great Land Robbery" — "'You ever chop before?' Willena Scott-White was testing me. I sat with her in the cab of a Chevy Silverado pickup truck, swatting at the squadrons of giant, fluttering mosquitoes that had invaded the interior the last time she opened a window. I was spending the day with her family as they worked their fields just outside Ruleville, in Mississippi's Leflore County. With her weathered brown hands, Scott-White gave me a pork sandwich wrapped in a grease-stained paper towel. I slapped my leg. Mosquitoes can bite through denim, it turns out.
"Cotton sowed with planters must be chopped—thinned and weeded manually with hoes—to produce orderly rows of fluffy bolls. The work is backbreaking, and the people who do it maintain that no other job on Earth is quite as demanding. I had labored long hours over other crops, but had to admit to Scott-White, a 60-something grandmother who'd grown up chopping, that I'd never done it.
"'Then you ain't never worked,' she replied.
"The fields alongside us as we drove were monotonous. With row crops, monotony is good. But as we toured 1,000 acres of land in Leflore and Bolivar Counties, straddling Route 61, Scott-White pointed out the demarcations between plots. A trio of steel silos here. A post there. A patch of scruffy wilderness in the distance. Each landmark was a reminder of the Scott legacy that she had fought to keep—or to regain—and she noted this with pride. Each one was also a reminder of an inheritance that had once been stolen.
"Drive Route 61 through the Mississippi Delta and you'll find much of the scenery exactly as it was 50 or 75 years ago. Imposing plantations and ramshackle shotgun houses still populate the countryside from Memphis to Vicksburg. Fields stretch to the horizon. The hands that dig into black Delta dirt belong to people like Willena Scott-White, African Americans who bear faces and names passed down from men and women who were owned here, who were kept here, and who chose to stay here, tending the same fields their forebears tended.
"But some things have changed. Back in the day, snow-white bolls of King Cotton reigned. Now much of the land is green with soybeans. The farms and plantations are much larger—industrial operations with bioengineered plants, laser-guided tractors, and crop-dusting drones. Fewer and fewer farms are still owned by actual farmers. Investors in boardrooms throughout the country have bought hundreds of thousands of acres of premium Delta land. If you're one of the millions of people who have a retirement account with the Teachers Insurance and Annuity Association, for instance, you might even own a little bit yourself."
New York Times: "Opinion: Black People's Land Was Stolen" — "A House Judiciary subcommittee on Wednesday held the first hearing in over a decade on the issue of reparations for black Americans. The hearing took place, fittingly, on the Juneteenth holiday, commemorating the announcement of the end of slavery in the United States, and five years after the writer Ta-Nehisi Coates, who testified, reignited the debate with his 2014 essay 'The Case for Reparations.' Once a fringe topic, reparations has emerged as an issue in the 2020 presidential campaign, with several leading candidates for the Democratic nomination expressing support for various measures to atone for America's racist past.
"Thanks to Mr. Coates and others, today's movement for reparations places as much emphasis on the racist public policies of the 20th century, which denied black Americans opportunities to build wealth and left them vulnerable to all manner of economic exploitation, as it does on the crimes of slavery. Many leading proponents of reparations point to the federal government's failure to provide land and resources (40 acres and a mule) to former slaves following emancipation, as promised, as laying the course for today's inequities. 'Had such a racial land reform taken place,' the Duke University economist William Darity Jr. argues, 'it is easy to envision that the vast current differences in wealth between black and nonblacks would not exist.' Mr. Darity has gone so far as to use the ungranted 40 acres of land that was due former slaves as the basis for calculating the amount of reparations due to their descendants today.
"But in addition to invoking the 40 acres black people never got, the reparations movement today should be talking about the approximately 11 million acres black people had but lost, in many cases through fraud, deception and outright theft, much of it taken in the past 50 years."
The Guardian: "There were nearly a million black farmers in 1920. Why have they disappeared?" — "John Boyd Jr's grandfather Thomas, the son of a slave, slept with the deed to his farm under his mattress. He worried constantly that his land would be taken from him.
"Twenty miles away and three generations later, Boyd lives on his own 210-acre farm, in a big white colonial house with rows of soybeans that go almost up to the front door, like other people have grass. One hundred cattle, a cluster of guinea hogs, three goats and a small herding dog named Fatso, whom Boyd calls his best friend, live there.
"He feels more secure on his plot of land than Thomas did. But Boyd is an aberration.
"The number of black farmers in America peaked in 1920, when there were 949,889. Today, of the country's 3.4 million total farmers, only 1.3%, or 45,508, are black, according to new figures from the US Department of Agriculture released this month. They own a mere 0.52% of America's farmland. By comparison, 95% of US farmers are white.
"The black farmers who have managed to hold on to their farms eke out a living today. They make less than $40,000 annually, compared with over $190,000 by white farmers, which is probably because their average acreage is about one-quarter that of white farmers.
"As a fourth-generation farmer, Boyd has witnessed other black farmers do the same thing he's done: claw at the dirt in an attempt to hold on to it. And Boyd has devoted himself to helping other black farmers, always remembering the words he heard his grandfather Thomas mumble over and over: 'The land don't know color. The land never mistreated me, people do.' "
PBS NewsHour: "How southern black farmers were forced from their land, and their heritage" — "African Americans have lost millions of acres of farmland across the South during the last century, in a trend propelled by economic forces, racism and white economic and political power. Most of the losses occurred since the 1950s. John Yang talks to Vann Newkirk of The Atlantic, which highlights the story in its September issue, about the origins of what Newkirk calls 'the great land robbery.' "
Hilary McQuilkin produced this hour for broadcast.
This program aired on August 15, 2019.