Why The Amazon Is Burning And How World Leaders Want To Stop It
Play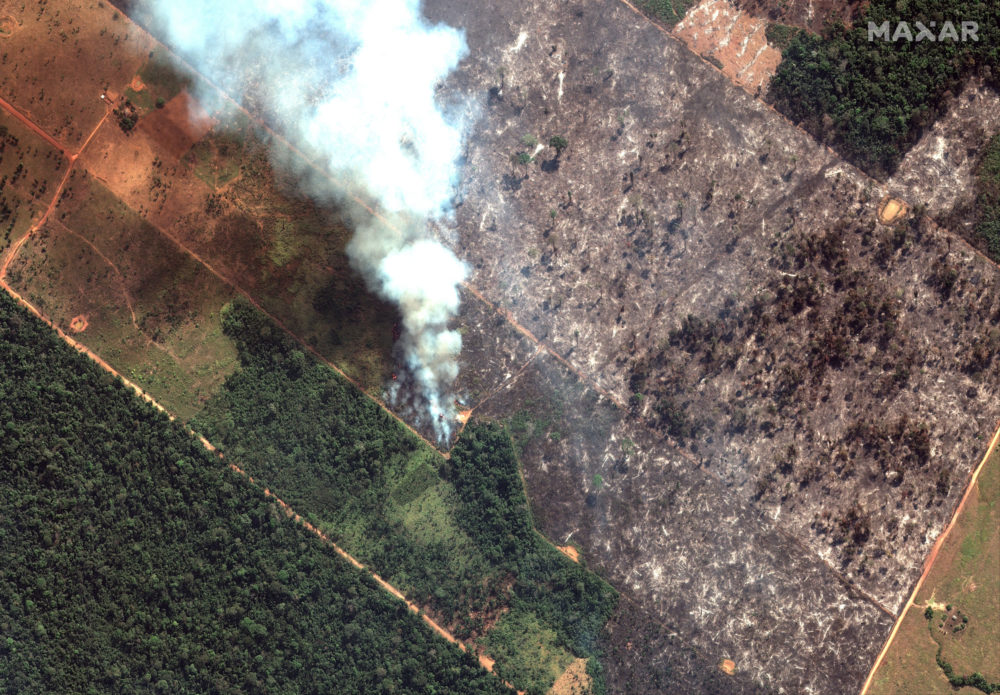 This article is more than 3 years old.
With Meghna Chakrabarti
The Amazon in Brazil is on fire. We look at deforestation, climate change and what's at stake for the planet.
Guests
Jake Spring, correspondent for Reuters. He recently returned from a reporting trip to the Amazon where he witnessed the fires firsthand. (@jakespring)
Robin Chazdon, professor emerita in ecology and evolutionary biology at the University of Connecticut (@UConn).  She's been studying tropical forest ecology for more than 45 years. Senior fellow with the World Resources Institute's Global Restoration Initiative. Senior research associate with the International Institute for Sustainability in Rio de Janeiro, Brazil.
Joshua Busby, associate professor of public affairs at the University of Texas Austin. Senior research fellow with the Center for Climate and Security. (@busbyj2)
From The Reading List
Reuters: "Warplanes dump water on Amazon as Brazil military begins fighting fires" — "Brazilian warplanes are dumping water on the burning forest in the Amazon state of Rondonia, responding to a global outcry over the destruction of the world's largest tropical rain forest.
"As of Sunday, President Jair Bolsonaro had authorized military operations in seven states to combat raging fires in the Amazon, responding to requests for assistance from their local governments, a spokeswoman for his office said.
"Reuters accompanied a firefighting brigade near the state capital of Porto Velho, where there were areas larger than football fields that had been charred, but active fires were contained to small areas of individual trees.
"The dozen or so yellow clad firefighters from environmental enforcement agency Ibama easily cleared brush from around a burning stump with a leaf blower, doused it with jets connected to water packs mounted on their backs and covered it in earth."
NPR: "Macron Urges G-7 Members To Put Amazon Fires At Top Of Agenda" — "French President Emmanuel Macron is calling on world leaders to place the massive fires destroying Brazil's Amazon rainforest at the top of their agenda as they gather in France's southwest for the Group of Seven summit.
"'Our house is burning. Literally. The Amazon rain forest – the lungs which produces 20% of our planet's oxygen – is on fire,' Macron wrote in a tweet Thursday. 'It is an international crisis. Members of the G7 Summit, let's discuss this emergency first order in two days!'
"France is hosting the summit in the city of Biarritz, on the Atlantic coast, which begins on Saturday. President Trump and leaders from Canada, Germany, Italy, Japan and the United Kingdom will also attend.
"U.N. Secretary-General António Guterres echoed Macron's statement, saying in a tweet that 'we cannot afford more damage to a major source of oxygen and biodiversity. The Amazon must be protected.' "
BuzzFeed News: "Brazil's Government Is Wrong About The Fires In The Amazon, And This Data Proves It" — "Brazil's government has offered up several explanations for the record number of fires that have been burning through the Amazon rainforest for weeks, including a theory from the country's president that environmental NGOs could have set the blazes to embarrass him.
"But scientific data and experts point out that — counter to recent claims from the far-right government's environment minister — 2019 isn't actually a year of extreme drought. If that were the case, the number of forest fires would actually be double what we're seeing today.
"According to data from the Amazon Environmental Research Institute (IPAM), there's been a 70% increase in fires in the rainforest this year compared to the same time last August, during the year's most intense period of drought. And compared to 2016, the year when the drought was most severe overall, there was a 23% growth in fires this year, according to IPAM's data.
"'What our analysis shows is that the increase in the number of outbreaks of fire is strictly associated with the amount of deforestation that has occurred in the Amazon,' IPAM's scientific director, Ane Alencar, told BuzzFeed News."
Wired: "Humans, More Than Drought, Are Fueling The Amazon's Flames" — "From his office in Greenbelt, Maryland, Doug Morton can see the Amazon burning.
"He watches images from NASA satellites that circle the tropics four times a day, their cameras pointed at the trees below to produce images from visible light, infrared, and thermal data. The fires are fueled not only by a rise in global temperatures but also by Brazil's President Jair Bolsonaro. The fiery, anti-environment populist has encouraged settlements in the Amazon region, sacked the head of the government agency that monitors deforestation from space, and just this week blamed NGOs for setting the fires to make him look bad.
"But NASA satellite images show that the fires are the result of Bolsonaro's push to develop the Amazon. And experts say they may have consequences for the rest of the planet.
"'When we look from space we see that economic activities, instead of drought, are driving the fires,' says Morton, an earth systems scientist at NASA's Goddard Space Flight Center. 'They are occurring along transportation corridors and the leading edges of the states of Amazonas and Mato Grosso, where there has been recent settlement and expansion of agriculture. This is an economic signal, not a climate signal.' "
Hilary McQuilkin and Dorey Scheimer produced this hour for broadcast.
This program aired on August 26, 2019.