Kevin McAleenan Out At DHS: More Trump Administration Turnover
46:31
Play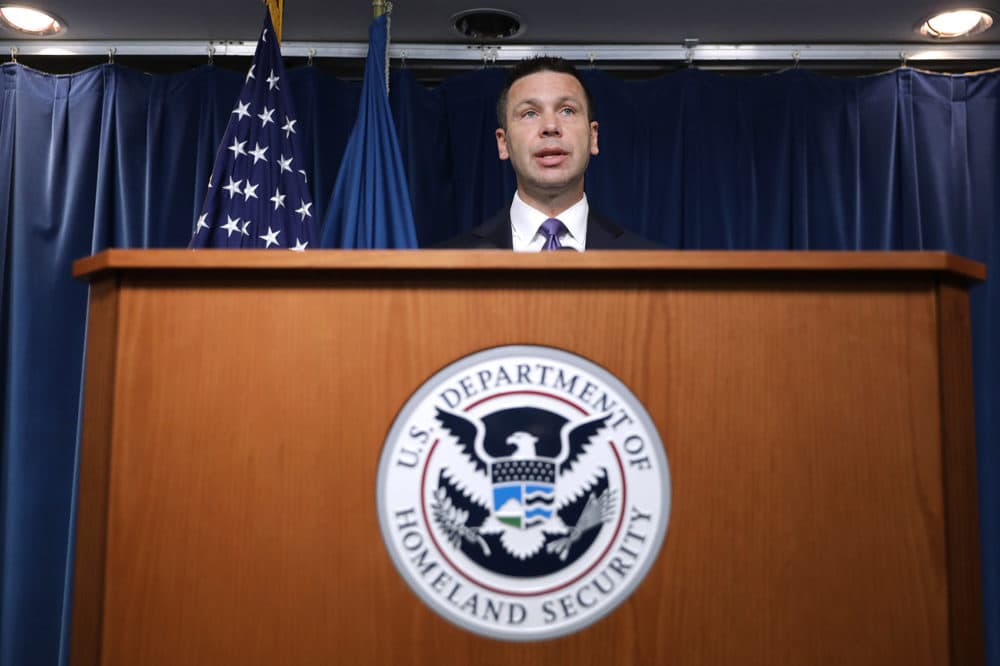 Kevin McAleenan's resignation as acting head of the Department of Homeland Security adds to the leadership tumult at DHS.
Guests
Michelle Hackman, reporter for the Wall Street Journal covering the Department of Homeland Security, immigration policy and enforcement. (@MHackman)
Alejandro Mayorkas, served as the Deputy Secretary of the Department of Homeland Security from 2013 to 2016. Served as the Director of U.S. Citizenship and Immigration Services from 2009-2013.
From The Reading List
Wall Street Journal: "Acting Homeland Security Secretary Kevin McAleenan to Step Down" — "Acting Homeland Security Secretary Kevin McAleenan is leaving his post after months of tension with the White House over its hard-line immigration strategy.
"President Trump disclosed the departure of Mr. McAleenan, the third person to hold the role since he took office, via Twitter late Friday. Mr. McAleenan—a lawyer with a background in counterrorism enforcement whose political rise and fall happened quickly—had been on the job since early April, when he was tapped to succeed Kirstjen Nielsen. Prior to his appointment as acting secretary, Mr. McAleenan was serving as commissioner of Customs and Border Protection.
"Mr. McAleenan made the decision to resign himself and delivered his letter of resignation to the White House on Friday, according to two people briefed on the decision."
The New Yorker: "Why Trump's Fourth Secretary of Homeland Security Just Resigned" — "When Kevin McAleenan became the acting Secretary of Homeland Security, in April, a D.H.S. official, who knew McAleenan personally, told me, 'I'm not sure how he can finesse things with this Administration.' Donald Trump had just fired Kirstjen Nielsen, a former official in the George W. Bush Administration, despite the fact that she had championed some of the Trump Administration's harshest immigration policies, including family separation. McAleenan, who had served in the Obama Administration, was widely regarded as a Democrat. He publicly opposed Trump's decision, earlier that spring, to cut aid to Central America, and was taking over the Department at a moment when more than a hundred thousand migrants were being apprehended at the border in a single month. On Friday, after six months in the post, McAleenan resigned, becoming one of the shortest-serving secretaries in the department's history. And yet, according to three people with knowledge of McAleenan's thinking, the Secretary had somehow managed to leave the Trump Administration mostly on his own terms. The reasoning behind the decision, one of them told me, 'was sixty per cent because he had achieved the mission objectives, and forty per cent because he had to avoid being branded as Trump's border cop.'
"McAleenan's primary goal was reducing immigration to the U.S., which aligned him with the White House. But, unlike Trump or his chief adviser, Stephen Miller, McAleenan was never an anti-immigration ideologue. He is a technocrat and an institutionalist who had spent much of his career at Customs and Border Protection, a D.H.S. sub-agency. In his view, mass migration was a humanitarian crisis which threatened to overtake both D.H.S. resources and the asylum system writ large. It was a problem, he once told me, that partisan Washington was unable to address. At the same time, according to another department official close to him, McAleenan saw Trump's election as proof that an unsolved immigration crisis could carry dangerous political consequences."
Wired: "Trump's Homeland Security Purge Worries Cybersecurity Experts" — "This week kicked off a new, chaotic era at the Department of Homeland Security, where the only certainty seems to be the president's obsession with immigration. As former Customs and Border Protection commissioner and prominent family-separation advocate Kevin McAleenan takes over as acting secretary, it's fair to wonder what will happen to the rest of DHS' many essential responsibilities.
"The shakeup began last week, when President Trump announced he was withdrawing his nominee to head Immigration and Customs Enforcement, Ronald Vitiello, saying, 'We're going in a tougher direction.' Then on Sunday he ousted former secretary Kirstjen Nielsen, after months of rumors that he was unhappy with her performance. Secret Service director Randolph Alles and DHS undersecretary Claire Grady are also out, and there may still be more to come.
"But DHS' mandate goes far beyond immigration, to concerns like cybersecurity, counterterrorism, monitoring critical infrastructure, border privacy, and the development of science and technology in defense of the country. While Trump's Homeland Security purge may not mean an immediate danger of those areas being neglected, former government officials worry about the long-term consequences of the hollowing out and restructuring of DHS."
This program aired on October 15, 2019.