Opinion: Why We Need Local Journalism Right Now. And Why Local Journalism Needs Us.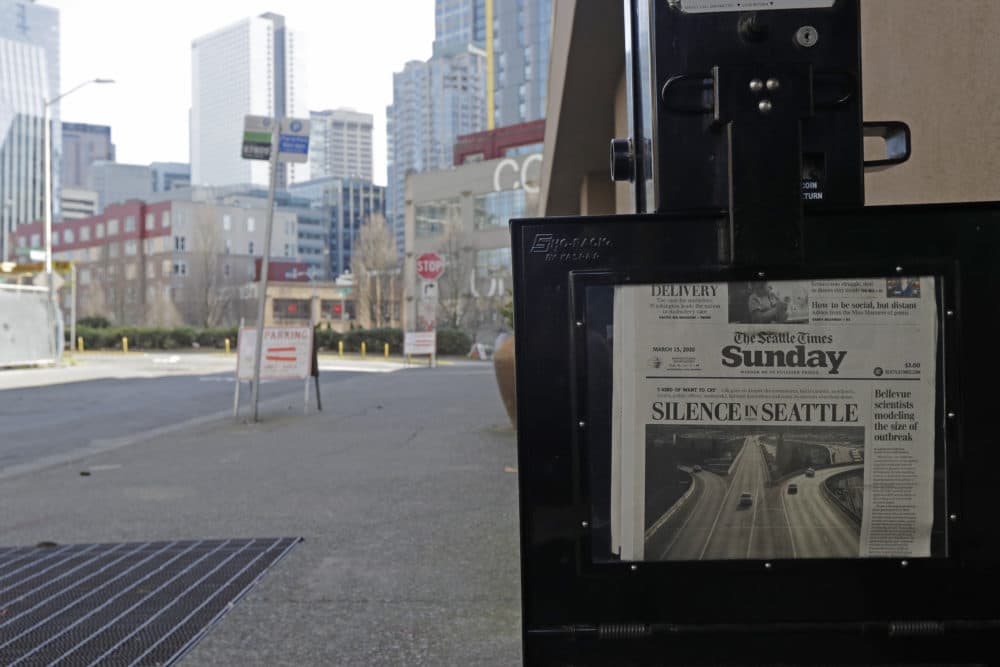 This article is more than 2 years old.
This opinion piece is a follow-up to our hour on local news and the coronavirus. Listen here.
---
If you are like me, the coronavirus pandemic has you in a nonstop search for answers. Just in the past week, my questions have ranged from, "What do I need to do to keep my family safe?" to "Will there be summer camps for my kids this year?" And even more big picture, "What is my state doing to help right now?"
But thankfully, I don't have to figure it out alone — and neither do you — because local journalists are here to help.
Worried about feeding your family? In New Jersey, journalists created a map to help families find free meals during school closures. Want to make sure your neighbors are okay? In North Carolina, journalists and community organizers created a phone tree to help people check on neighbors. What if you don't have Wi-Fi at home? In Detroit, reporters are texting safety info out to folks who don't have broadband access. Have questions that can't wait? In Los Angeles, a public radio station has answered more than 1,700 questions from the community about COVID-19 so far. The list goes on. All over the country, newsrooms are expanding their reporting, dropping their paywalls and investing in creative ways to meet community information needs and hold leaders accountable.
More than thirty states have listed journalists as "essential" workers. That designation means that journalists are still out in our communities reporting from hospitals, grocery stores and city halls. But while they do this great work, they are facing the real threat of losing their jobs. So far, more than 36,000 journalists have lost their jobs, taken pay cuts, or been forced to go on furlough since the coronavirus began its spread.
The economic impact of COVID-19 is hitting local newsrooms hard, with many businesses cutting back on advertising. These revenue problems aren't a new thing for local newsrooms — more than 1,800 newsrooms have closed in the last 15 years, as advertising dollars have shifted to big social media platforms. But the coronavirus pandemic has exacerbated this problem: in a matter of weeks, many local newspapers have lost 30% to 60% of their remaining advertising revenue. Nonprofit newsrooms and public media have been a bright spot, but they are struggling too — small local donors are grappling to make ends meet, sponsors are pulling back and too often funders don't include media in emergency grantmaking responses after disasters.
While many communities have struggled with finding access to trustworthy local information for years, COVID-19 is widening the local news gap even more acutely: over half of counties that have reported cases of COVID-19 don't have a daily newspaper — at a time when they desperately need coverage.
Communities of color who have been hardest hit by the coronavirus have also been underserved by much of the media, while news organizations led by people of color have produced powerful coverage with consistently limited resources. Add to this a flood of misinformation and rising rumors that often target these same communities, and COVID-19 threatens to further entrench racial inequalities.
The COVID-19 pandemic is not just a public health crisis. It is also an information crisis (some are even calling it an "infodemic"). That's why how we respond to, repair and rebuild local news will shape other issues we care about as we recover from this crisis.
The good news is, there are some clear steps we can take right now to support local news in our communities. We can make sure we have access to the news and information we need during this pandemic. The short-term choices we make today can help journalists stay on the job at a critical moment for our neighborhoods and our nation.
Donate — Your dollars can make a critical difference at this moment. At NewsForGood.org you can find and support trustworthy nonprofit journalism on issues you care about, in communities all over the country. Find your local NPR and PBS station and support their local newsrooms.
Subscribe — Daily and weekly newspapers are feeling the most immediate impact of the drop in advertising. Subscribe to your local paper, or buy a gift subscription for a friend or local school. You can also donate to support COVID-19 coverage at hundreds of newspapers around the country through the Local Media Foundation.
Advertise — National ice cream chain Ben and Jerry's has taken out advertisements in the company's home state newspapers, encouraging readers to support local media. The company has also committed to buying more ads in Vermont papers over the next two months. And other local foundations across the country are buying newspaper ads to share health and safety facts. You can buy ads to celebrate birthdays and graduations, or even to share a good joke.
Participate — Know of something happening in your neighborhood that others should be aware of? Want to help a reporter see what questions need to be answered, or augment some answers that are already out there? Reach out to your local newsroom and offer constructive feedback or skills you may be able to share pro bono (Can you make masks for photojournalists? Help sort through coronavirus data, or review public records?). Newsrooms need dollars, but they need other kinds of support too.
One big opportunity is coming up tomorrow. Giving Tuesday — the global charity organization that usually does a big push for donations in November — has called for an emergency day of giving on next Tuesday, May 5th in response to COVID-19. Local news is one of the essential services they are highlighting — perfect timing, because local newsrooms could really use some help now.
We are facing profound questions about what will happen in the future— when we'll be able to reopen the economy, get back to work, go back to school, or vote in local and national elections. Supporting local journalism today is one way you can help ensure we have answers to those questions, and many others.
---
Josh Stearns (@jcstearns) is the director of the Public Square program at Democracy Fund, where he manages funding for local and engaged journalism, press freedom and platform accountability. A journalist, community builder and civic strategist, Josh previously served as the Director of Journalism and Sustainability at the Geraldine R. Dodge Foundation and as Press Freedom Director at Free Press, where he ran national advocacy campaigns in support of digital rights, freedom of expression and media diversity.