One woman's quest to end her war with food. Hosts Juna Gjata and Dr. Eddie Phillips wield solid science, medical knowledge, common sense and an endless supply of dad jokes to teach us how to eat better and feel better about it. Hint: It's not dieting. They discuss exercise, body image, food addiction, genetics, weight loss and more.
You can hear Food, We Need To Talk as a podcast, available on Apple Podcasts, Stitcher, Spotify or wherever you get your podcasts.
Follow Food, We Need To Talk on Instagram here.
If you have questions or want to share feedback, write to us at foodweneedtotalk@gmail.com
Our Story
"Doomed if you diet, doomed if you don't."
That's how 24-year-old Juna Gjata felt for much of her life. She wanted to stop tormenting herself with extreme diets she knew didn't work in the long-term, but she also feared that if she did, she'd instantly gain weight.
As she put it: "If I'm not dieting I'm literally going to gain 20 pounds on gingerbread lattes and peppermint mochas. And if I do diet, then I'm just watching everyone else drink their peppermint mochas, and I want one, too!"
In Food, We Need To Talk, a new 10-episode podcast from WBUR, Juna meets up with a kindly voice of reason and wisdom: Dr. Eddie Phillips, founder of the Institute of Lifestyle Medicine and a seasoned doctor who's seen thousands of patients grapple with similar dilemmas. (He's also the host of WBUR's previous award-winning podcast on learning to like exercise, The Magic Pill.)
Together, they travel toward a happier, healthier place with food, helped along by solid science, medical knowledge and common sense.
Along with Juna, you learn how to eat better, and most importantly, how to feel better about it. By episode 10, you come away with a range of practical ideas and strategies, from simple bits like how to fill a plate at a meal, to complex issues like how to improve body image. Most of all, you're armed with information that lets you change forever your attitude toward food. And it's a heartening change: toward health and pleasure, away from guilt and restriction.
Food, We Need To Talk launched on Dec. 23 — just in time for New Year's resolution season — and will publish episodes every Monday through March (just in time for resolution failure season.)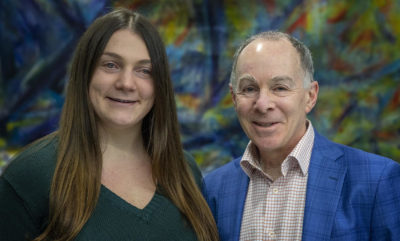 About Dr. Eddie Phillips: Edward M. Phillips, MD, is assistant professor of physical medicine and rehabilitation at Harvard Medical School, founder and director of The Institute of Lifestyle Medicine at Spaulding Rehabilitation Hospital and host of WBUR's previous award-winning exercise podcast on exercise, The Magic Pill. Phillips is an active clinician and researcher who speaks and consults nationally, guiding a broad effort to reduce lifestyle-related death, disease and costs through interventions with patients. He has also been known to eat a dish of ice cream followed by a Fudgsicle while reading journal papers about stress eating.
About Juna Gjata: Juna Gjata graduated in 2017 from Harvard University with a B.A. in cognitive neuroscience and evolutionary psychology, and a minor in music. Her passion for classical piano has allowed her to perform solo at venues including Carnegie Hall and the Kennedy Center. Juna is obsessed with all things health and fitness, and enjoys being the non-resident music tutor at Harvard's Kirkland House, her old college dorm.