Chris Christie Hopes Key Endorsement Will Boost His Presidential Campaign In N.H.
05:38
Play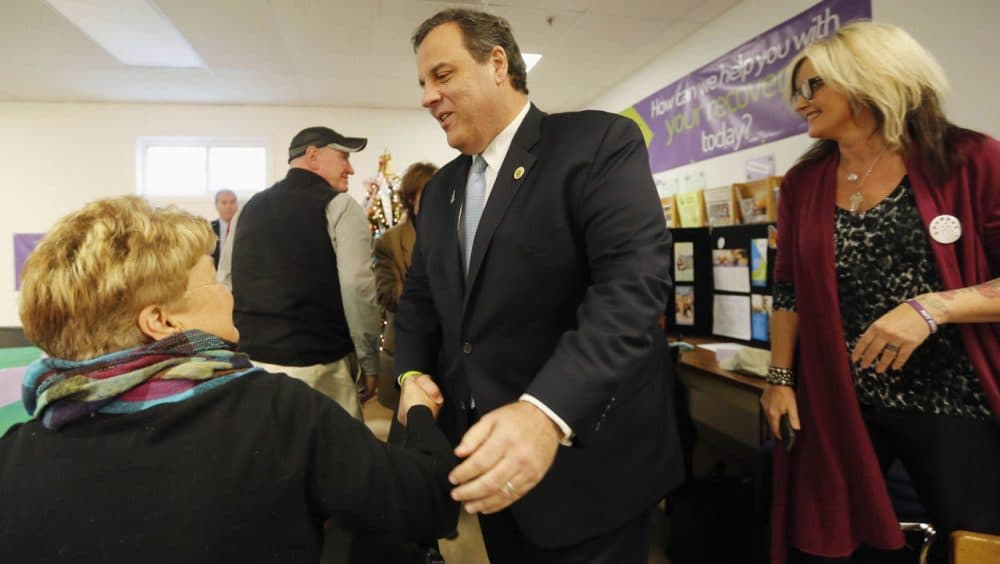 This article is more than 5 years old.
Chris Christie may be running from behind in a crowded Republican presidential field, but he's running hard. Tuesday was his 50th day of campaigning in New Hampshire. He's made more visits to the state than any other candidate.
Now Christie is hoping a key endorsement this week, as well as his experience as governor of New Jersey, will help energize his New Hampshire campaign.
On Monday night, Christie was in Loudon for one of his many town meetings.
"A few weeks ago the entire campaign changed because the single most important responsibility of the president of the United States, in my opinion, is to protect the safety and the security of the American people," Christie told the crowd.
The Paris attacks have changed the focus of the presidential campaign, and Christie hopes that will help him. He puts terrorism and national security at the center of his stump speech, and he uses blunt language to make his case.
"The world is threatening us now," Christie said, adding that the U.S should close its doors to Syrian refugees.
Christie also chided President Obama for misplaced priorities.
"No one can tell me that climate change is the foreign policy imperative in a world where Parisians ... are murdered in cold blood," Christie said. "No one can tell me that the president should be overseas trying to put together a coalition to fight climate change. He should stand up, be a real leader, and put together a coalition to destroy ISIS. That's what he should be spending his time doing."
Christie's stump speech includes a story about the 9/11 attacks, when he lost contact with his wife, who was working in Manhattan that day, not far from the World Trade Center.
"Five and a half hours went by when I was trying to reach her," Christie recalled. "Both buildings fell ... 3,000 people, and I didn't know where my wife was. I couldn't find her."
His wife was fine and now accompanies him on the campaign trail. But Christie says that experience made him wise to the challenges facing the world today. And Christie says he has the experience — as a U.S. attorney and as a Republican governor in the blue state of New Jersey — to get things done and keep people safe.
Many of the 200 or so people who filled the Loudon firehouse on Monday to hear Christie speak, sitting in folding chairs alongside fire trucks, liked his focus on terrorism.
"When I came back from Vietnam, I didn't have to worry about the VC jumping out of a bush trying to kill me," said Dave Copson, a voter from Loudon who says he's still undecided. "But now anywhere in the world you got these Muslim terrorists wreaking havoc, and no one seems to do anything about it. And it to me, it's absurd. It's ridiculous."
Marie Curry, of Concord, says she's now a Christie supporter.
"He lived through 9/11. His wife was working in the city at that time, he has firsthand experience with all of that," Curry said. "And I think he would be a great commander in chief. He would be strong, and I think he would help our nation to regain some of what it's lost over the last seven years."
In recent months, Christie's campaign has struggled. Because of low poll numbers, Republican debate organizers excluded him from some of the main events. But he got a big boost this week: an endorsement from the Union Leader, the iconic conservative New Hampshire newspaper.
"We think Christie stands the best chance of getting the nomination and getting it away from Mr. Trump," said Joe McQuaid, the Union Leader's publisher.
McQuaid calls Donald Trump, who's been leading in the polls, "dangerous." And he says Christie is the best hope to defeat him — and the eventual Democratic nominee.
"Christie's performance since Paris, he speaks with some authority," McQuaid said. "He's a brusque guy. People are so distrustful of Washington that they're looking for somebody who ... speaks with the bark off — like Trump in that respect — but I think Christie knows what the hell he's talking about."
Christie also has his critics. Democrats point out that under his leadership, New Jersey's credit rating was downgraded a record nine times. Public employee unions accuse him of breaking promises to protect pensions. And a U.S. prosecutor continues to investigate the so-called "Bridgegate" scandal, when some of his aides engineered a massive traffic jam for political payback, though Christie has not been implicated.
But here in New Hampshire, Wayne MacDonald, state chairman of Christie campaign, says Christie's many visits will pay off.
"We need to to do well in New Hampshire, we've made no secret of that," MacDonald said. "This is his 49th day in New Hampshire since January, more than any other candidate. You know, that's basically what he's doing and what he needs to do, and it's going to serve him well."
MacDonald was co-chair of John McCain's campaign back in 2000, when McCain practically moved to New Hampshire and almost won the Republican presidential nomination. With that same strategy in 2008, McCain did win.
This segment aired on December 2, 2015.