Libertarian VP Candidate Weld Dismisses Running Mate's 'Slip' About Aleppo
02:54
Play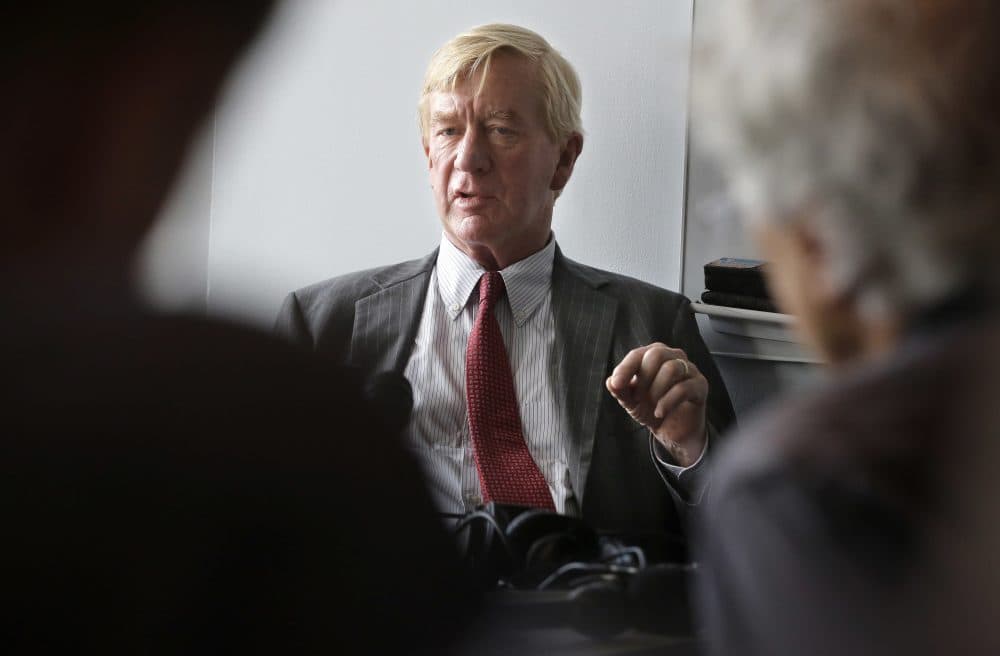 This article is more than 4 years old.
Libertarian vice presidential candidate William Weld said Thursday he does not believe that a slip by his running mate, Gary Johnson, will have much of an impact on their chances to be included in televised debates this fall.
During a television interview Thursday, Johnson asked what Aleppo, once Syria's largest city, is.
Johnson was on MSNBC, being interviewed by former Boston Globe columnist Mike Barnicle.
Weld, a former governor of Massachusetts, had been invited to Emerson College, to address students in professor Spencer Kimball's political communication class. He was there to talk about his and Johnson's third-party candidacy in a time when so many Americans are disenchanted with the Democratic and Republican choices for president.
By the time Weld arrived, the press, eager to ask him about Johnson's slip, practically outnumbered the students. Weld was ready to defend his running mate.
"So I'm not sure the consequence of the slip is going to be lasting at all," Weld predicted.
Weld said probably 85 percent of people in the U.S. could not put Aleppo on a map.
Johnson and Weld are hoping to be included in this fall's televised presidential and vice presidential debates.
"I think people understand that you can forget a detail, so, no, I don't think it has any impact on the debates except perhaps to increase our name recognition," Weld said.
Weld pointed out that when George W. Bush was running in 2000, he couldn't name the leaders of Chechnya, Taiwan, Pakistan and India.
Weld said he knew what Aleppo was.
"Oh, yeah, you can assume that," Weld said. "I grew up with the book 'Once In Aleppo' on my parents' bookshelf."
Weld predicted the commission on presidential debates could decide next week whether they would be invited. The commission has set a bar of 15 percent in national polls to include candidates. Johnson and Weld are on the ballot in every state, but so far they've been shy of that 15 percent threshold in national polls. A Washington Post poll released this week finds they do have the support of 15 to 25 percent of voters in 15 states.
Weld predicted they have a slightly better than a 50-50 chance of being invited to the debates.
This segment aired on September 9, 2016.