Clinton Wins Massachusetts' 11 Electoral Votes
This article is more than 4 years old.
Hillary Clinton has won Massachusetts and its 11 electoral votes.
The Associated Press projected the Democrat as the winner as the polls closed at 8 p.m.
Clinton cruised to an easy victory over Republican Donald Trump in the mostly blue state, which hasn't voted for a Republican for the White House since backing Ronald Reagan in 1984.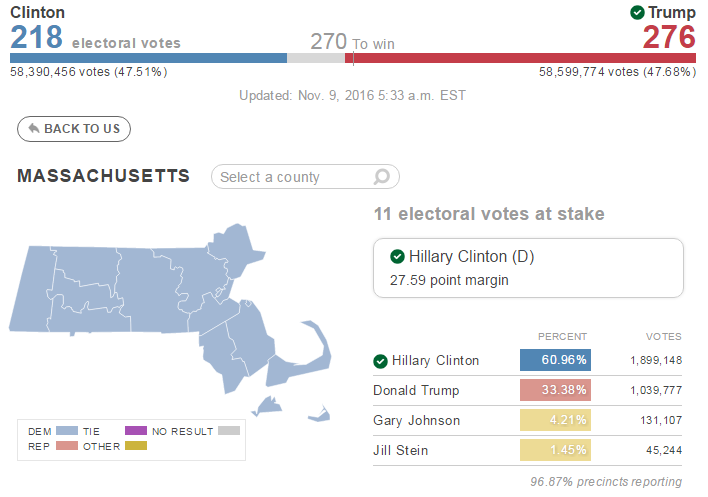 Among those in Massachusetts who backed Clinton was Liz Burg, a 22-year-old web designer in Cambridge.
Burg, a Democrat, called Clinton an "obvious choice." She said she voted for her because "it would be awesome to see the first female president tonight."
Andrew Federico voted for Clinton, citing concerns about Trump's understanding of the country's issues.
"I think he just said everything he wanted to hear, but he didn't actually give plans," said Federico, who voted in South Boston. "I think you can't solve complex problems with simple, simple answers — better experience than non-experience. That's what pushed my vote."
Asaf Bitton voted for Clinton at Brookline Town Hall.
"I'm voting for my daughters, I'm voting for this historic day and for a candidate who is competent, who is amazing and who will unify the country," she said.
This article was originally published on November 08, 2016.