Gov. Baker Urges Wait-And-See Approach On Trump Administration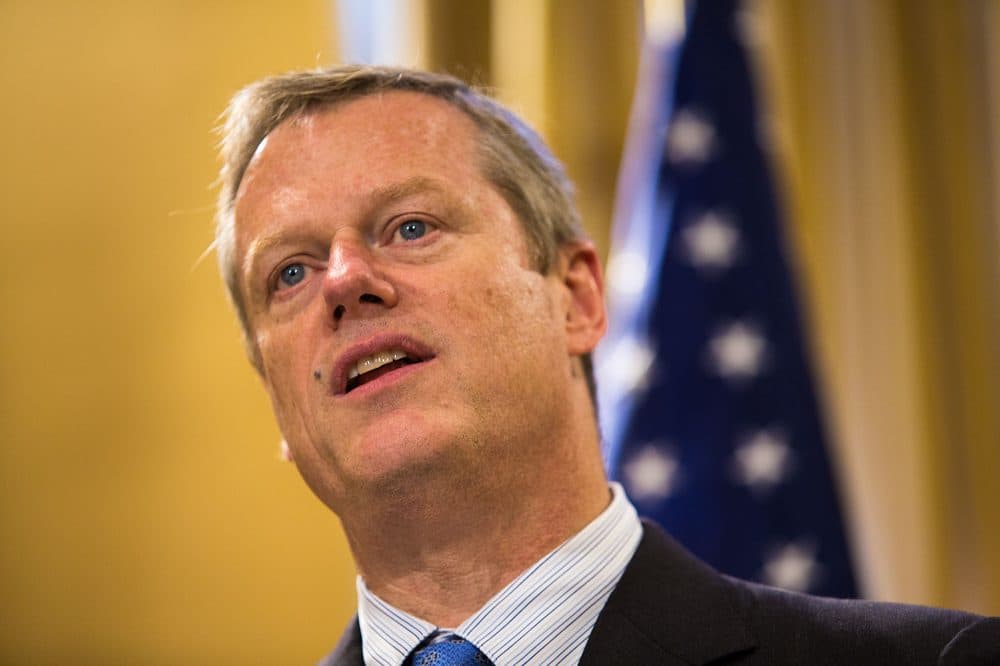 This article is more than 4 years old.
Republican Massachusetts Gov. Charlie Baker, who did not vote for Donald Trump (or anyone else for president), is urging the president-elect's critics not to prejudge the incoming administration or key appointees to federal posts.
"There's way too much prejudging going on here," Baker told State House reporters Wednesday. "And I think it's important for all of us to take a page from what [President Obama] had to say the other day, which is, let's see what happens here."
Others, including Democratic U.S. Sen. Elizabeth Warren, have harshly criticized certain members of Trump's transition team for their industry ties, and Trump's appointment of Steve Bannon as a White House adviser — a pick some white nationalists have cheered.
Baker, who had returned from a Republican Governor's Association meeting in Florida, said that he was encouraged by the tone of a private meeting the governors had with Vice President elect-Mike Pence, the governor of Indiana.
Baker said Pence agreed that states would have a "significant voice" in policy decisions in the Trump administration.
"And I think the most important thing for us," Baker said, "is to have an open dialogue with that new administration, and when I say us, I mean the commonwealth and the other states around the country, so that our voices on whatever issues we are concerned about can be heard."
Earlier this year, Baker became one of the first prominent Republicans to publicly state he would not support his party's presidential nominee. He said Wednesday he doesn't think his past criticisms of Trump will result in repercussions against the state by the new administration.
Baker also defended local control of public safety and community issues in the face of threats by Trump to cut federal funding to cities and town that provide sanctuary to people who entered the country illegally.
Without taking a stand on the policies, Baker said how communities choose to ensure harmony and public safety should be up to the cities and towns.
"And I will advocate to ensure that Massachusetts continues to be treated fairly -- along with the congressional delegation — when it comes to federal grants and federal funds for cities and towns here in the commonwealth of Mass.," Baker said.
The governor said Massachusetts has been, and will always be, a welcoming state.
With reporting by The Associated Press and WBUR's Steve Brown and Ben Swasey
This article was originally published on November 16, 2016.