Julia Easterlin: One Woman Chorus
20:59
Play
This article is more than 9 years old.
When 22 year-old singer/songwriter Julia Easterlin walks into a room, she is warm and humble, equipped with just a backpack. She carefully unpacks her rectangular looping machine and starts explaining how it works: "I have a microphone plugged into this machine, and I'm able to set it up so that I record what I'm singing live and then it plays back. And then over the playback, I record many other layers — again and again. And it essentially creates a one-woman chorus to back up my lead vocal."
When she sat down recently with Radio Boston's Adam Ragusea, Easterlin put her looping skills on display, starting with a rhythmic base. She slowly added percussion, trilling her tongue and clapping her hands. Next came a vocal bass line. She ran those loops and then recorded a second section — another set of vocals.
Ragusea asked, "What happens if you mess up? Are you stuck?" Easterlin laughed, "You kinda can't mess up."
Easterlin then recorded the middle harmonies, or as she described it, "Adding meat to the chorus of the song." The final loop was the big chorus harmonies that "signal to the listener — this is the hook of the song!"
Born in Georgia, Easterlin wrote her first song in elementary school and was introduced to jazz as a teenager. In 2007, she enrolled at Boston's Berklee College of Music on a full scholarship and developed a method for her loop-writing process. "It's a very specific format. In terms of song structure, everything has to be very symmetrical and very even. So all the harmonies have to line up, but also the timing of the sections — It's kinda like musical sudoku."
But does she ever feel limited by this format?
"That's something I'm really dealing with right now. I'm in the process of trying to write for a new album ... and I'm finding myself wanting to make chord changes and have songs with more variation in them, but that's not possible with this technology. So I'm looking into using software."
But, she added with a sigh, she loves the physicality of her loop machine so setting it aside may not be easy.
Looping is also an economically savvy option. It's hard enough making a living as an artist but paying a band, too?
"Performing solo is definitely more lucrative than performing with two or three other people and ...[splitting] profits all the time," Easterlin said.
Truth is, Easterlin seems to have no trouble getting good gigs.  She's played at Lollapalooza, SXSW, and Berklee's CMJ Music Marathon showcase in New York. What's next? Hopefully, she said, a full-length album.
Her last goal? "Becoming a rockstar."
Guest:
More:
This program aired on November 25, 2011.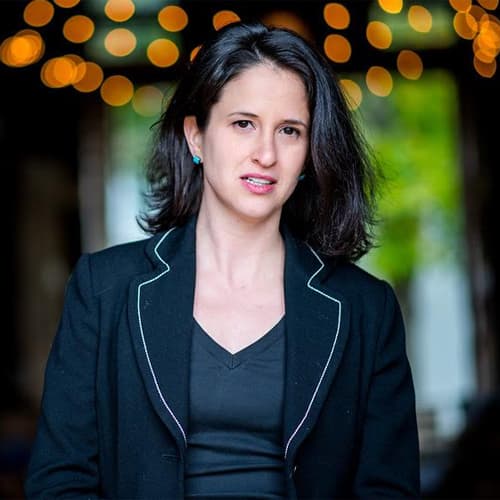 Jessica Alpert Managing Producer, Program Development
Jessica Alpert is the managing producer for program development at WBUR. In this position, she develops new podcasts and programs while also launching and nurturing WBUR's newest projects.