President Obama Honors Boston Red Sox
03:32
Play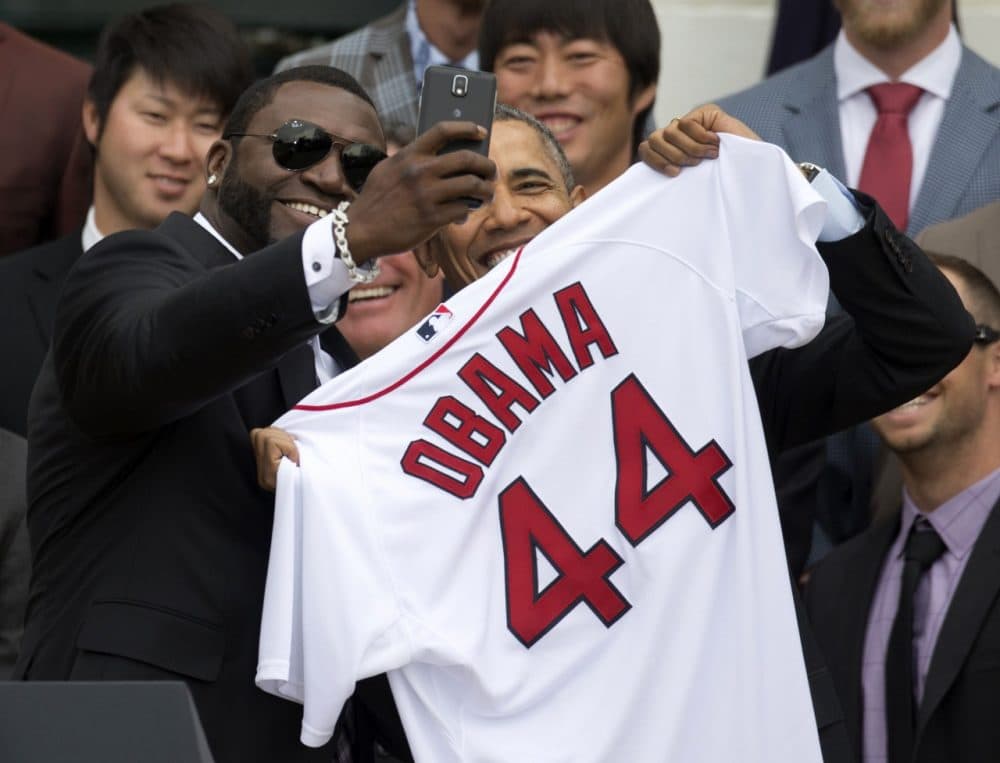 This article is more than 5 years old.
At the White House today, President Barack Obama paid his respects to the two fallen Boston firefighters.
"Today our hearts are in Boston again," said Obama. "We've got the families of firefighters Michael Kennedy and Lieutenant Edward Walsh, who gave their lives protecting others from a massive blaze last week. And their sacrifice, like the sacrifice of those made last year, remind us of the selfless courage of everyday heroes who put their lives on the line to help others."
It was a somber moment during an otherwise happy gathering — as the president welcomed the Boston Red Sox to the White House to congratulate them on their World Series victory last season.
"Even a White Sox fan can appreciate these guys," said Obama. He honored them not only for winning a World Series — but for helping to rally a city wounded by the Boston Marathon bombing almost one year ago.
"These guys were saying, 'We're all on the same team,'" said Obama. "I think Big Papi put it better and more colorfully than any of us could. I won't repeat his quote. But the point is, Boston and the Red Sox were one this season. And we knew last year, even as we mourned the lost and cared for the wounded and resolved to carry on, that the moment would come when the Sox would be champions again, and the crowds would gather for a parade down Boylston once more, and that's exactly what happened. That's how this team helped Boston to heal."
"And true to that spirit, in just a few weeks, something else we resolved last year will come to pass," said Obama. "On the third Monday in April, the world will return to Boston and run harder than ever and cheer louder than ever for the 118th Boston Marathon. That will happen. The bottom line is, I'm proud of these guys. As a baseball fan, I appreciate their comeback season. But more importantly, as president, I'm grateful for their character and their embrace of the essential role they played in the spirit of that city. Sometimes sports seem trivial, it's just entertainment, and then every once in a while, you're reminded that sports represent something else, and it has the power to bring people together like almost nothing can. And all of you should be very proud of what you accomplished, I know your fans are. I'm grateful to you as well. So, congratulations to the Boston Red Sox. And Red Sox nation, good luck this season, may the best Sox win."
After he spoke, Obama posed for pictures with the team — including for a selfie snapped by Sox slugger David Ortiz.
What an honor! Thanks for the #selfie, @BarackObama pic.twitter.com/y5Ww74sEID— David Ortiz (@davidortiz) April 1, 2014

More

WBUR: Obama Welcomes World Series Champion Red Sox

"President Obama welcomed the World Series champion Red Sox to the White House Tuesday, praising their triumph on the field last fall while hailing them as a symbol of their city's determined response to the bombing at last year's Boston Marathon."

Radio Boston: Red Sox Try To Draw Younger Fans

"As baseball season kicks off Monday, teams like the Red Sox are trying to lure more young fans into the stands."

The Boston Globe: Red Sox Feted At White House

"The Red Sox have had their day in the sun on the South Lawn of the White House. President Barack Obama feted the 2013 champions on Tuesday, and saluted the team for its role in helping Boston heal from the Marathon bombings last years."
This segment aired on April 1, 2014.