Protected Bike Lanes Coming To Commonwealth Avenue
47:34
Play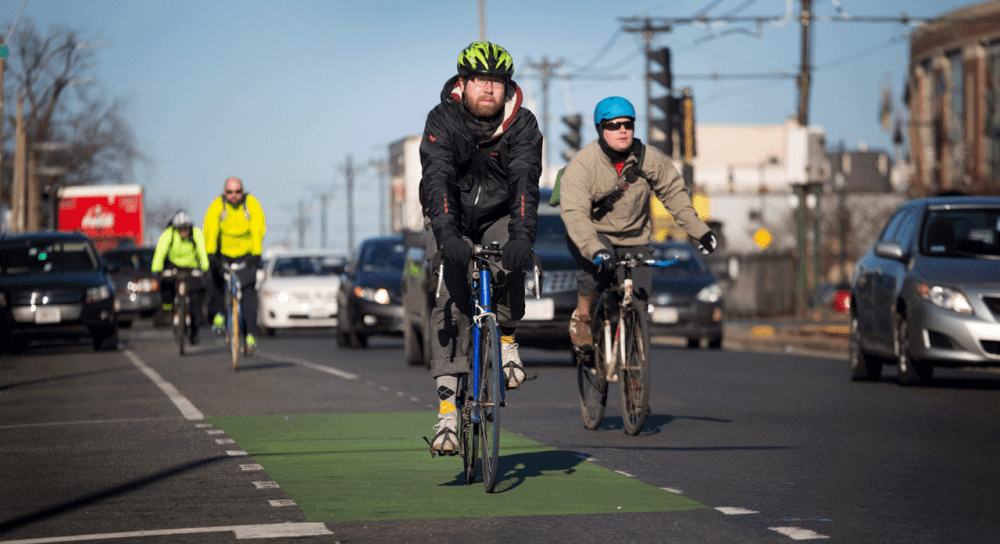 This article is more than 6 years old.
How do you make cities safer for pedestrians and for the increasing number of people who ride bikes?
Once upon a time in America, the automobile was king. But, for a while now, the challenge has been how to design cities that are walkable, rideable and better served by public transportation.
With that in mind, Boston Mayor Marty Walsh has announced a series of initiatives to improve safety and circulation for cars, pedestrians and bicycles. Among the plans — a $17 million project to rebuild part of Commonwealth Avenue. The plan would place the bike lane between parked cars and a rebuilt sidewalk, offering cyclists real protection on one of the city's busiest streets. When completed in 2017, it would be the first so-called "cycle track" in the city.
"[Commonwealth Avenue] is a true multi-modal street. It's full of people, trains, on buses, walking and bicyclists. It's also one of our highest crash areas for cyclists in our city," said the mayor Wednesday.
Another part of the plan is an initiative called Vision Zero Boston, an effort to completely eliminate traffic fatalities in the city.
"It's success really relies on how we can get everyone to view safety as a top priority," said the mayor. "We need to look at how people share roads: drivers, cyclists and especially pedestrians. Improved traffic systems will take time, but with this vision, we're on our way to making our streets safer for all folks."
Transportation advocates are hailing the announcement as a watershed moment, and an important step toward safer streets for everyone to enjoy, no matter the mode of transit.
Guests
Peter Furth, professor of civil and environmental engineering at Northeastern University. He's studied bicycle infrastructure around the world.
Jeff Rosenblum, president and co-founder of the LivableStreets Alliance.
More
WBUR: Boston Will Install Protected Bike Lanes On Commonwealth Avenue
"A plan unveiled by the city Tuesday evening will give cyclists along a stretch of Commonwealth Avenue protected bike lanes, reshaping one of the busiest corridors in the city to make travel safer."
Radio Boston: Remembering A Young Life
"For many of us at WBUR and the larger Boston University community who came to work Thursday, we were reminded of how fragile life is. Just outside of WBUR, we saw a large tractor trailer truck blocking the busy intersection on Commonwealth Ave. Police had cordoned off the scene with yellow plastic tape. Underneath the truck, a battered bicycle and a body, covered by a white tarp."
This segment aired on March 25, 2015.