Jury Hears Last Remarks From Lawyers In Tsarnaev Trial
06:39
Play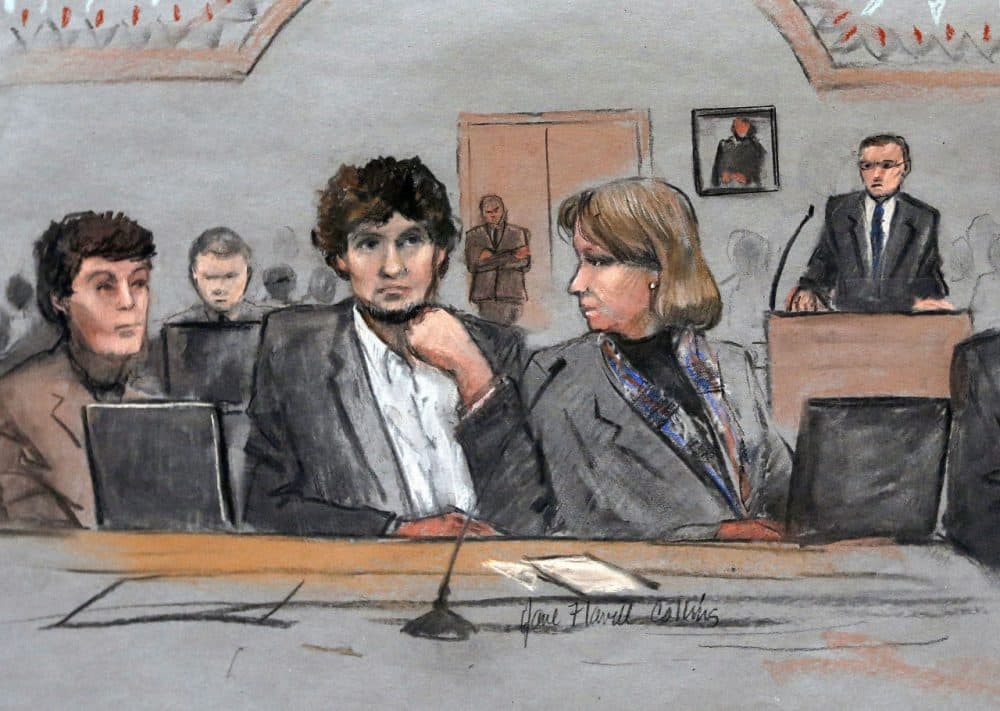 This article is more than 5 years old.
The jury in the trial of Boston Marathon Bomber Dzhokhar Tsarnaev heard closing arguments Wednesday, and Tsarnaev's life is now in their hands. Prosecutor Steve Millen painted a vivid reminder of the destruction Dzhokhar and his brother, Tamerlan, caused at the 2013 Marathon and in the days that followed, arguing death is the only fitting punishment for those crimes.
Then, defense attorney Judy Clarke responded with an account of Dzhokhar's life and the influence of his older brother, Tamerlan, in hopes of convincing the jury that the best punishment for Dzhokhar is life in the U.S. Penitentiary Administrative Maximum Facility in Florence, Colo., often called ADX.
Judge George A. O'Toole spent an hour and a half instructing the jury on what they can and cannot consider as they weigh whether Tsarnaev should spend his life in prison or be sentenced to death.
Guest
Jack Lepiarz, WBUR reporter. He tweets @Lepiarz
More
Radio Boston: Tsarnaev Lawyer Judy Clarke: 'Most Ferocious Lawyer In America'
"She was the attorney who stood before jurors a little more than two weeks ago and declared, "He did it." Tsarnaev isn't the first high profile criminal Clarke represented. Her client list includes Unabomber Ted Kaczynski, Atlanta Olympics bomber Eric Rudolph and Al-Qaeda operative Zacarias Moussaoui."
This segment aired on May 13, 2015.