'Godfather' Author Mario Puzo's Archives Up For Auction
09:35
Play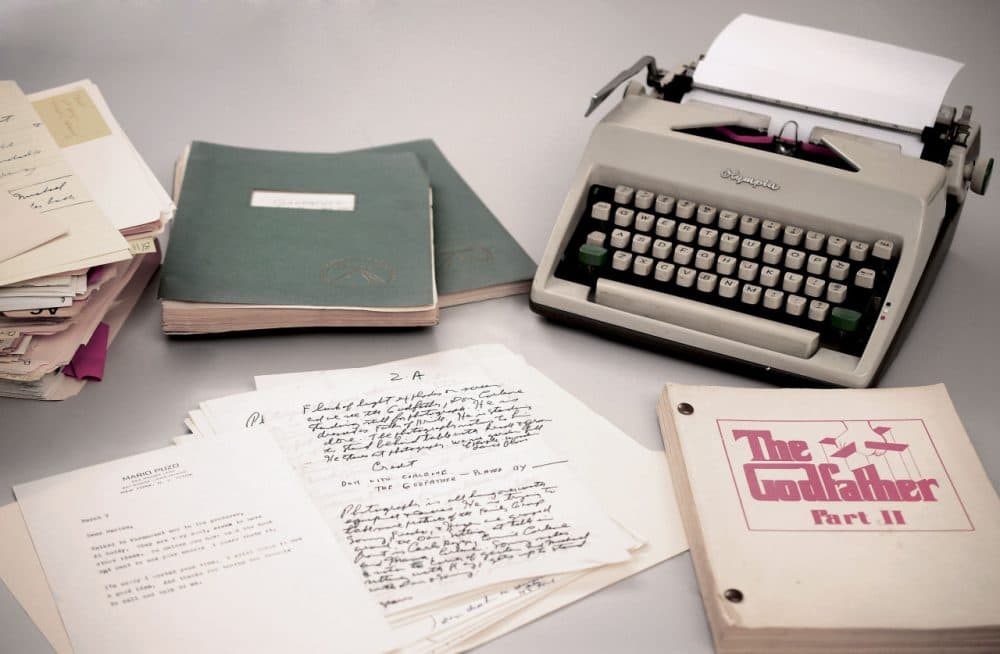 This article is more than 4 years old.
Update: Mario Puzo's archive sold at auction on Thursday for $625,000. 
---
The late Mario Puzo wrote the novel "The Godfather" that the movie's based on. In the North End, a true treasure trove of Puzo's personal papers went up for auction. Radio Boston's Jamie Bologna visited the auction house to take a look at what the collection holds.
Marlon Brando won the Oscar in 1972 for his portrayal of Don Corleone in "The Godfather." But one of the first things that amazed me when I got to the RR Auction House in the North End, was that Brando almost didn't get the chance to play that iconic role.
"I have a letter that Puzo sent to Brando that tells you that Brando was out, wasn't even going to get the part. It's mind-blowing," Bobby Livingstone said. Livingston is executive vice president of RR, which is auctioning thousands of pages of Puzo's notes, scripts and source materials for the iconic "Godfather" book and films.
Puzo died in 1999, and now his family is looking to sell his archives — some 45 banker boxes of materials spanning his entire life.
Three years before his death, Puzo spoke with NPR's Terry Gross about that Brando letter and the decision to cast him as Vito Corleone.
"I wrote him a letter and he called me up and we had a chat and then I tried to get Paramount to take him and they refused. And then when the director came onto the picture — I talked to the director, Francis Coppola, and he managed to talk Paramount into letting Brando play the role," Puzo told Gross.
And there's evidence of this fight in the archive. A letter from Puzo to Brando saying: It's over, he wasn't getting the part.
"Dear Marlon, talked to Paramount and to the producer Al Ruddy. Seems to have other ideas so unless you have read the book and want to use your muscle, I guess that's it. I'm sorry I wasted your time. I still think it was a good idea. Thanks for taking the trouble to call and talk to me."
"Oh my goodness," exclaimed Scott Thompson, a professor of film and director of the screen-writing program at Boston University. And yeah, he's surprised because, like most people, he'd never gotten this kind of insider glimpse into Puzo's process.
Livingston files through the boxes and pulls out another gem for us to look at.
"One of the things we have here is Mario Puzo's typewriter with the bell. I'm not gonna operate it for you, but it's operational," Livingstone said. "And it rings and dings, you can hear him slamming on those keys as a writer would."
The collection includes much of that work — typed on that typewriter — and handwritten, on faded yellow paper in red ink, blue ink, black ink, crossed out and scribbled all over the page.
It shows how Puzo and Coppola collaborated and hammered out some of the films' most famous lines like "Leave the gun, take the cannoli."
"What's fantastic is the actual wife of the actor who played Clemenza on the set suggested that 'Take the cannoli' should be the line that would be in the movie," said Livingston. "And you can see here, here's the final script, 84, and it just says 'Leave the gun.' She adds that line and Clemenza, he adds the line and it becomes world famous."
"They just killed Paulie," Thompson explains. "And he comes back to the car and he remembers my wife told me to get cannolis. I'd rather not deal with the wrath of my wife you know if I don't remember the cannolis, so he reaches over the body to get the cannolis out of the car. And so that idea of juggling this awful murder against the family man. I think his line before that is 'Watch out for the kids you're backing out,' as they're bringing Paulie out to kill him. So they're constantly juggling these two worlds. And it really give us who Michael Corleone is in this story — he's a character who's pulled between these worlds. He starts out as the civilian and arcs all the way to the Mafioso."
And for me — and maybe RR's Livingston — there's a scene in the movie that symbolizes the quintessential movie mob killing in a movie, one that sends a powerful message
"Luca Brasi sleeps with the fishes," Livingston quotes. "Here's the typed manuscript and you can see Coppola's making annotations," he explains. "And then Coppola goes, 'What the hell is that?' And it says, cut to Luca Brasi at the bottom of the ocean floating. But we never see that shot, right."
What we end up seeing in the scene is a dead fish, wrapped in Luca Brasi's bullet-proof vest.
Thompson points out another find in the Puzo archive: a copy of Francis Ford Coppola's directing "bible." It's a massive three-ring binder which included directions on motivation, torn out pages from Puzo's novel and notes on inspirations.
"One of the most fascinating things about this is he also made up a list of places he could screw up, things that could go wrong. What could I do to ruin this scene? And the only scene that I know of that he said that there's almost nothing you could do to ruin this scene, was the scene at Lou's Diner, where he was going to kill McCluskey and Sollazzo," Thompson said. "That scene he basically made a note, you can't mess this one up."
Thompson says the kind of deep research and preparation that is seen in the Puzo archive is what made the Godfather films so powerful.
The collection is an intimate window into that collaboration between Coppola and Puzo. Here they both are in the 1990 documentary "The Godfather Family: A Look Inside," discussing their script-writing process:
Coppola: "I did the screenplay, the first draft of it, and then contacted Mario, and the two of us worked on it together. But it was very very close to the book and that was my desire."

Puzo: "We wrote separately, he sent his stuff to me, I sent my stuff to him, and he made the final decision on what would be in there."
And much of that back and forth between Coppola and Puzo is included in this collection of papers.
Livingston says the auction house initially wanted to break the thousands of pages apart — into Godfather the novel, Godfather 1, Godfather 2 sections — and sell it piece by piece.
"As we sat down we analyzed this work, we realized well geez this archive has to stay together," Livingston said. "And whoever buys it will hopefully keep it together and allow student and allow historians examine it. It's a whole new novel on the making of 'The Godfather,' the source material is all here."
"Yeah, when I told my wife I was going to come here, you can't come back with 45 boxes," Thompson said, laughing. "We'll forget my daughter's education and we'll have this collection instead."
Livingston expects those 45 boxes to go for around $400,000. So while Professor Thompson won't take the archive home with him — someone else might make the Puzo family an offer they can't refuse.
Guest
Bobby Livingston, executive vice president of RR Auction in the North End, which tweets @RRAuction.
Scott Thompson, professor of film and director of the screenwriting program at Boston University.
More
The Boston Globe: Startling Truths About 'The Godfather' In Mario Puzo Archive
"Luca Brasi wasn't going to sleep with the fishes. Clemenza wasn't supposed to mention the cannoli. And Don Corleone? Marlon Brando wasn't going to play him."
This segment aired on February 18, 2016.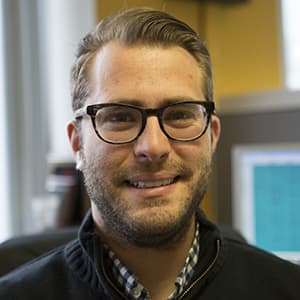 Jamie Bologna Producer/Director, Radio Boston
Jamie Bologna is producer and director of Radio Boston.